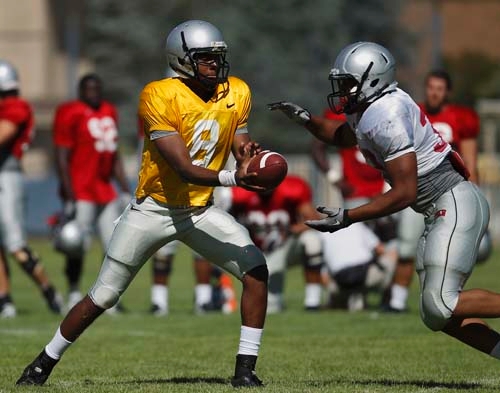 The Kibbie Dome in Moscow, Idaho, seats only 17,000 people, but the noise gets trapped inside that barn of a football stadium and echoes all around.
It was that can't-hear-yourself-think cacophony that UNLV's Caleb Herring walked into during the third quarter to take the first snap of his college career last September.
The noise, though, didn't bother the Rebels quarterback.
"That's the thing that surprised me a little bit," Herring said. "I expected myself to be a little more rattled than I was. When I came out to that field for the first time, I was a little more poised than I expected."
Herring didn't lead the Rebels to a major comeback. But in the 30-7 loss on Sept. 18, he broke up Idaho's shutout with a 25-yard touchdown pass with 1:19 left.
That was only the beginning.
On Oct. 9 at West Virginia, Herring's touchdown pass with 9:40 to play accounted for the Rebels' only trip to the end zone in a 49-10 loss, and on Nov. 6 his TD pass with 41 seconds remaining ended Brigham Young's bid for a shutout in UNLV's 55-7 loss.
In three one-sided road losses, the most discouraging situation a quarterback can enter, Herring was able to create something positive.
"Idaho definitely was the manifestation of all the preparation," he said. "I saw myself doing all the work in practice, but I never saw it translate onto the field until the Idaho game."
Now, however, Herring enters a different situation, a different test. His begins his sophomore season as the Rebels' starter, and his first game is at No. 11 Wisconsin at 5 p.m. PDT Thursday on ESPN.
Herring isn't being thrown into a game this time. He has time to think about it.
"As No. 1, I try to be just as prepared as I was last year," Herring said.
Offensive coordinator and quarterbacks coach Rob Phenicie tried to establish a game-like atmosphere during spring practices to prepare his QBs for moments such as Thursday's. He would stand behind them and yell at them to get the next play off, to get rid of the ball, to just move faster, faster, faster.
"There's always two seconds left on the play clock," Herring said.
Herring was viewed as UNLV's quarterback of the future when previous coach Mike Sanford signed him in 2009 out of Citrus Hill High School in Perris, Calif. He led Citrus Hill to 14-0 records and California section championships in 2007 and 2008.
After redshirting at UNLV in 2009, Herring backed up Omar Clayton last season and appeared in eight games.
But last season was under a new staff, not the same coaches who recruited Herring. What's more, after last season, Hauck brought in midyear junior college transfer Sean Reilly.
Herring declined to take that development personally, saying he knew the Rebels were thin at quarterback and needed help. Herring is the only experienced returning player at the spot.
He did admit to being fired up by the challenge of competing against Reilly.
"It definitely spurred a competition that a lot of people probably didn't expect," Herring said. "But it was a competition that the Rebels needed … to bring the best out of both of us, to definitely let the team know nobody's job is secure."
It never was a close fight. Herring took the lead in the spring and refused to relinquish during training camp.
Now Herring gets his first start — against a team that played in last season's Rose Bowl, against one of the favorites to win the Big Ten Conference, in a stadium with 80,000 fans, before a national TV audience hungry to see football after waiting since the Super Bowl.
"He hasn't been in a situation yet where it's 0-0 or 7-0," Phenicie said.
Herring is about to find out.
Contact reporter Mark Anderson at manderson@reviewjournal.com or 702-387-2914. Follow him on Twitter: @markanderson65.