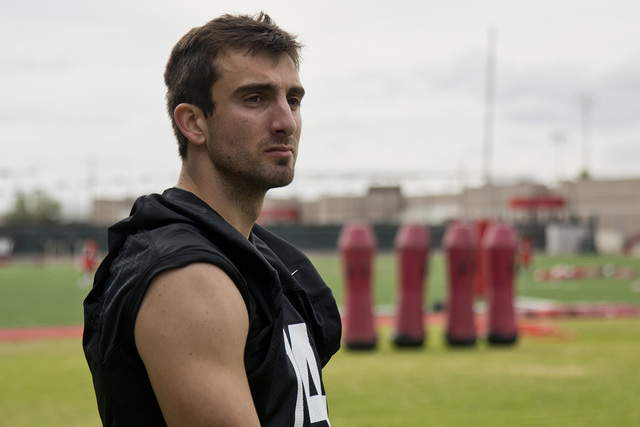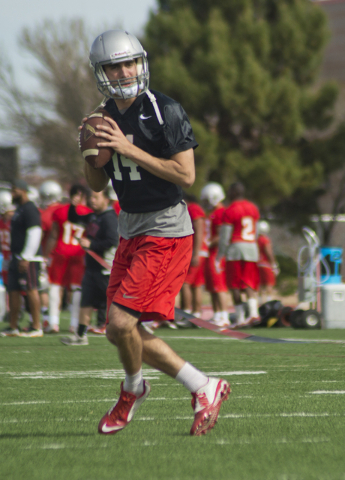 Heading into spring football practice, UNLV coach Tony Sanchez said he hoped that either junior college transfer Johnny Stanton, returnee Kurt Palandech or redshirt freshman Dalton Sneed would emerge as the clear-cut winner of the quarterback competition. But, thus far, that hasn't been the case.
Through six practices, the three signal callers have split the first-team reps at quarterback, with none of them staking their claim to No. 1.
"Obviously I have some opinions on them, but I'm going to reserve the right to keep them to myself for a little bit," Sanchez said after Wednesday morning's practice at Rebel Park. "I think there's starting to be a little separation. The bottom line is you've got to make plays and you've got to be intelligent and hold onto the ball. I'd like to see all of them do little bit better job of making better decisons and not put the ball in jeaopardy. But each one of them is making some good throws.
"I thought Johnny did a great job in the red zone today and struggled a little bit more on third down. Kurt, I thought struggled in the red zone and did a little bit better on third down. They're both doing some great things and Dalton is kind of sneaky back there from behind. I like where they're at. They're getting better."
Here's a quick recap of Wednesday's practice, the sixth of 15 spring sessions.
HIGHLIGHTS
* Gabe McCoy, a redshirt freshman making the transition from defensive lineman to linebacker, put a big hit on tight end Tim Holt during a red-zone drill.
"That was a great open-field tackle by McCoy. He's made the transition from being a (defensive) lineman to a linebacker and, man, he looks great out there," Sanchez said. "Him and (sophomore) Bailey Laolagi are two young guys really looking good at that linebacker spot right now."
* Allan Cui made a diving 15-yard touchdown catch on a corner route thrown by Sneed during a red-zone drill.
* Kendal Keys also made a nice TD grab in the corner of the end zone of a ball thrown by Stanton.
* Running back Lexington Thomas made a one-handed catch in the end zone of an off-target throw by Palandech.
NOTE
Former Rebels running back Bradley Randle was on hand at practice. A member of the Minnesota Vikings practice squad in 2013 who has played in the Canadian Football League the past two seasons, Randle is in town for Thursday's Pro Day at UNLV.
QUOTES
* Sanchez's practice summary: "Good practice. Lot of good energy. We worked high red zone, low red zone, so we got into some more situational-type stuff. I thought we did a really good job offensively in high red and low red. On third down, I thought the defense won that period. It was good. It was a physical practice. We've got one more before spring break, so we're pushing them hard. This is kind of the hump right now."