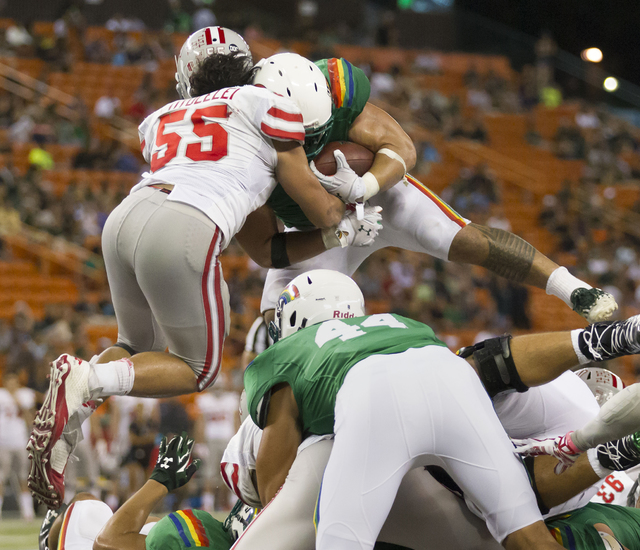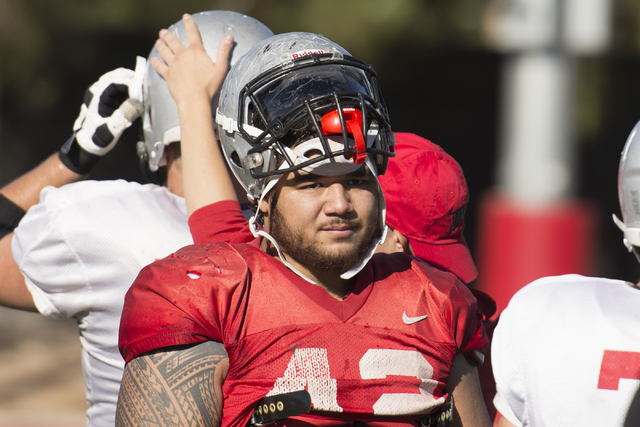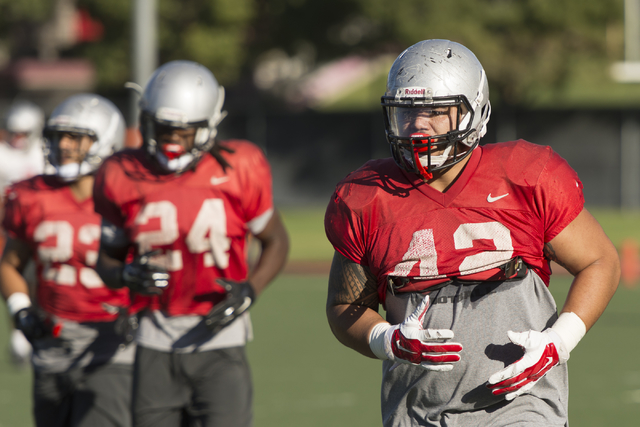 HONOLULU — Most visitors to Hawaii leave with warm memories of the island paradise. And then there's UNLV's football team.
The last time the Rebels set foot in Honolulu — where they'll play Hawaii on Saturday night at Aloha Stadium — they suffered one of the most gut-wrenching losses in school history in a 37-35 defeat to the Rainbow Warriors in 2014.
"I don't want to remember that," said UNLV senior linebacker Tau Lotulelei, one of eight Hawaiians on the team. "That's one game I don't like thinking about."
The Rebels trailed 24-14 in the fourth quarter before quarterback Blake Decker came off the bench to lead a comeback. He threw three touchdown passes, including an apparent game-winning one with 15 seconds left for a 35-31 UNLV lead.
However, two Rebels players who ran down the sideline with their helmets off to celebrate were penalized for excessive celebration. The officials marched off not one, but two 15-yard penalties on the ensuing kickoff, helping Hawaii get good field position at the UNLV 42.
Ikaika Woolsey completed a 22-yard pass to the 20 with five seconds to play. After an incompletion, one second remained. Woolsey then fired a 20-yard touchdown pass to Marcus Kemp to win it for Hawaii and torture the Rebels.
"We went to the locker room and it just looked like everybody got punched in their gut 100 times," Lotulelei said.
Senior fullback Marc Philippi said: "Everybody kind of had a sick feeling in their stomach to have it end that way."
UNLV beat the Rainbow Warriors 41-21 last season at Sam Boyd Stadium, but Lotulelei said the demons of 2014 won't be fully exorcised unless the Rebels win on Oahu.
"I think most of the guys who played in that game will come in with a chip on their shoulder again," the Maui native said. "Even though we won last year, we've got to get them back at Aloha Stadium."
The stadium has been anything but welcoming to UNLV, which hasn't won there since 2000 and has won only two of 12 meetings with Hawaii in Honolulu.
"I think a lot of teams struggle there," Rebels coach Tony Sanchez said. "It's an absolute beautiful place. If you've never been there, which a lot of our kids probably haven't, when you get off the plane, visually it takes your breath away. You can get lost in that."
Sanchez said one philosophy on how to handle the trip to Hawaii is to arrive the day before the game, go to bed and get up and go play.
He opted instead to arrive Thursday night and get his players acclimated to the environment. UNLV practiced at Aloha Stadium on Friday and Sanchez then gave the team about 90 minutes to hit the beach before focusing on hitting its opponent.
The plan proved successful in 2012, when Sanchez guided Bishop Gorman High School to a 52-40 win over Hawaii's St. Louis High at Aloha Stadium, and he's hoping the formula works for the Rebels.
"A lot of kids have never been there and may never have the opportunity to go back," he said. "I think it's good for them to get out there a little bit, get some fresh air and take it in. I think it's the right approach for us."
It's homecoming for Hawaii and a homecoming of sorts for UNLV starting defensive tackle Salanoa-Alo Wily, an Oahu native who offered his teammates some advice for the trip.
"It's not vacation," he said. "It's a business trip."
The Rebels (2-4, 1-1 Mountain West) are coming off a 26-7 loss at San Diego State in which they were held to 9 yards passing — the second-lowest total in school history (8 at UNR in 2011) — and a paltry 122 yards of total offense. The Rainbow Warriors (3-3, 2-0 MW) have struggled on defense but quarterback Dru Brown has led them to conference wins over UNR and San Jose State in his first two career starts.
"At this point, I wouldn't be shocked one bit to see them kind of copycat some of the stuff San Diego State did. They're going to load the box and force us to make some throws," Sanchez said. "We're going to have to make some big plays to stretch the field. I expect this to be another game that will go down to the end."
Contact reporter Todd Dewey at tdewey@reviewjournal.com or 702-383-0354. Follow on Twitter: @tdewey33
UNLV vs. HAWAII
When: 9 p.m. (PDT) Saturday
Where: Aloha Stadium, Honolulu
TV/Radio: KVVU-TV 5; KWWN (1100 AM, 100.9 FM)
Line: Hawaii -9; total 55
Visit our GameDay page for full coverage of the UNLV-Hawaii game.