UNLV RECEIVERS CATCHING ON
November 20, 2008 - 10:00 pm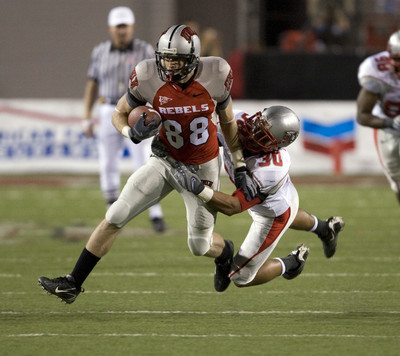 The two compete in the November chill of football season and the triple-digit July heat of summer conditioning.
They try to outdo each other in the weight room and on the field.
When senior Casey Flair became UNLV's career leading receiver, junior Ryan Wolfe couldn't stand idly by. He might not even let Flair take the title into the offseason.
"We compete in anything and everything," Wolfe said.
Flair set the record less than a month ago, and it might change hands when the Rebels play at 5 p.m. Saturday at San Diego State.
Wolfe is only one catch behind Flair, but Saturday's game isn't about one player leapfrogging another for a school record.
Saturday's game is about winning and becoming bowl-eligible, and how the Rebels' wide receiving unit of Wolfe, Flair, junior Rodelin Anthony and freshman Phillip Payne will help UNLV accomplish that goal.
This unit is arguably UNLV's best group of wide receivers ever. Maybe it's no coincidence that assistant coach Kris Cinkovich has coached the group since 2004. Wolfe credited his boss' "attention to detail" as being the key to the unit's success.
"Every moment on the field is going to be filmed … there's no chance for us to slack off," Wolfe said. "We don't have too many mental mistakes."
Cinkovich attended NFL camps and visited other schools, learning tactics to help his players, coach Mike Sanford said.
Having talented players helps, and Cinkovich said the difference is enormous between now and the group he coached in 2004.
That team had standout Earvin Johnson, and Alvin Marshall had his moments, but there was a significant drop-off.
"We weren't even two-deep, period, let alone two-deep with guys who could actually play," Cinkovich said.
Now the backups not only challenge the starters for playing time, they've proven they can replace the first-stringers.
Payne appeared well on his way to Mountain West Conference Freshman of the Year honors before suffering two concussions. Anthony stepped in and produced six catches for 94 yards and three touchdowns in the past three games.
"We've all seen flashes of Rod before," Cinkovich said. "What we've always worked with him on is being consistent, and hopefully we're starting to see that, because he has made some plays in each of the last three games.
"On good teams, if you lose a guy, somebody needs to step up and take his place. There are no excuses."
Five receivers have at least 12 receptions. They have combined for 176 catches, 2,196 yards and 19 touchdowns. And that doesn't include tailback Frank Summers' 13 catches for 150 yards and two TDs.
Flair, who has 46 catches for 523 yards this season, is No. 1 for now with 199 receptions. Wolfe, who has 77 receptions for 896 yards, stands at 198.
Flair better enjoy holding the school record today because there's a chance there will be a new record holder Saturday.
He said the more important issue would be for UNLV (5-6, 2-5 MWC) to beat the Aztecs (1-10, 0-7), and it's that group-first mentality that underscores the receivers' success.
"I think it shows our work ethic," Flair said. "You look at our receiver corps right now, we have a pretty solid, committed, working group. Not too many guys you have to worry about. It shows a lot about our leadership and our group, but also a lot about our position coach, Kris Cinkovich."
* INJURY UPDATE — Quarterback Omar Clayton (knee) is "very questionable," Sanford said. … Payne will be a game-day decision. … Summers (hip flexor) and linebacker Jason Beauchamp (ankle) are probable.
Contact reporter Mark Anderson at manderson@reviewjournal.com or 702-387-2914.