UNLV recruiting update: 7 local players attended last Saturday's victory
October 5, 2016 - 9:25 am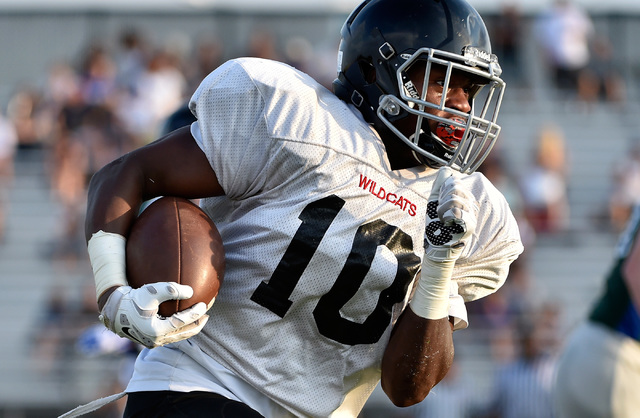 Eleven recruits from the UNLV football team's 2017 recruiting class were at Sam Boyd Stadium on Saturday night to watch the Rebels' 45-20 homecoming rout of Fresno State.
Among the group of recruits were three players who've already orally committed to the Rebels: Desert Pines High School quarterback Marckell Grayson, Bishop Gorman linebacker Farrell Hester and Los Angeles' South Gate H-back/fullback Jamaal Neal.
Seven other local recruits were in attendance: linebacker Tony Fields, wideout Randal Grimes and cornerback Tony Wallace of Desert Pines; running back Elijah Hicks and offensive lineman Dyllan Kounovsky of Las Vegas High; Bishop Gorman safety Greg Francis and Green Valley offensive lineman Eric Brown.
UNLV also hosted D'Angelo Gunter, a cornerback from San Diego's Del Norte High School.
Rebels second-year coach Tony Sanchez already has brought in two talented recruiting classes, including arguably the best one in school history in February that featured a UNLV-record 10 three-star recruits.
Here's a performance update of the six current commits:
— Hester had eight tackles for the Gaels (6-0), ranked the No. 1 prep team in the country, in Friday's thrilling 25-24 triple-overtime win over St. Thomas Aquinas (Florida).
— Johnny Johnson III, a two-star wide receiver from Chandler (Arizona), had four catches for 48 yards in Friday's 59-37 win over Basha.
— Tariq Hollandsworth, a running back from Sacramento (Sacramento, Calif.), didn't play because the opponent forfeited the game.
— Jaelon Darden, a three-star wide receiver from Houston's John H. Reagan High, didn't play.
— Grayson suffered a season-ending knee injury during an Aug. 26 win over Centennial.
— Neal had a bye week.