UNLV relying on transfers to play major roles this season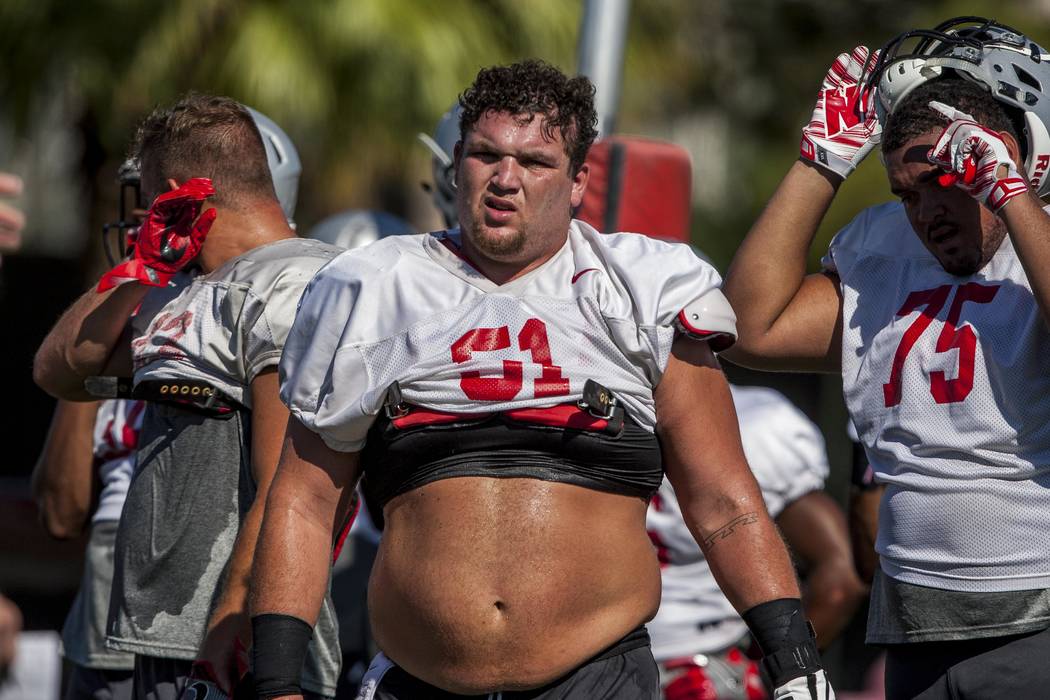 The easy part when evaluating a transfer is the athleticism and skill it takes to play a particular position.
The difficult part is trying to determine whether a transfer will bring a positive energy to the locker room and is not simply looking to leave his current situation.
Like football coaches throughout the country, UNLV's Tony Sanchez has to make that determination on a fairly regular basis.
"With transfers in general, why are you leaving?" Sanchez said. "Nine times out of 10 it's because it didn't work out for whatever reason, and those problems that they had might just follow them here or anywhere that they go. There are times when there are valid reasons. There's a coaching change, a change of position, things like that. Sometimes there are family issues."
Sanchez has made the choice several times to take his share of transfers, even if his focus remains primarily on signing high school players. Some transfers come directly from four-year schools; others detoured to a junior college.
Thirteen UNLV players have experience at other four-year schools, including senior projected starters Jocquez Kalili at cornerback and Zack Singer at center and guard. Kalili first enrolled at Arizona and Singer at Kent State.
"Going in as a true freshman and getting playing time, I think that was one of the more valuable lessons I learned," Singer said. "When I was at Kent State, we played against Ohio State, and getting thrown into that environment as a true freshman I feel like kind of seasoned me and helped my nerves a little bit."
Both players have more in common than having been in other four-year programs. They also played on opposite sides of the ball in their first stops — Singer on the defensive line and Kalili at wide receiver.
"It helped me understand the concepts, pretty much what offenses are trying to do to you," Kalili said. "So that's really what helped me on the defensive end. Now that I'm a cornerback, I'm understanding concepts when I see things."
Singer received the same benefit, saying he has the mindset of a defensive player. He played on both lines at Bishop Gorman, and Sanchez ran the national high school power like a college program.
"My freshman class I came in with at Kent State, a lot of guys struggled because the tempo of practice was fast," Singer said. "They weren't used to having periods within practice and were kind of confused. I was like, 'Wow, I'm so blessed that we ran practices (at Gorman) the same.'"
Not only are Kalili and Singer projected starters, senior defensive end Jameer Outsey (Iowa) has been working with the first team. Senior kicker/punter Evan Pantels first attended Georgia State, and junior punter/kicker Hayes Hicken began his college career at Utah.
UNLV's second-team sophomore quarterback Max Gilliam originally spent a season at California. Sophomore cornerback Alex Perry and junior linebacker JD Alexander, who have practiced with the second team, are Arizona State transfers.
"The fifth-year senior transfers are great, but you get one year out of them," Sanchez said. "If they're an elite player, fantastic. If they're just a good player, it's probably not going to make much of an impact on your roster. I think some of these younger guys who transfer who have two or three years to go, they will assimilate to your culture, they'll buy into the system and they'll bring some real added value."
Contact Mark Anderson at manderson@reviewjournal.com. Follow @markanderson65 on Twitter.