UNLV safety Evan Austrie focusing on play, not past injuries
Updated August 6, 2018 - 7:04 pm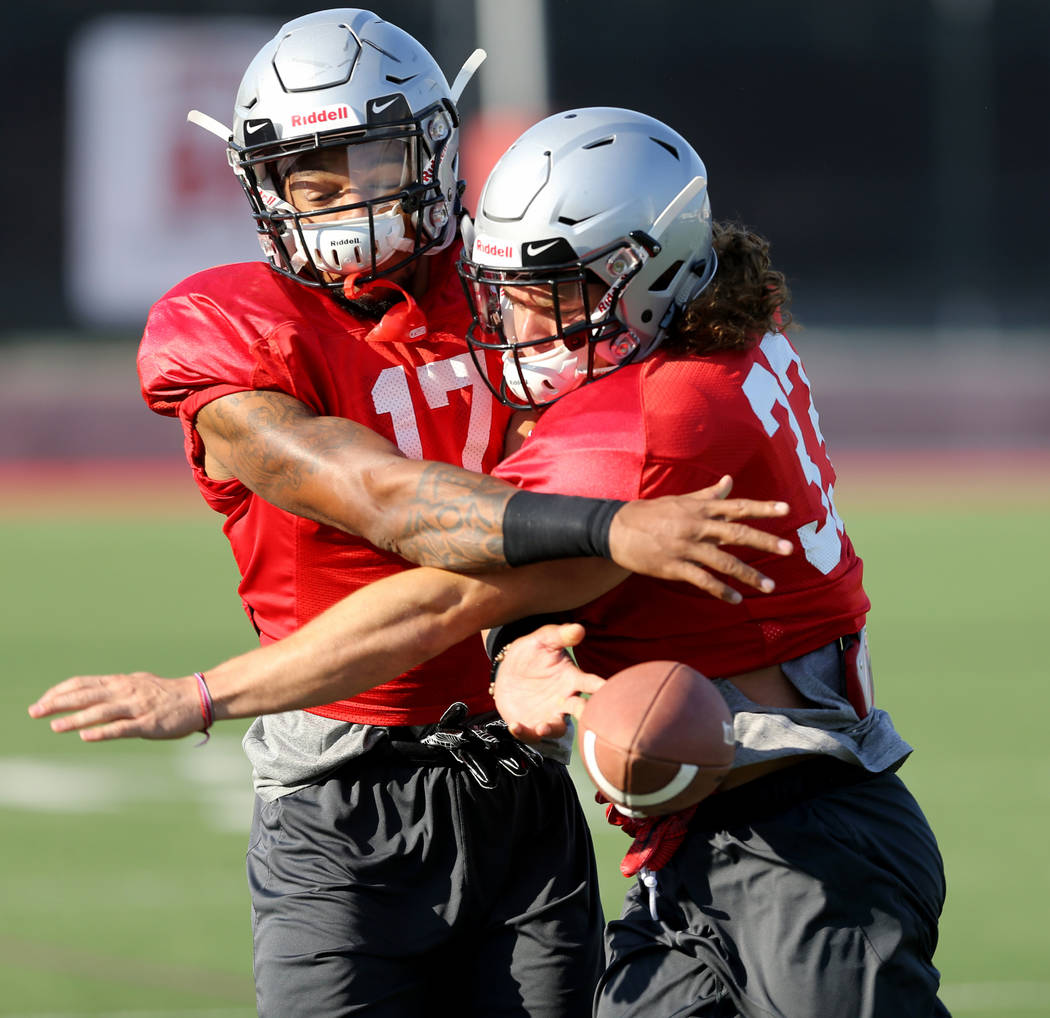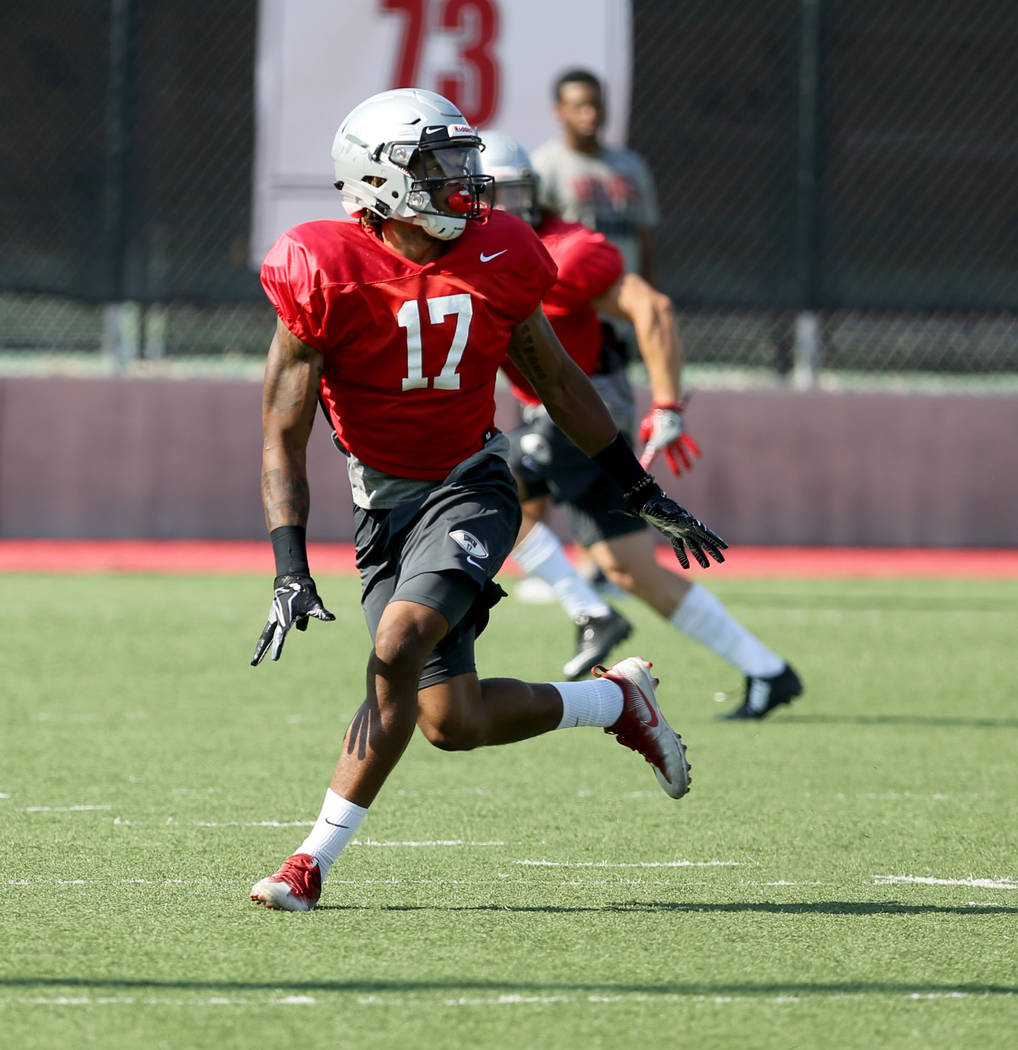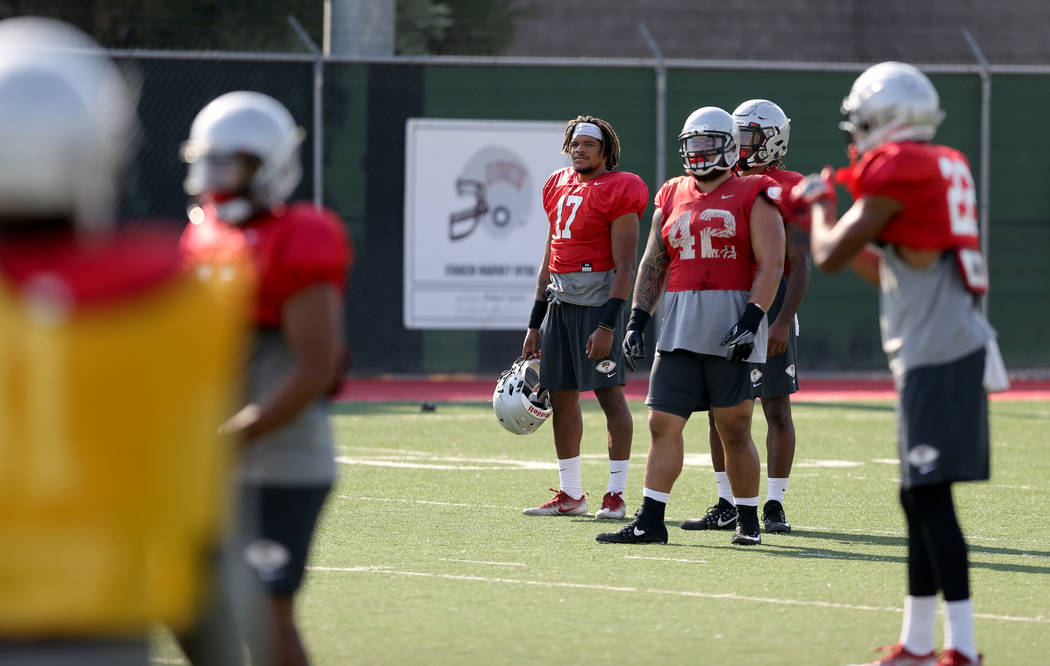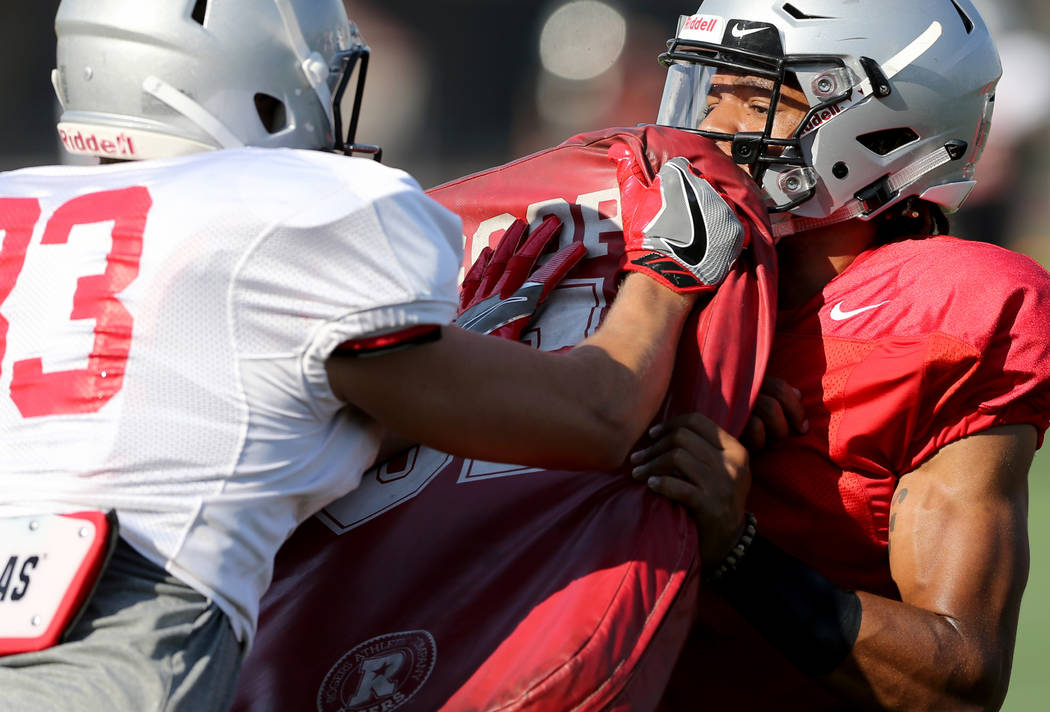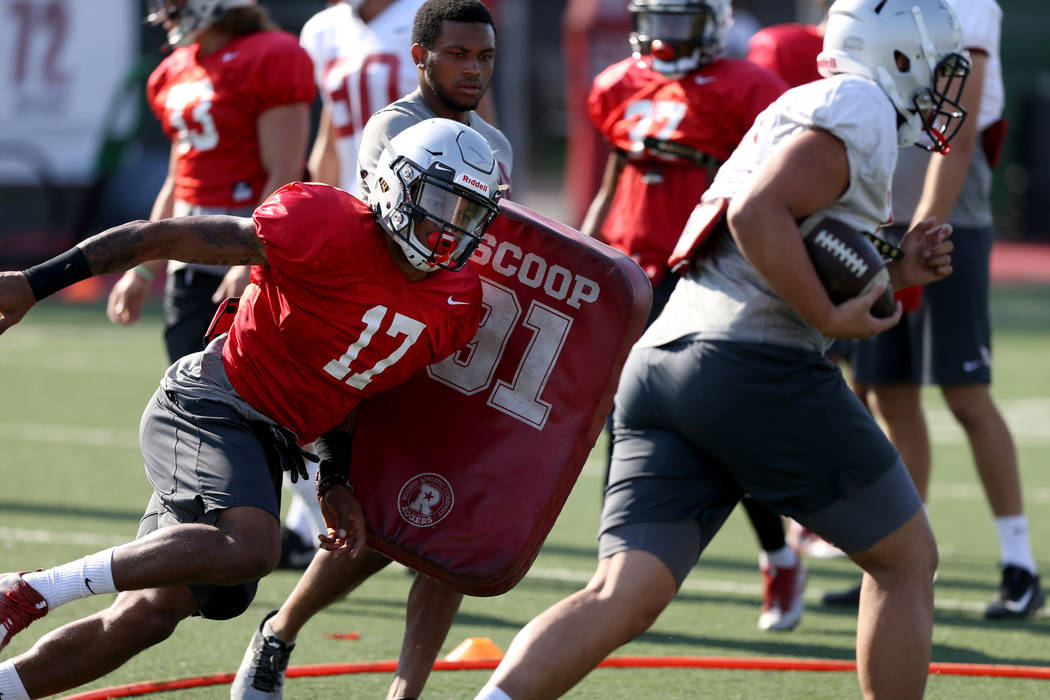 UNLV safety Evan Austrie felt the pain from a helmet to his abdomen last fall, and he knew the injury was serious when upon his return to Las Vegas, he had to head to a hospital.
But Austrie didn't focus on his own health concerns and what turned out to be a ruptured kidney suffered in that Oct. 14 game at Air Force.
He was concerned more about his teammates. About whether he would play football again.
"Thankfully, nothing too bad happened to me," Austrie said. "I had to stay (in the hospital) two nights, and after that the recovery process was basically I couldn't do anything. I couldn't run. I had to wait it out and see what the doctor said."
He was forced to wait four long weeks before any physically activity. But Austrie is not only back practicing at Rebel Park with his teammates, he is working as the first-team strong safety.
The 6-foot, 195-pound junior is being counted on to help stabilize the secondary, and he is expected to play both safety positions as well as nickelback for the Rebels this season, which begins Sept. 1 at Southern California.
"I think he's come in with the mindset, 'I'm going to be focused,'" safeties coach Al Simmons said. "We've got to have him ready."
This is not the first time that Austrie has returned from a serious injury.
He dislocated a shoulder on Sept. 17, 2016, at Central Michigan, which caused him to miss four games. Last's season injury took Austrie out of the final five games.
All that missed time would be enough to sow a seed of doubt in many players' minds about whether they can make it through an entire season healthy. The opposite is the case with Austrie, who last season had 18 tackles and two pass breakups in seven games.
"I kind of have a chip on my shoulder because a lot of people overlook me," Austrie said. "I haven't played a lot, so they don't know what I can do. I just want to go out there and show people what I can do."
The ability to put those injuries behind him shows a mental toughness that is needed, particularly in the secondary where last season UNLV gave up 219.3 yards passing per game and intercepted just seven passes.
"Everyone deals with injuries differently," coach Tony Sanchez said. "When you have back-to-back injuries, it can mentally take you down.
"You look at the time he's played, like a lot of these guys, they probably played before they were ready. Now these guys are going into their junior years, they're ready to hit their strides. He's been positive, and I know he's going to have a good year."
Austrie began his comeback in winter conditioning, and then in spring practices he performed well enough to move to the top of the depth chart.
That's the player Simmons, who was hired in January, has seen. He wasn't at UNLV when Austrie was forced to the sideline.
All he knows is a healthy Austrie.
"He's improved with his technique," Simmons said. "He's playing hard, playing fast. He's coaching other guys, getting himself better.
"You can tell he worked really hard at the little things in the offseason."
More Rebels: Follow all of our UNLV coverage online at reviewjournal.com/Rebels and @RJRebels on Twitter.
Contact Mark Anderson at manderson@reviewjournal.com. Follow @markanderson65 on Twitter.
Notes from UNLV's football practice Monday at Rebel Park:
— UNLV agreed to a two-game series with Brigham Young. The Rebels play at BYU in 2023, and the teams meet at the new Raiders' stadium the following season.
— Freshman defensive back Octavian Bell, a Liberty High School graduate, left the team. "Octavian decided he's going to do something different," coach Tony Sanchez said.
— Sophomore starting defensive tackle Kolo Uasike did not practice for the second day in a row. "His weight's down," Sanchez said. "He lost 45 pounds in the offseason, so he's in the best shape he's ever been in, but we want to be sure we maintain those numbers. He'll be all right. He's down to 305."