UNLV seeks different ending despite identical start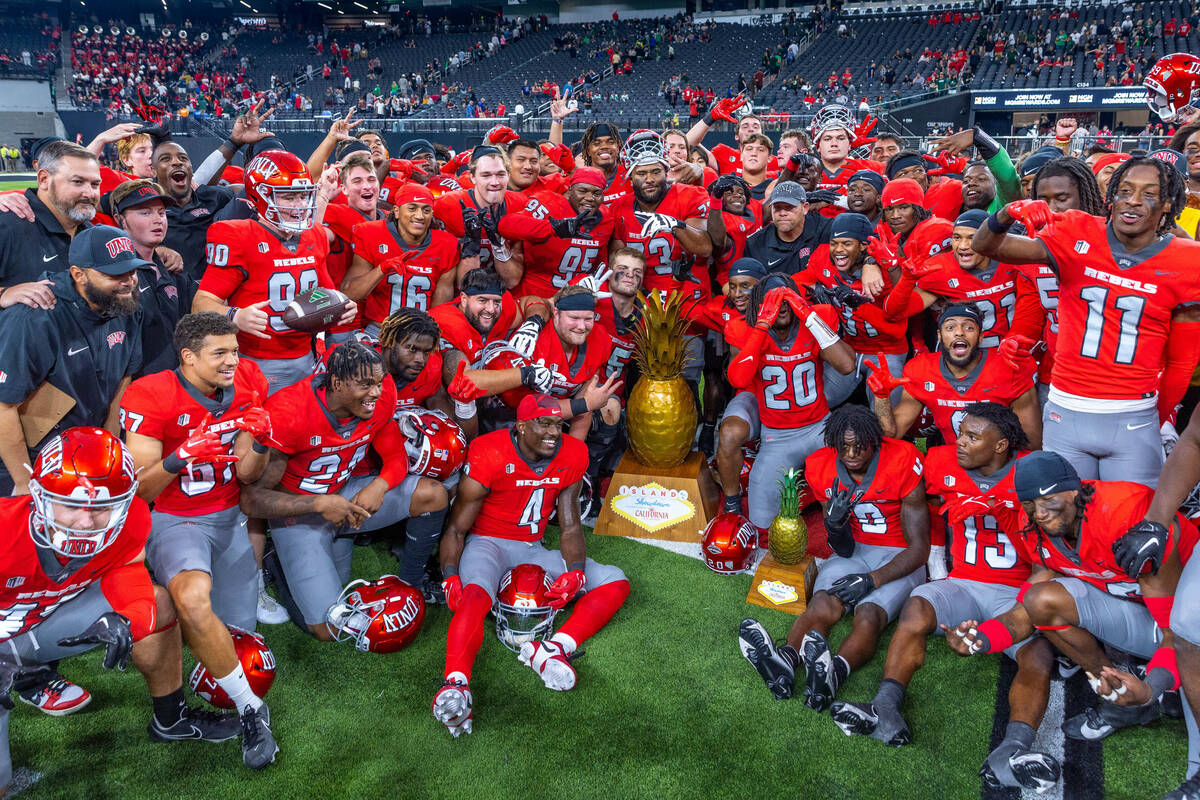 UNLV football has been here in the past. In fact, look no further than the 2022 season for the Rebels' most recent 4-1 start.
Under former coach Marcus Arroyo, UNLV needed just two wins from their remaining seven games to reach bowl eligibility for the first time since the 2013 campaign. Instead, they lost six of their next seven games to finish 5-7 and Arroyo was fired at season's end.
His replacement, Barry Odom, knows what happened. While he said he hopes the returners learned from the experience, he added this is a new season.
"It would be wise for us to continue to focus on what we're in control of," Odom said. "Whatever happened last year — last week — has absolutely no bearing on what we do moving forward."
The Rebels enter their bye week full of momentum. They're 4-1, with the team's lone loss coming on the road against No. 2 Michigan. UNLV already has a Power 5 victory under its belt, having beaten Vanderbilt from the SEC, and romped to a 44-20 rivalry win against Hawaii Saturday at Allegiant Stadium in its Mountain West opener.
Another rivalry game awaits the Rebels after the bye, as UNLV travels north to play UNR in the Battle for the Fremont Cannon Oct. 14. "I feel the responsibility to go win the game for a lot of people," Odom said.
The Rebels may have the exact same record they did a year ago, but there are some differences between that team and this one. For starters, Odom pointed out exactly half of his 110-man opening day roster is new and didn't experience UNLV's 2022 collapse.
Additionally, only two members of Odom's coaching staff, tight end coach Nate Longshore and safeties coach Damon Magazu, were kept from Arroyo's tenure.
Finally, five of UNLV's final seven opponents finished with winning records in 2022. Only No. 24 Fresno State, Air Force and Wyoming currently have winning percentages above .500 among the seven teams remaining on UNLV's schedule this season.
"It's a different team," Odom said. "Every situation and every team is different."
Injury updates
The bye is also coming at the right time for the Rebels. Junior quarterback Doug Brumfield, who Odom maintained remains the starter, is close to returning from injuries he suffered in UNLV's 40-37 win against Vanderbilt Sept. 16.
Odom said two full weeks of practice would be a massive benefit for Brumfield, who struggled early this season before he was injured.
Odom also said this will also be a good time for the Rebels to figure out their defensive backs situation. Starting slot cornerback Jerrae Williams is out after undergoing foot surgery, but Odom said the senior defensive back is "not months, it's weeks" away from a possible return.
However, Odom was less positive about the status of senior running back Jordan Younge-Humphrey. He had 44 yards on two rushes in the first quarter against Hawaii before being removed with a "long-term" right knee injury.
"You knew exactly what you were going to get everyday in practice in the way that (Younge-Humphrey) worked," Odom said. "And he had carved out a role on offense that was impactful."
Contact reporter Andy Yamashita at ayamashita@reviewjournal.com. Follow @ANYamashita on X.