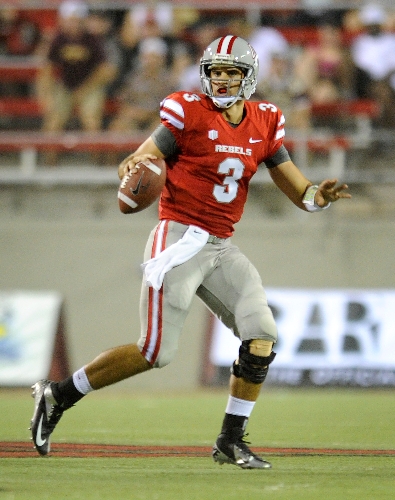 SAN DIEGO – The best news for UNLV emerged Thursday when coach Bobby Hauck said he anticipated that quarterback Nick Sherry would play today.
Without the promising redshirt freshman, the Rebels would have virtually no hope, because their best chance to beat San Diego State is to spread out the Aztecs defense and win through the air.
The Rebels (1-7, 1-2 Mountain West Conference) are 18½-point underdogs and might struggle mightily – even with Sherry – against the Aztecs (5-3, 3-1) at 5 p.m. at Qualcomm Stadium.
UNLV needs Sherry and his receivers to take advantage of a San Diego State defense that has been vulnerable through the air, allowing 270.2 yards passing per game. Take away games against offensively challenged Hawaii and Colorado State, and that average rises to 306 yards.
Opponents found success by spreading out the Aztecs' 3-3-5 defense, forcing coach Rocky Long to play more zone in recent weeks.
"Early in the season, we played a lot of man coverage, and we got beat on a lot of deep balls," Long said. "We've been playing more zone this year than we have in the past."
Sherry averages 230.2 yards passing per game, twice putting up more than 300. He was injured late in last Saturday's 32-7 loss at Boise State, grabbing his back as he left the field.
Hauck listed Sherry as questionable, but said in a text message Thursday he expected his quarterback to play.
Sherry isn't the Rebels' only health concern. Starting offensive tackles Brett Boyko and Yusef Rodgers are doubtful because of leg injuries. Boyko missed the Boise State game, Rodgers sat out a large chunk of it, and the Rebels' line struggled to protect Sherry.
"I'm telling you, it's been tough," Rodgers said. "It seems like every week, somebody's dealing with something. It's one of those things. It's football. You've got to expect that. We've got young guys coming up, and we've got guys ready to rotate in. It is kind of discouraging because we had high hopes, and we feel like with what we've got, we're still doing all right."
If the Rebels can keep Sherry upright, he's on pace to have the best season by a UNLV quarterback since Jon Denton in 1996 and third best in school history.
Hauck won't give away today's game plan, but he indicated the Rebels could mimic other San Diego State opponents and incorporate more spread into their traditional offense.
"It's what you do week in, week out -try to take advantage of deficiencies," Hauck said. "But whether you spread them out or you pack them in, the issue with San Diego State is finding them. They do a lot of movement."
As badly as San Diego State has struggled to defend the pass, the Aztecs have been effective at shutting down the run. They give up 123.5 yards rushing per game and only 3.4 yards per attempt.
That would seem to place even more importance of UNLV relying on the passing game, but the Rebels have a strong running game they probably don't want to abandon. Tim Cornett is 192 yards from becoming UNLV's first 1,000-yard rusher since Dominique Dorsey in 2004. Bradley Randle has gained 402 yards to give the Rebels an effective combination.
The danger for UNLV in trying to win through the air is getting too far away from its offensive personality.
"You plan every week, and you try to win," Hauck said. "You can't invent too many new things, but you can make some changes that may seem subtle that aren't subtle to defensive coaches."
Contact reporter Mark Anderson at manderson@reviewjournal.com or 702-387-2914. Follow him on Twitter: @markanderson65.
UNLV VS. SAN DIEGO STATE
WHEN: 5 p.m. today
WHERE: Qualcomm Stadium, San Diego
TV/RADIO: Cox (128), KWWN (1100 AM, 98.9 FM)
LINE: San Diego State -18.5; total 57.5