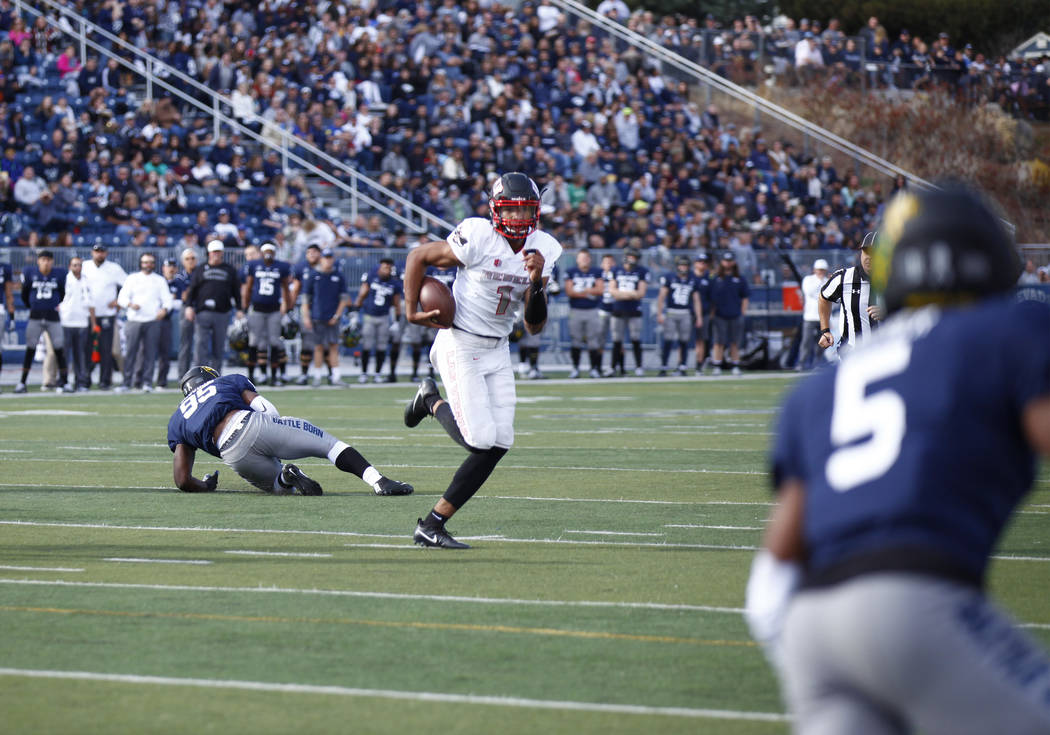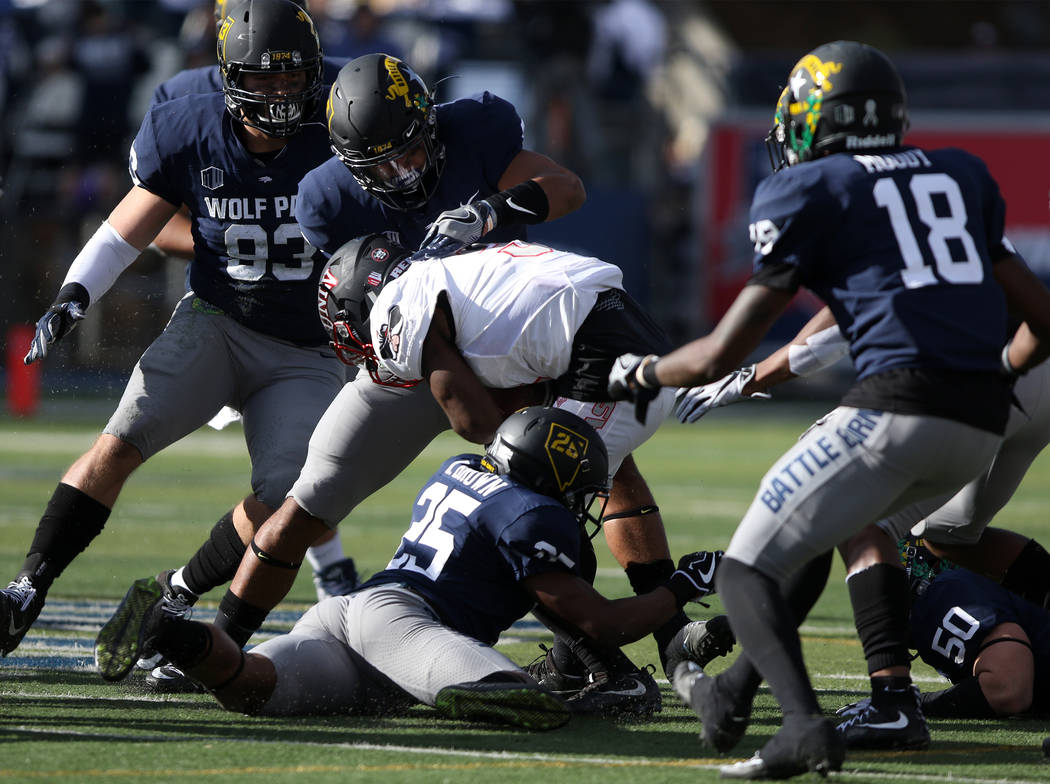 RENO — For 17 seniors who made the trip to Mackay Stadium, it was their final time in a UNLV football uniform.
They had hoped to beat their in-state rival, reclaim the Fremont Cannon and get ready for a potential bowl berth.
That was until UNR rallied to win 23-16 on Saturday.
"It was sad," said UNLV senior defensive tackle Mike Hughes Jr., a Palo Verde High School graduate. "You've got seniors leaving on a bad note. You've got guys that wish they could've done it for us. It's not about me right now when it comes to my college career being over, it's more of getting those (younger) guys' heads up and understanding, 'You've got to build on this.' My message for the whole team is, 'Come back stronger and harder.'"
UNLV for the first time has increased its victory total for the third year in a row, but Hughes and his fellow seniors wanted so much more.
"I wouldn't necessarily say it was a failure of a season," Hughes said. "We've picked it up every year, but when you're a senior, you can't take slow progress. You're pushing for as much as you can get. At the end of the day, if I left it better and they actually build on it, I'll be happy. But we'll only talk about that next year."
Fading away?
UNR defensive end Korey Rush told the Reno Gazette-Journal he felt the tide shifting from the Rebels late in the game.
"I felt like they gave up a little bit toward the end," Rush said. "I felt they were a little lifeless toward the end."
Standout season
Rebels junior Lexington Thomas rushed for 63 yards against the Wolf Pack, putting him at 1,336 yards for the season, which is fourth best in UNLV history. His 2,484 career yards places him sixth and within reach of record holder Tim Cornett's 3,733 yards set from 2010 to 2013.
UNLV's run game, though, didn't finish as strong as it began. The Rebels rushed for more than 300 yards in four of their first seven games, but were held to fewer than 200 in four of the final five. UNR limited UNLV to 164 yards on the ground.
"We've got to get a little more physical," Rebels coach Tony Sanchez said. "We weren't as tough a run team as we were at the beginning of the year with some guys (on the offensive line) out. It shows that depth is still a little bit of an issue."
Among the best
UNLV wide receiver Devonte Boyd, who went to Basic High, caught two passes for 33 yards in his final Rebels game. That put him at 198 career receptions for 3,242 yards.
He finished third in catches in UNLV history behind leader Ryan Wolfe's 283 from 2006 to 2009 and Casey Flair's 202 from 2005 to 2008. Boyd is second in receiving yards, behind Wolfe's 3,495.
Contact Mark Anderson at manderson@reviewjournal.com. Follow @markanderson65 on Twitter.