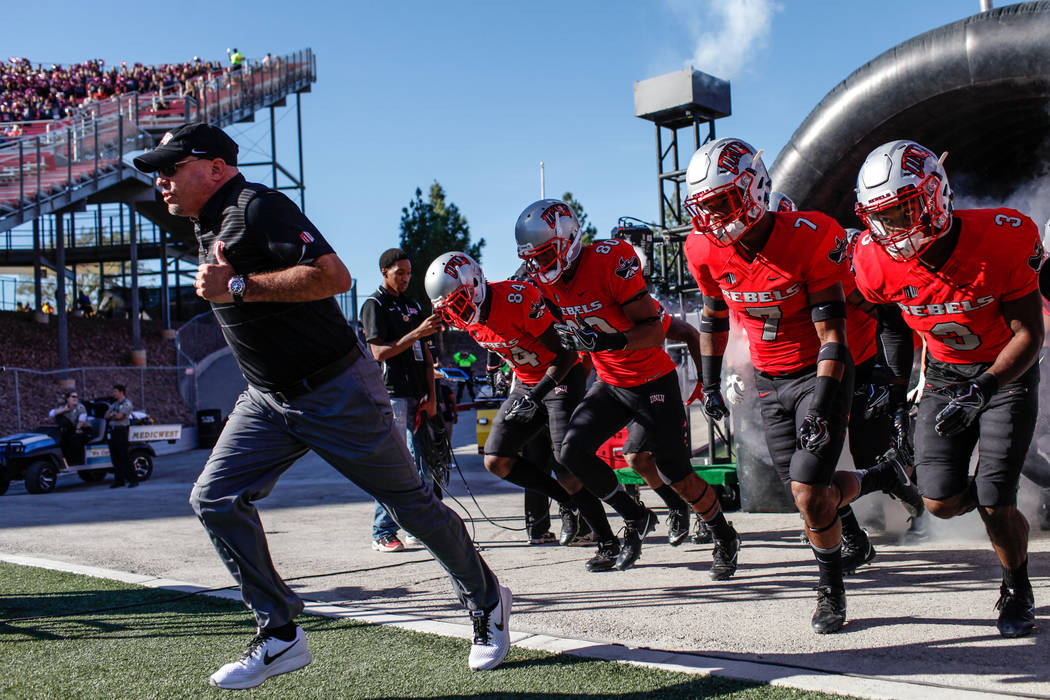 When Tony Samuel was an assistant coach at Georgia State, he did such a terrific job recruiting Tavis Malakius two years ago that he signed with the Panthers.
And when Samuel left Georgia State for UNLV, Malakius wasn't far behind, enrolling at Fort Scott (Kansas) Community College and keeping in touch with the coach.
Now Malakius (6 feet 3 inches, 297 pounds) is one of three junior college defensive tackles who will sign with the Rebels, a position UNLV badly needed to address after losing starters Mike Hughes Jr. and Jason Fao.
"Seeing what they were doing with the football facilities, that really blew me away," Malakius said. "I wanted to be a part of something like that. I feel like UNLV is on the rise, and I feel like the D-tackle commits, we're going to come in and do something great."
UNLV coach Tony Sanchez will announce the remainder of his newest class at a news conference Wednesday as what had been the more traditional signing period begins. He announced the first 13 players of his class Dec. 20.
In addition to Malakius, defensive tackles Montrice Johns (6-6, 305) of Redwoods College in Eureka, California, and Dominion Ezinwa (6-5, 320) of Chaffey College in Rancho Cucamonga, California, will fax in their letters-of-intent.
Replacing Hughes and Fao won't be easy. Though UNLV's defense allowed 31.8 points per game last season, those two combined to make 91 tackles that included 11.5 for loss.
The fact the Rebels will sign three junior college linemen rather than high school players at those positions underscores the urgency.
Johns began his college career at New Mexico State as a tight end before transferring to Redwoods. He said a personality conflict with Aggies coach Doug Martin prompted his departure.
The feeling at UNLV, Johns said, was quite different.
"It felt good to be out there in Vegas on a visit," he said. "I love the campus, and what coach Sanchez and all of them are doing with the new facilities is great. I got along with a couple of the teammates that I met. It was just really positive. What the coaches are talking with me about what they want me to do, I have to fight for my spot, but they definitely have confidence in me. And I believe I have enough confidence in myself to earn that starting position."
Ezinwa took an unusual path to becoming a Rebel. After playing high school football in Illinois, he attended a junior college in that state for two years as a student only. But when his mother moved to California last year, Ezinwa followed her and enrolled in Chaffey College and decided to give football another try.
Now he soon will play at UNLV.
"I felt like I was at home," Ezinwa said. "It wasn't like I was in a whole new place trying to figure out everything. When I was going through the city, I felt like I had been there before, but I hadn't."
More Rebels: Follow all of our UNLV coverage online at reviewjournal.com/Rebels and @RJRebels on Twitter.
Contact Mark Anderson at manderson@reviewjournal.com. Follow @markanderson65 on Twitter.
Early signees
— Austin Ajiake (6-2, 210), athlete, Bellarmine Prep (San Jose, Calif.)
— Patrick Ballard II (6-3, 195), wide receiver, Elkins High School (Missouri City, Texas)
— Bryan Catchings (6-2, 275), offensive lineman, Oak Ridge High School (El Dorado Hills, Calif.)
— Max Gilliam (6-3, 200), quarterback, Saddleback College (Mission Viejo, Calif.)
— Phillip Hill (5-11, 185), safety, Klein Collins High (Spring, Texas)
— Bryce Jackson (5-9, 200), cornerback, Chandler (Ariz.) High School
— Keenen King (6-4, 325), offensive lineman, Arbor View High School/Washington State
— Chad Magyar (6-2, 205), running back, Santa Margarita College (Rancho Santa Magarita, Calif.)
— Chris Manoa (6-0, 325), defensive lineman, Chander (Ariz.) High School
— Timothy Mosley (6-3, 220), defensive lineman, Dorsey High School (Los Angeles)
— Kenyon Oblad (6-3, 185), quarterback, Liberty High School
— Myles Plummer (6-1, 170), safety, Coffeyville (Kan.) Community College
— Luca Vartic (6-1, 200), safety, Arizona Western College (Yuma)
Commits
— Octavian Bell (5-10, 174), athlete, Liberty High School
— Dominion Ezinwa (6-5, 320), defensive tackle, Chaffey College (Rancho Cucamonga, Calif.)
— Moa Heimuli (6-1, 310), defensive tackle, East High School (Salt Lake City)
— Montrice Johns (6-6, 205), defensive tackle, Redwoods College (Eureka, Calif.)
— Malcolm Johnson (6-0, 218), defensive end, Mandeville (La.) High School
— Tavis Malakius (6-3, 297), defensive tackle, Fort Scott (Kansas) Community College
— Amani Trigg-Wright (6-5, 305), offensive lineman, McClymonds High School (Oakland, Calif.)
— Shelton Zeon (6-4, 230), tight end, Norcross (Ga.) High School