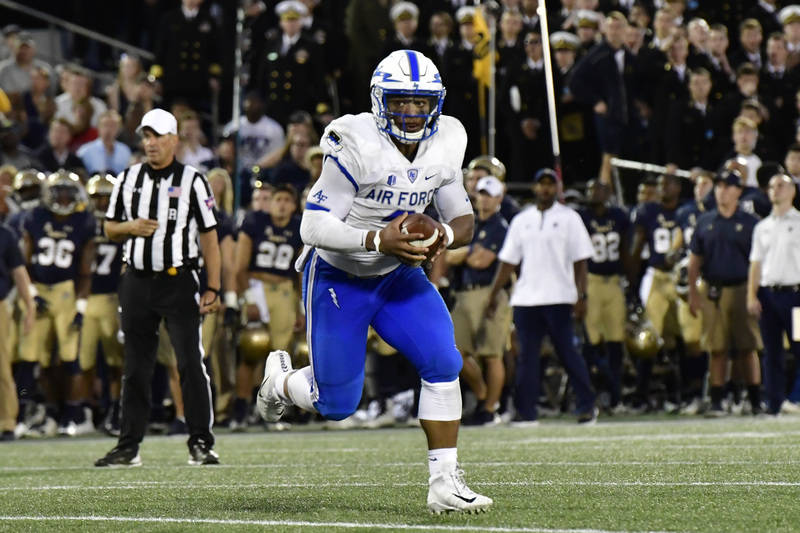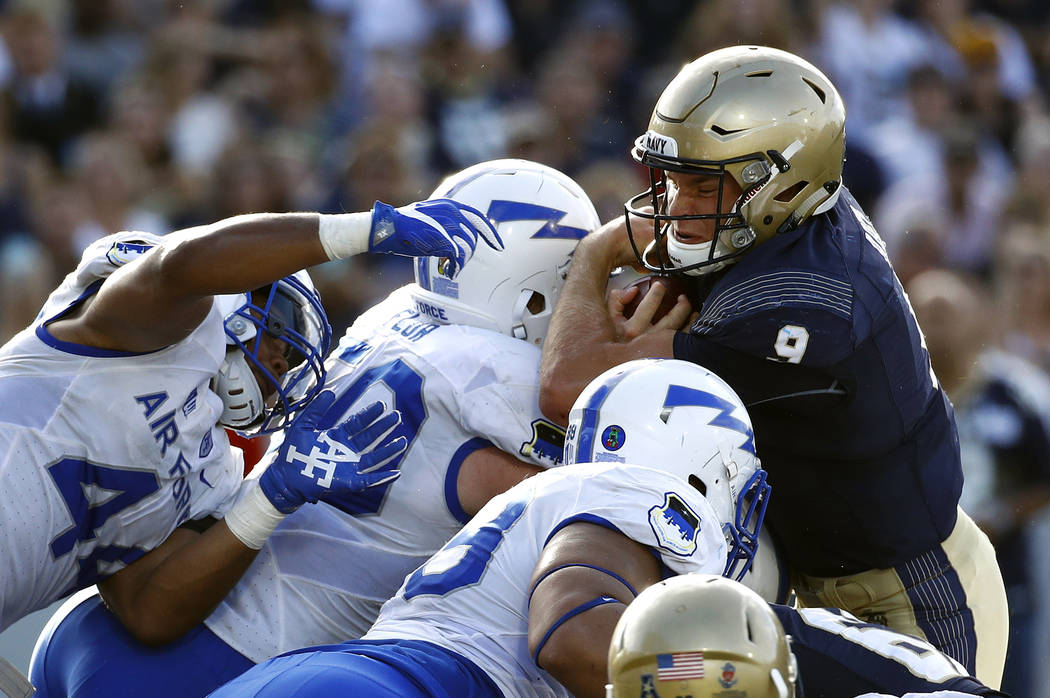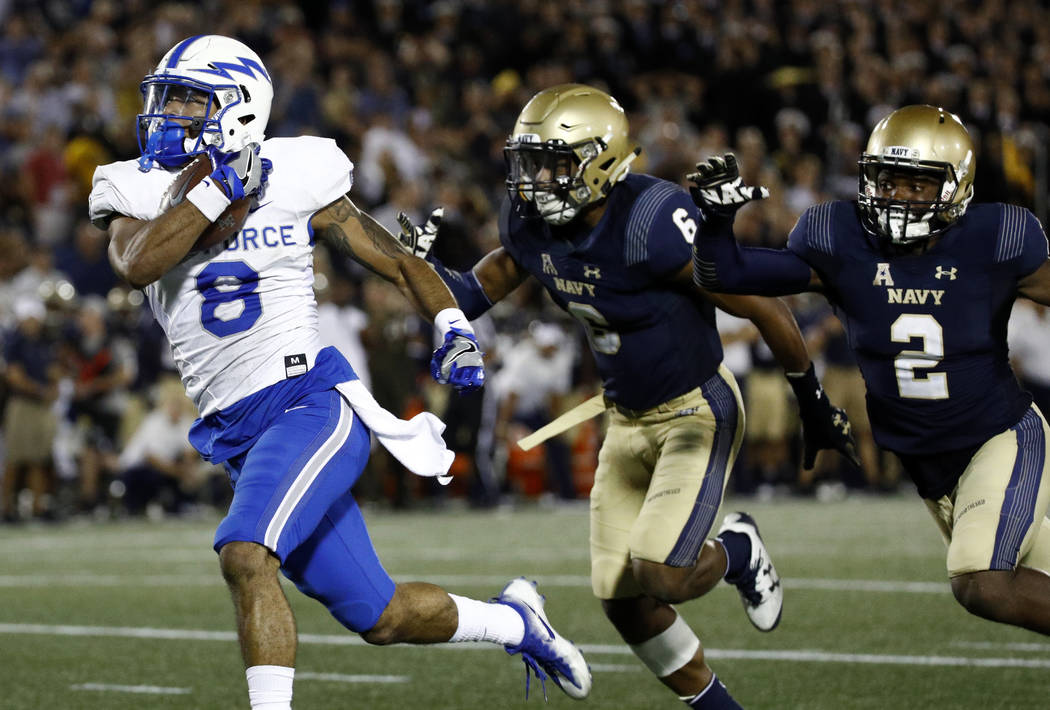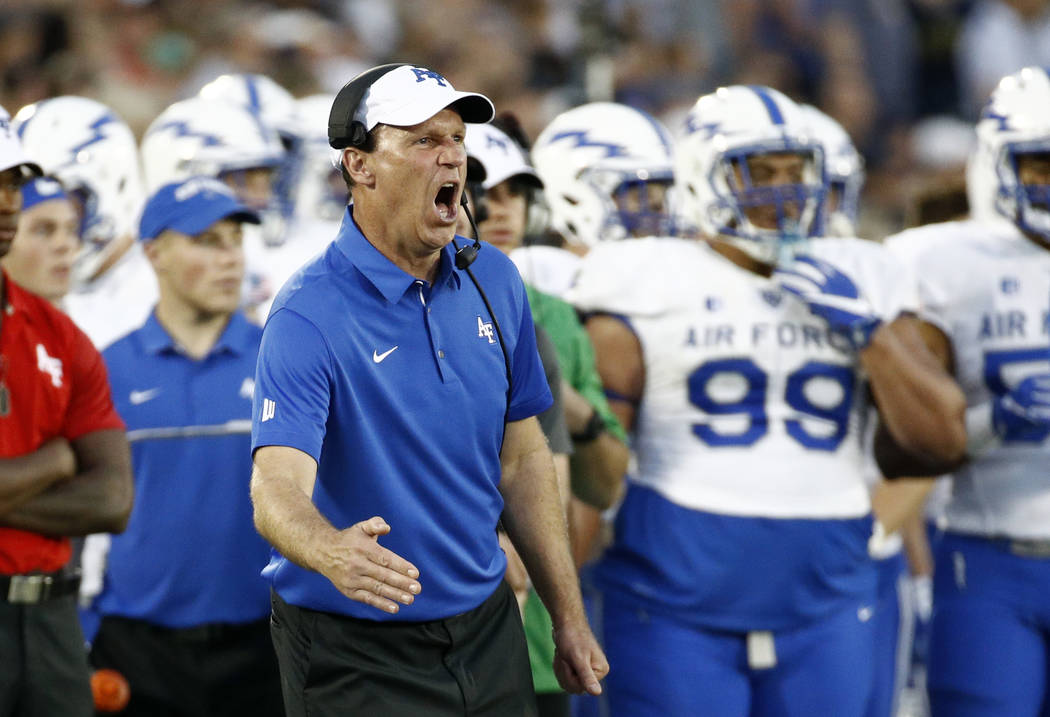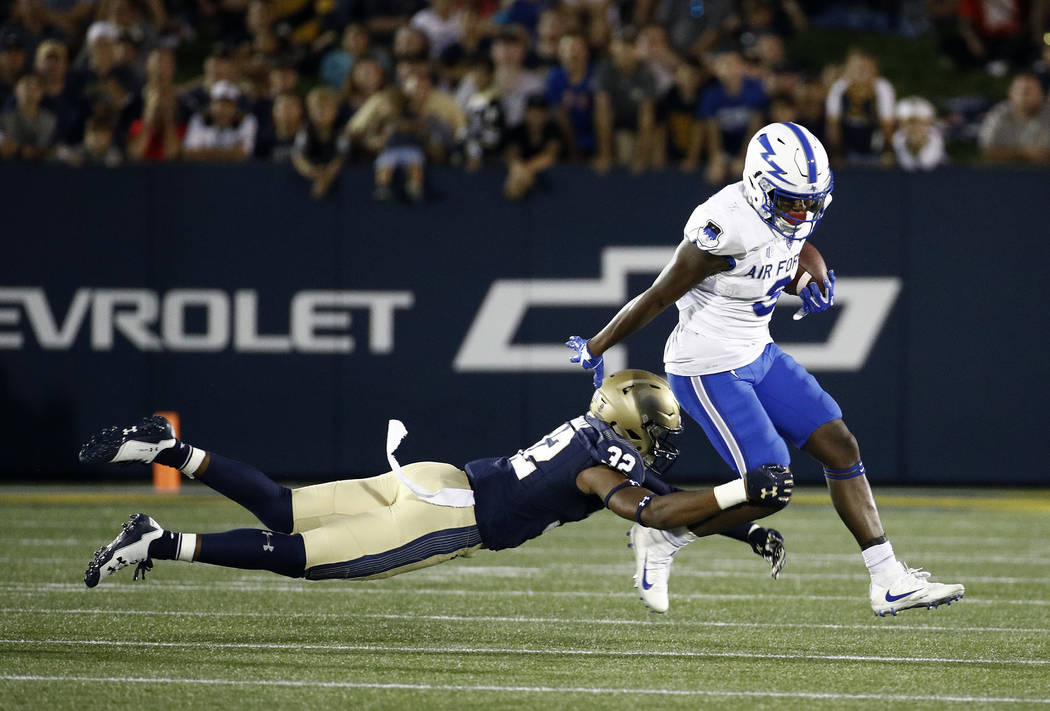 Air Force plays such a unique offense that UNLV football coach Tony Sanchez didn't want to wait until game week to prepare for it.
He devoted 20 minutes in four spring practices to defending the triple option, and the Rebels spent time on it in training camp and during the bye week after the Sept. 9 game at Idaho.
"We wanted to make sure when we got to this week on the schedule there was some familiarity with calls and checks," Sanchez said Tuesday. "Obviously, there's a lot of stuff we've got to add in as we prepare."
The Rebels (2-3, 1-1 Mountain West) visit Air Force (1-4, 0-2) at 11 a.m. Saturday. AT&T SportsNet will televise the game, and the Falcons are 7½-point favorites.
Their record is deceiving because the Falcons have been competitive with quality teams. They lost 29-13 at Michigan in what was a six-point game entering the fourth quarter, 28-24 to conference favorite San Diego State in a downpour and a 48-45 thriller at Navy.
The only somewhat blowout during the four-game skid was a 56-38 loss at New Mexico. But Air Force led 21-14 at halftime.
So there's a 1-4 record that accurately reflects a team's struggles, and there is this kind of 1-4 in which a play or two goes the other way and the Falcons have quite a different outlook.
As far as Sanchez is concerned, it doesn't matter what kind of 1-4 it is.
"The biggest thing for us is I don't think we're in a position, and I don't think we will be any time soon, to think anybody's a gimme," Sanchez said. "We're UNLV. We've got to be realistic about who we are and what we're trying to build here, so I don't think our guys are going to take anything for granted. I don't think they're going to look at the records.
"We know what our own issues are and what we need to do to prepare and to get better and win football games like this and be more consistent. They're a good football team. We respect the heck out of them. They've been good for a long, long time, and we have to go put our best foot forward to win this game."
Quarterback Arion Worthman leads an Air Force offense that leads the Mountain West with 36.4 points per game. He comes off a game Saturday at Navy in which he compiled 396 yards of total offense, breaking a 47-year-old school record.
Worthman runs the deceptive triple option that has prompted Sanchez to schedule so much time in practices in trying to at least slow it. UNLV's scout-team offense is using a Nerf ball instead of a real football "to simulate the snap," Sanchez said.
"The biggest thing we talk about is phases," he said. "You've got to tackle all three, so it's not even about having a football out there. You get the snap, you've got the dive, you've got the QB keep and you've got the pitch, and all three phases have to be eliminated on every single snap. So you can't be looking for the football when you're playing an option team."
More Rebels: Follow all of our UNLV coverage online at reviewjournal.com/Rebels and @RJRebels on Twitter.
Contact Mark Anderson at manderson@reviewjournal.com. Follow @markanderson65 on Twitter.
UNLV at Air Force
When: 11 a.m. Saturday
Where: Falcon Stadium, Air Force Academy, Colo.
TV/Radio: AT&T SportsNet; KWWN (1100 AM, 100.9 FM)
Line: Air Force -7½; total 67½