UNLV staying grounded despite fast start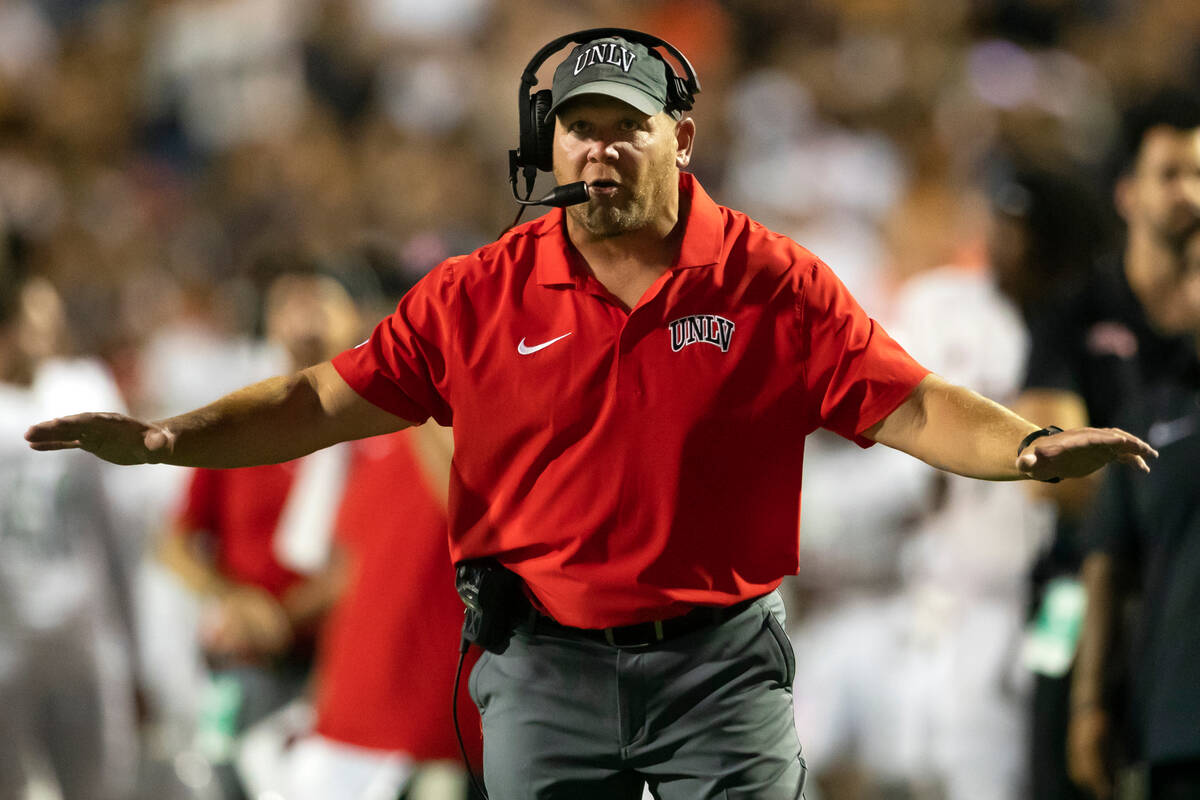 UNLV football coach Barry Odom had a talk with the Rebels during fall camp and broke down the upcoming season into three four-game stretches.
He expected to be 3-1 at the end of nonconference play, so the fact that's precisely his team's record comes as no surprise.
"I think it's where we should be," he said. "If you want to be successful and you look at the big picture of bowl ramifications and rankings and all those sorts of things, you've got to win in the nonconference season. You want to keep improving and moving forward each week and we've done that. … To be 3-1 is where we should be."
It's precisely that attitude that should keep the Rebels from getting overconfident from their early success, which includes a win over a Southeastern Conference team and the program's first nonconference road victory since 2019.
"We haven't won anything yet," the first-year coach said. "That's been the message this week. Nonconference season is over, and now we're playing for keeps. The opportunities in front of us, if we don't approach them the right way, we won't make the strides we want."
To that extent, Odom has liked his team's approach and attitude as the Rebels prepare to open Mountain West play at 1 p.m. Saturday against Hawaii (2-3) at Allegiant Stadium.
"We've had a really, really good week," he said. "I think the team is hungry. I think they are attacking it with a little bit of a chip on their shoulder. I think it's always important as a staff that you find ways to motivate young men. Every week is a little different in what the approach is. This team has been easy to motivate up to this point."
They've also been very good, especially in the run game and the red zone. The Rebels racked up more than 300 yards on the ground last week and rank No. 45 in the nation with 165 rushing yards per game. They are 13th at converting red zone opportunities into points, having scored on 17 of 18 trips inside the 20-yard line.
Odom and his team were pleased to get over the hump of winning on the road, but they have quickly turned the page to the Rainbow Warriors.
"As soon as you start reading the press clippings and reading what you did last week, you are cheating your preparations for the opponent in the upcoming week," he said. "I don't want to minimize what they did, but we're not close to being what we could be."
His players have received the message.
Center Jack Hasz said all of the focus has been on Hawaii and the Ninth Island Showdown.
"It's obviously a big game, but at this point in the season, we're solely focused on going 1-0 every week," he said. "Obviously last week was good, but you have to have a quick memory because there's a lot of improvements that need to be made."
The teams will play for the Island Showdown Trophy, which features a pineapple sitting atop a base adorned with a version of the "Welcome to Fabulous Las Vegas" sign. Hawaii has possession of the trophy after a 31-25 win over the Rebels last season, but Odom and his team have their sights set on keeping it in Las Vegas.
"This week, we play for a trophy and we also play for conference standings," he said. "For us, if we can be 1-0 at the end of the first week of the conference season, it will be a huge step toward where we're trying to go."
Contact Adam Hill at ahill@reviewjournal.com. Follow @AdamHillLVRJ on X.
Up next
Who: Hawaii at UNLV
When: 1 p.m. Saturday
Where: Allegiant Stadium
TV: SSSEN
Radio: KWWN (1100 AM, 100.9 FM)
Line: UNLV -11½, total 60½