UNLV stuns New Mexico with late TD, still alive for bowl
November 17, 2017 - 10:16 pm
Updated November 17, 2017 - 11:04 pm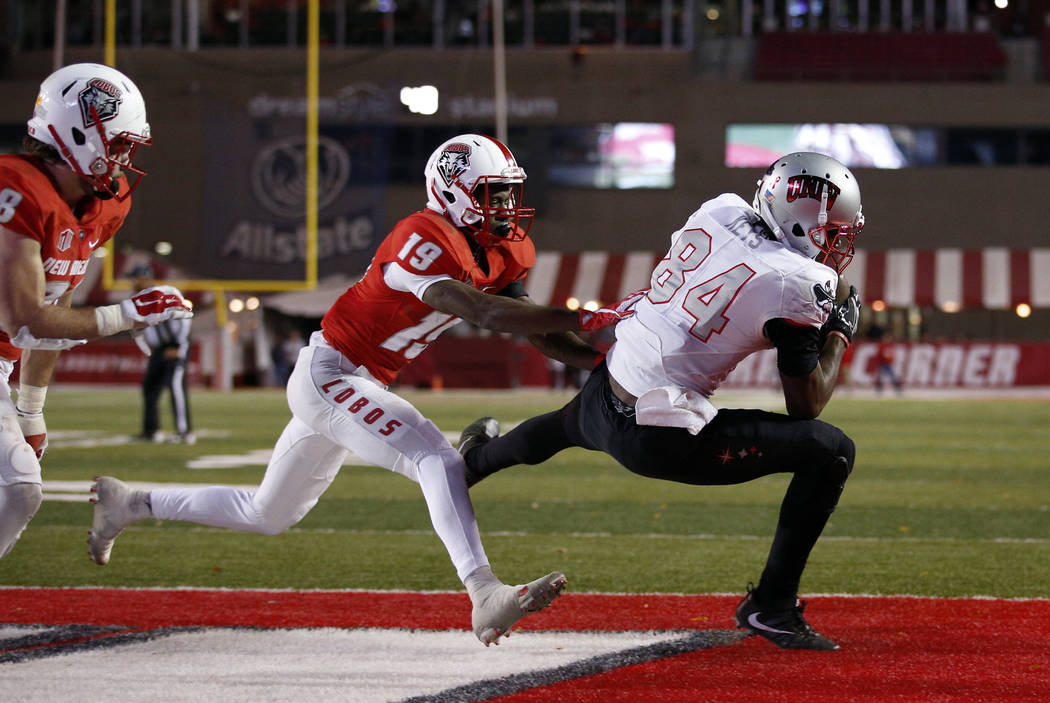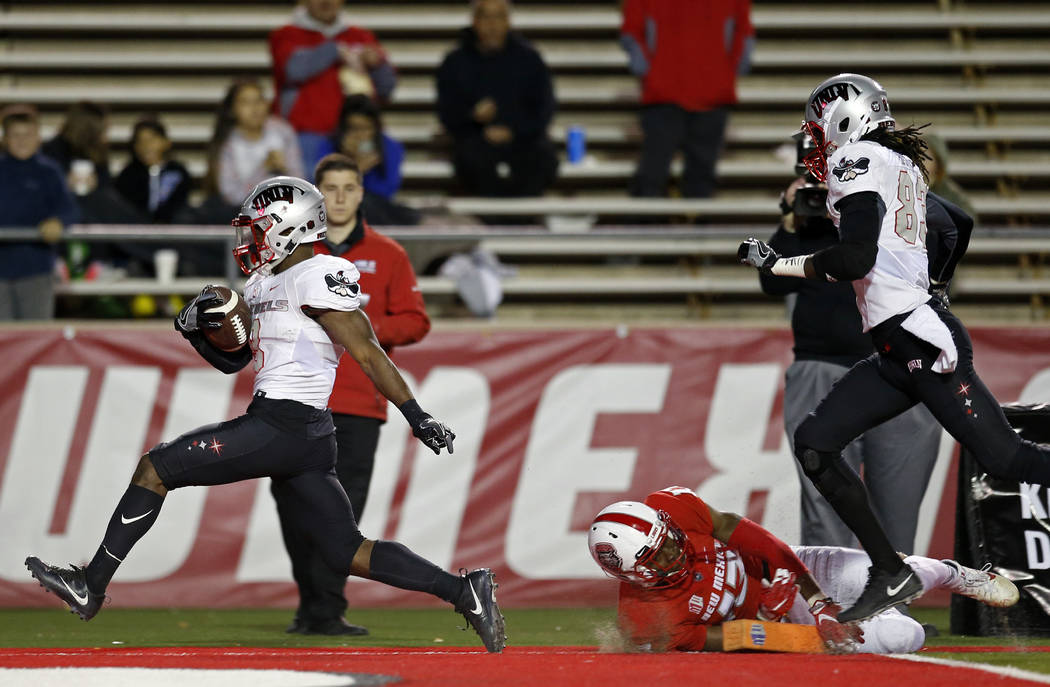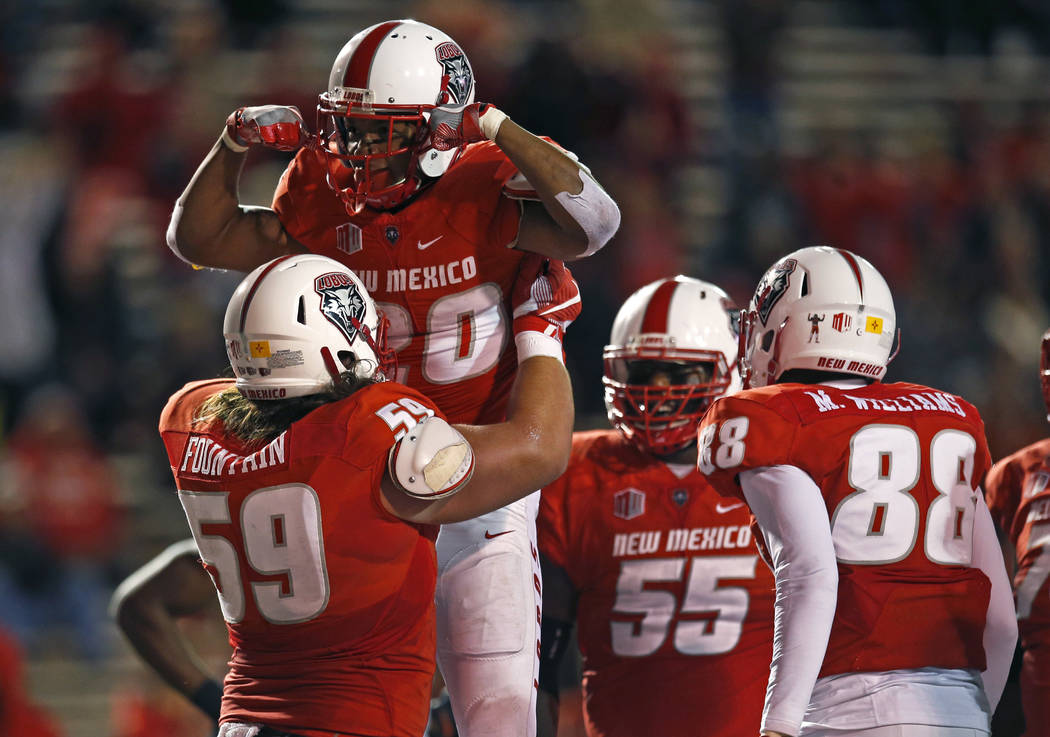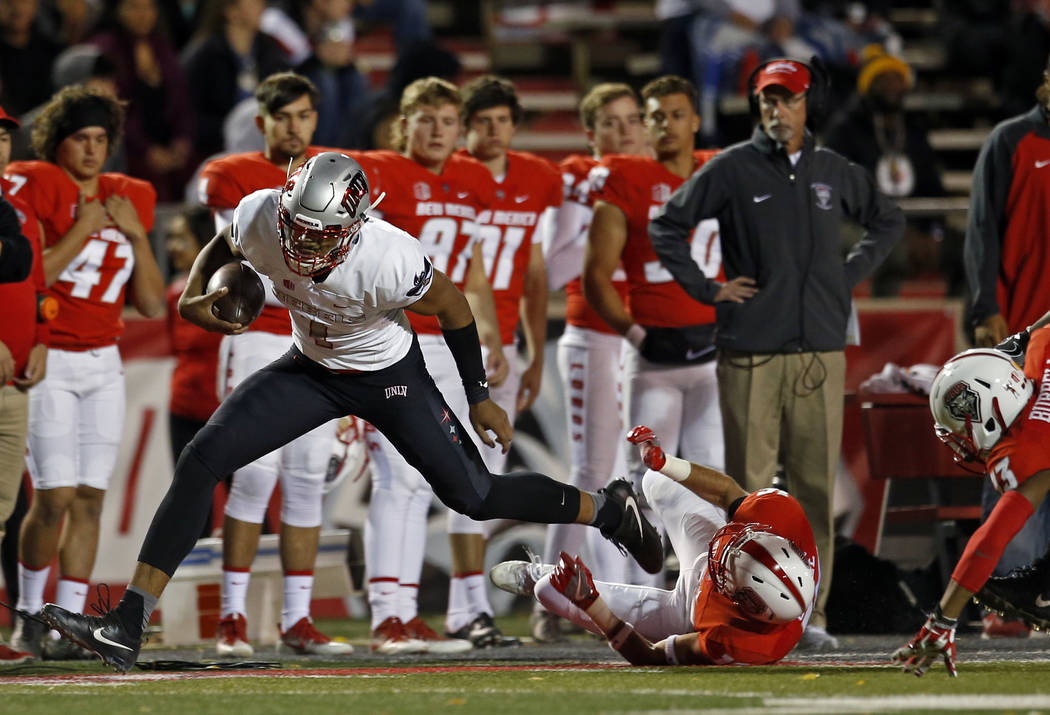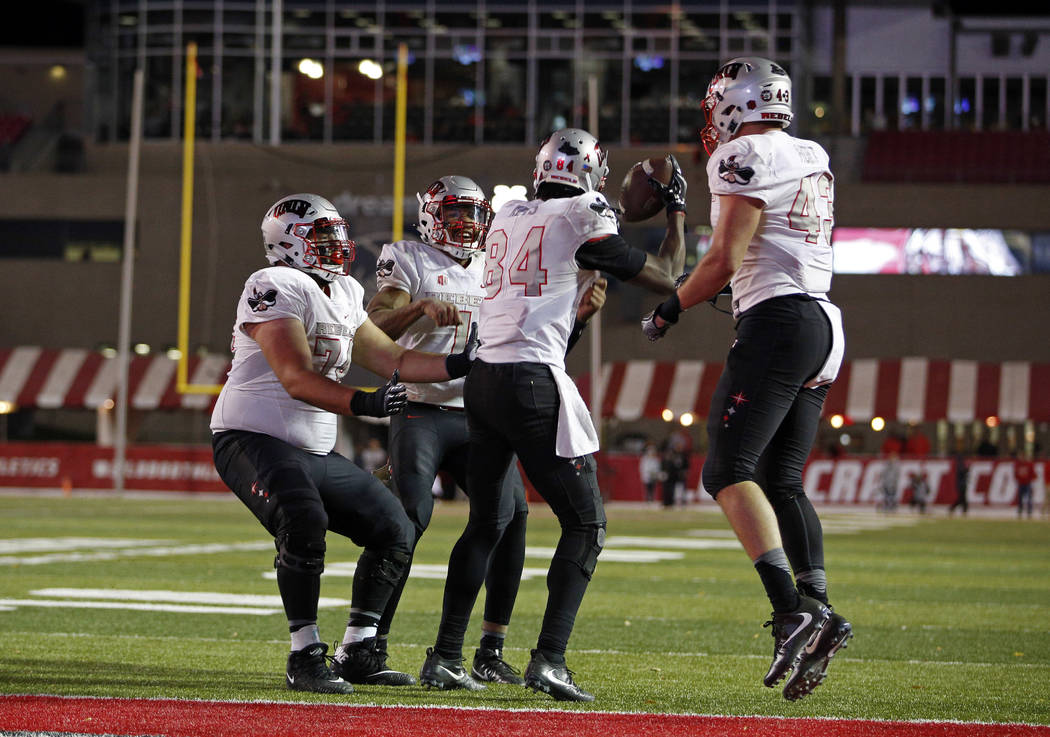 ALBUQUERQUE, N.M. — Just a tease or two.
UNLV dangled a victory in front of New Mexico a couple of times Friday night, then snatched it back again and again, finally coming away with a 38-35 win when Armani Rogers hit Kendal Keys with a 14-yard touchdown pass with 25 seconds left.
"We had plenty of opportunities to pull away with the game and we didn't," Rebels coach Tony Sanchez said. "Then you have a minute left on the clock and it doesn't look real hopeful."
It looked particularly dark when UNLV (5-6, 4-3 Mountain West) faced a third-and-eight with 54 seconds left, but Rogers found Darren Woods Jr. for 50 yards to set up the winning score.
"Our guys just kept fighting," Sanchez said.
The win keeps UNLV in contention for bowl consideration entering the regular-season finale at UNR.
But this game "was huge for these guys to find a way win," Sanchez said. "They didn't quit, they stayed energetic. It would have been real easy to throw a couple of incompletions and take a flight home, and they didn't."
Instead, Rogers, who set a school quarterback rushing record with 193 yards, rallied the team.
"He didn't play real well," Sanchez said. "To have the courage and the savviness and the strength to make the plays at the end … that was big-time football."
Rogers said he just tried to maintain his focus at the end.
"I saw we had 1:11 left, and I knew I had to stay in there and stay calm," he said. "And when I saw D. Woods running down the seam versus the linebacker, I said, 'Put it out there,' I knew he was going to make a play. Then after that, we went down there, and I saw Kendal one on one with one of their corners, and the safety is playing in the middle of the field, and it played out exactly the way I wanted it to. I just tried to stay as calm I could. Try to stay calm, cool and collected."
The Rebels delivered two quick jabs at the end of the first half and a fourth-quarter field goal.
On back-to-back plays from scrimmage, Lexington Thomas went around the left end for a 60-yard touchdown run and Rogers burst up the middle for an 83-yard scoring run.
UNLV opened the game by grinding out two consecutive scoring drives, settling for a 40-yard Evan Pantels' field goal, followed by a 10-play, 82-yard drive that Thomas capped with a 14-yard run for a 10-0 lead.
That's when the Rebels took a break and New Mexico (3-8, 1-6) took advantage, scoring on an 86-yard drive and a 98-yard drive for a 14-10 lead.
Thomas, who finished with 127 yards rushing, bounced to the outside and hugged the sideline untouched for the go-ahead touchdown. It was his sixth TD run of at least 55 yards this season.
After the Rebels' defense held on three downs, Rogers surged through a wide gap in the middle, cut to the far sideline and outraced the defense to the end zone to give UNLV a 24-14 halftime lead.
The Rebels' offense sputtered in the second half, scoring on two field goals by Pantels before the winning drive.
Notes — The win gives UNLV three straight conference wins for the first time since winning four in a row in 1994. … The victory also means the Rebels have increased their total wins for three straight seasons for the first time.