UNLV to appear on AT&T SportsNet 3 times in 2018 season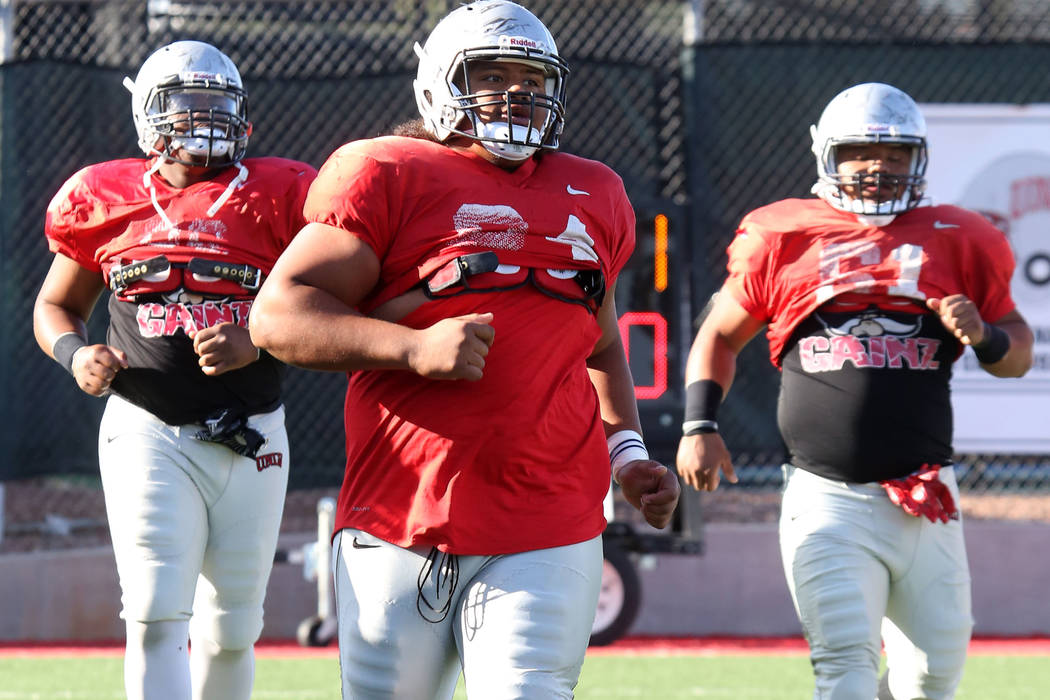 UNLV now knows the times and TV information for four more games this football season.
AT&T SportsNet will televise three games — Sept. 8 against Texas-El Paso at Sam Boyd Stadium, Oct. 6 at home against New Mexico and Oct. 27 at San Jose State. The UTEP game will be at 6 p.m., New Mexico at 1 p.m. and San Jose State at 3:30 p.m.
UNLV also announced its Sept. 15 home game against Prairie View A&M will be streamed on its website through the Mountain West Network. Kickoff will be 7 p.m.
"The more you get to play on the Internet, the more you get to play on TV, the more exposure you have to your recruits, to your fan base," coach Tony Sanchez said. "Nowadays with all the digital platforms along with TV, you'd like every single one of your games to have exposure, especially when you're away so that your home fans have a chance to watch it along with your recruits around the country."
Game times will be announced later regarding the Sept. 22 game at Arkansas State and Nov. 10 one at San Diego State. One of the ESPN channels will televise the game against the Aztecs.
TV information also remains to be announced regarding the Arkansas State game and the Nov. 17 trip to Hawaii.
The Rebels finish training camp this week with Saturday's scrimmage at Sam Boyd. Then they go into game preparation next week for the Sept. 1 season opener at Southern California.
Position breakdown
Offensive line
Left tackle
1. Donovan Outlaw, Soph., 6-4, 295
2. Ashton Morgan, Fr., 6-5, 290
Left guard
1. Zack Singer, Sr., 6-3, 320
2. Matt Brayton, Soph., 6-3, 310
Center
1. Sid Acosta, Jr., 6-1, 290
2. Justin Polu, Jr., 6-4, 325
Right guard
1. Justin Polu, Jr., 6-4, 325
2. Julio Garcia II, Jr., 6-3, 310
Right tackle
1. Jaron Caldwell, Jr., 6-4, 320; Nathan Jacobson, Sr., 6-5, 280
Notable
■ Three players returned to practice. Sophomore nose tackle Kolo Uasike had been out nearly the entire camp because of conditioning associated with massive weight loss. Junior wide receiver Darren Woods Jr. hadn't practiced since late last week because of general soreness. And junior right guard Justin Polu was back after missing two days with an injured leg. Junior defensive end Nick Dehdashtian (foot) and sophomore linebacker Nate Neal (sprained ankle) remain out.
■ UNLV has consistently put together quality practices this camp, with only one standing out as not having gone well. Sanchez, though, said it's not that simple.
"It's by period," he said. "You might have a period where one side looks a little cleaner than the other. In practice, if the defense dominates, that means they're getting after the offense a little bit and vice versa. You want to see give and take throughout the camp.
"Now things will change up once we start working on SC. Once we start working on scout team, you want to have good days every single day going against the scout guys."
■ Rapper Flavor Flav attended Wednesday's practice to see his godson, redshirt freshman running back Rashad Walker. Flavor Flav has become a familiar face around the program.
More Rebels: Follow all of our UNLV coverage online at reviewjournal.com/Rebels and @RJRebels on Twitter.
Contact Mark Anderson at manderson@reviewjournal.com. Follow @markanderson65 on Twitter.