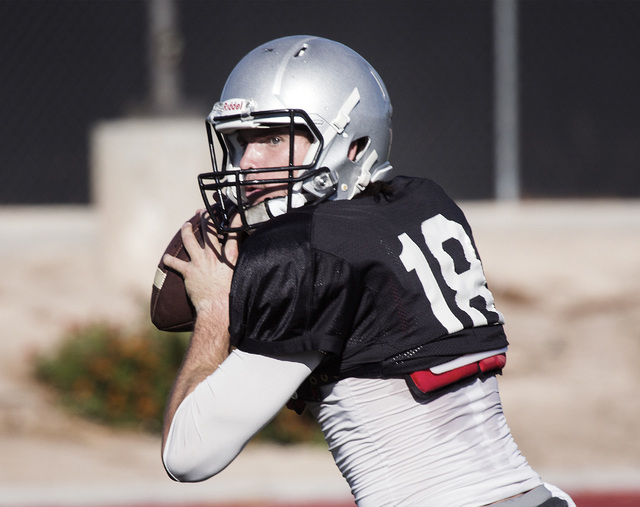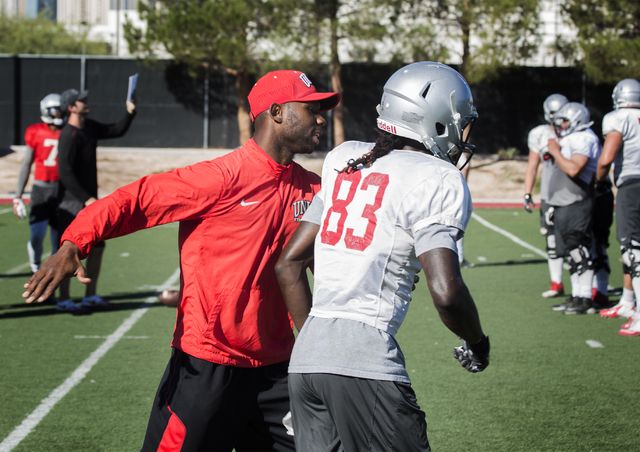 It's been a bumpy ride this season for Devonte Boyd and the rest of UNLV's receiving corps, which has been decimated by injuries. But Boyd, a consensus preseason first team All-Mountain West pick, plans on leading the unit to a strong finish.
"(Receivers) coach (Cedric Cormier) always says, 'The games to remember are played in November.' And to set November up, you've got to go off in October," Boyd said. "So I'm going to flush everything else that's happened, and I'm going to come strong the rest of the season. It isn't too late to get to where I want to be."
Boyd and the Rebels (2-3, 1-0 MW) will take on San Diego State (3-1, 0-0) at 7:30 p.m. Saturday at Qualcomm Stadium, where UNLV hasn't won since 2000.
A junior from Basic High School, Boyd racked up more receiving yards through a sophomore season than any other Rebel in history with 1,884. He was poised to form the top receiving duo in the league this season with Kendal Keys before the junior had season-ending knee surgery less than a week before the opener — during which Keys' replacement, sophomore Brandon Presley, suffered what now appears to be a season-ending foot injury.
UNLV lost its third starting wideout Saturday when redshirt freshman Darren Woods Jr. suffered a season-ending knee injury in a 45-20 win over Fresno State.
"I definitely feel for those guys. All of them," Boyd said. "I was real hurt that Darren Woods got hurt. That's my roommate on all the trips. He's pretty much like my little brother.
"I want to go out there and make a lot of plays not only for the team but for (Woods), Kendal and Presley. Everybody that's hurt."
Boyd had three touchdown catches in the first half of the opener and compiled 219 yards receiving in the first two games against Jackson State and UCLA. But he's been limited to 110 yards receiving in the past three games and was held without a catch in a Sept. 17 loss at Central Michigan for the only time in 30 games at UNLV.
"I was mad. That was my first game ever in life not catching a ball in a game," Boyd said. "I was like, 'Wow, I better get back to work.'"
It hasn't helped Boyd that the Rebels have had two quarterbacks (Johnny Stanton, Dalton Sneed) make their first Division I starts this season and that he's been the main target of opposing pass defenses.
"He's got a lot of big plays in him," Rebels coach Tony Sanchez said. "It's easier for defenses to focus on him because right now they're not really threatened by the other guys, so those other guys have got to step up and show they can win those one-on-one battles to take some of that heat off of Boyd."
Boyd will be flanked in the starting lineup Saturday by two true freshman wideouts in Mekhi Stevenson and Elijah Trosclair. Stevenson, a product of San Diego's Helix High, has seven catches for 73 yards and a score this season, and Trosclair reeled in a 61-yard touchdown Saturday for his first career catch.
"(Stevenson) went from being probably the fifth guy playing a little bit of a role to all of a sudden now he's your starting punt returner and No. 2 wide receiver," Sanchez said. "And (Trosclair) is a guy that, without injuries, you'd like to redshirt.
"We've got a lot of young guys we need to grow up really fast."
The 6-foot-3-inch Trosclair, from Sacramento (Calif.) High, has appeared in three games and is still getting accustomed to the college level.
"I'm comfortable with the plays now," he said. "It's just much more high tempo than high school. Everything's real, real fast. I've still got some adjusting to do, but I'm getting there."
Boyd is confident the young Rebels receivers — including 5-foot-5-inch redshirt freshman walk-on Allan Cui III — will rise to the challenge.
"I believe in Mekhi and Elijah and Cui," Boyd said. "They're going to step up big time and make big-time plays."
Contact reporter Todd Dewey at tdewey@reviewjournal.com or 702-383-0354. Follow on Twitter: @tdewey33
UNLV vs. San Diego State
Where: Qualcomm Stadium, San Diego
When: 7:30 p.m. Saturday
TV/Radio: ESPNU; KWWN (1100 AM, 100.9 FM)
Line: San Diego State -15, total 54½
Visit our GameDay page for full coverage of the UNLV-San Diego State game.