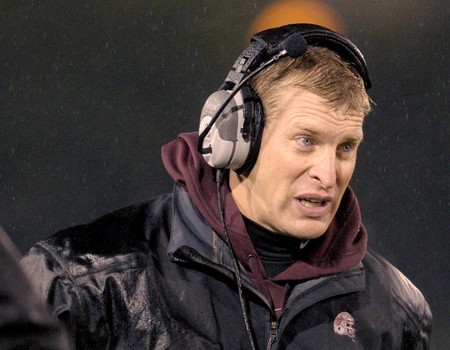 Bobby Hauck, who went a remarkable 80-17 in seven seasons at Montana and led the Grizzles to three Football Championship Subdivision national title appearances, was hired Tuesday to be UNLV's next coach.
Hauck, 45, will be introduced at a news conference at noon today at the Thomas & Mack Center's Board Room.
He agreed to a three-year, $350,000 salary — plus an annual $150,000 completion bonus — heavy on incentives. The Board of Regents has called a special meeting to approve the contracts for Hauck and Jim Livengood, who last week was hired as athletic director.
"I'm all for it," Regent Mark Alden said. "I think (Hauck's) the right hire. We really got lucky. A great, great hire."
Hauck was chosen over former longtime coach Dennis Franchione, who works for ESPN Radio. One source close to the hiring process said Hauck won the job because of his "energy" and because he was seen as "a masterful recruiter."
"He had to work hard to recruit to Montana, where Dennis recruited at Alabama and (Texas) A&M," the source said, referring to football hotbeds.
An attempt to reach Hauck was unsuccessful. Franchione declined comment.
Hauck replaces Mike Sanford, who was fired last month and on Tuesday was named Louisville's offensive coordinator. Hauck will try to resurrect a program that hasn't had a winning season or appeared in a bowl since 2000.
Of Hauck's $350,000 salary, $150,000 will be in base pay, $150,000 for media obligations and $50,000 for public appearances. That is less than the $425,000 Sanford earned, but Livengood said, "There will be another piece to it. That's all I can say about it right now."
A source with knowledge of the deal said the other piece is a $150,000 completion bonus for each season Hauck finishes. So his salary, in reality, is $500,000, plus what can be earned in incentives.
Hauck can make between $10,000 to $100,000 for a bowl appearance and between $5,000 to $15,000 for a winning season, depending on the number of victories. He also can make $10,000 for finishing in the Top 25 of the coaches' poll, $10,000 for being named Mountain West Conference Coach of the Year, and $5,000 for an Academic Progress Report score greater than 925.
If Hauck gets anywhere close to the same results he achieved at Montana, he should earn plenty in incentives.
"He'll make believers out of the kids (at UNLV), or they'll go somewhere else," said Montana donor Walt Brett, who played for the Grizzlies and in the NFL. "He tells it the way it is. He has high expectations for himself, his staff and his players. What he has produced on the field is substantial."
The Grizzlies won the Big Sky Conference championship in all seven seasons under Hauck. They also made three FCS title games, most recently Friday, a 23-21 loss to Villanova.
"I'm real excited to have Bobby Hauck and carry on the tradition at UNLV he had at Montana," said UNLV donor Rich Abajian, general manager and co-owner at Findlay Toyota and a member of the Southern Nevada Sports Hall of Fame. "We will give him all our support to make the Rebels a winner."
Brigham Young coach Bronco Mendenhall, in town for Tuesday night's MAACO Bowl Las Vegas, said he and Hauck are longtime friends.
"He's done an excellent job at Montana," Mendenhall said Monday.
Contact reporter Mark Anderson at manderson@reviewjournal.com or 702-387-2914.
PREVIOUS EXPERIENCE: Montana head coach, 2003 to 2009; Washington assistant, 1999 to 2002; Colorado assistant, 1995 to 1998; Northern Arizona assistant, 1993 to 1994; UCLA assistant/graduate assistant, 1990 to 1992; Montana assistant, 1988 to 1989; Montana high school assistant, 1987.
• MONTANA RECORD: 80-17, three appearances in the Football Championship Subdivision national title game, seven consecutive Big Sky Conference championships.
AGE: 45.
EDUCATION: Montana undergraduate degree, 1988; UCLA graduate degree, 1991.
PERSONAL: Married to the former Stacey Harbin; they have three daughters and a son.