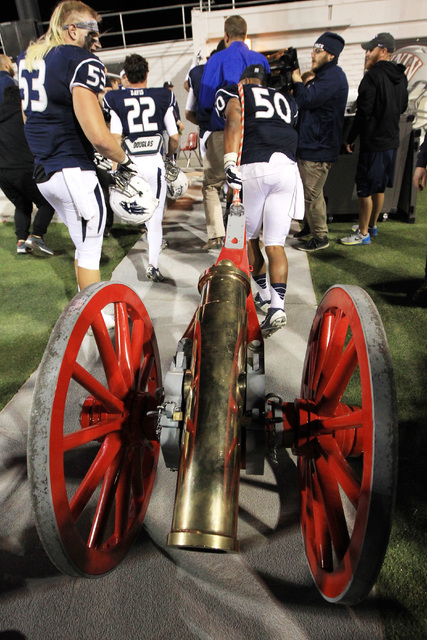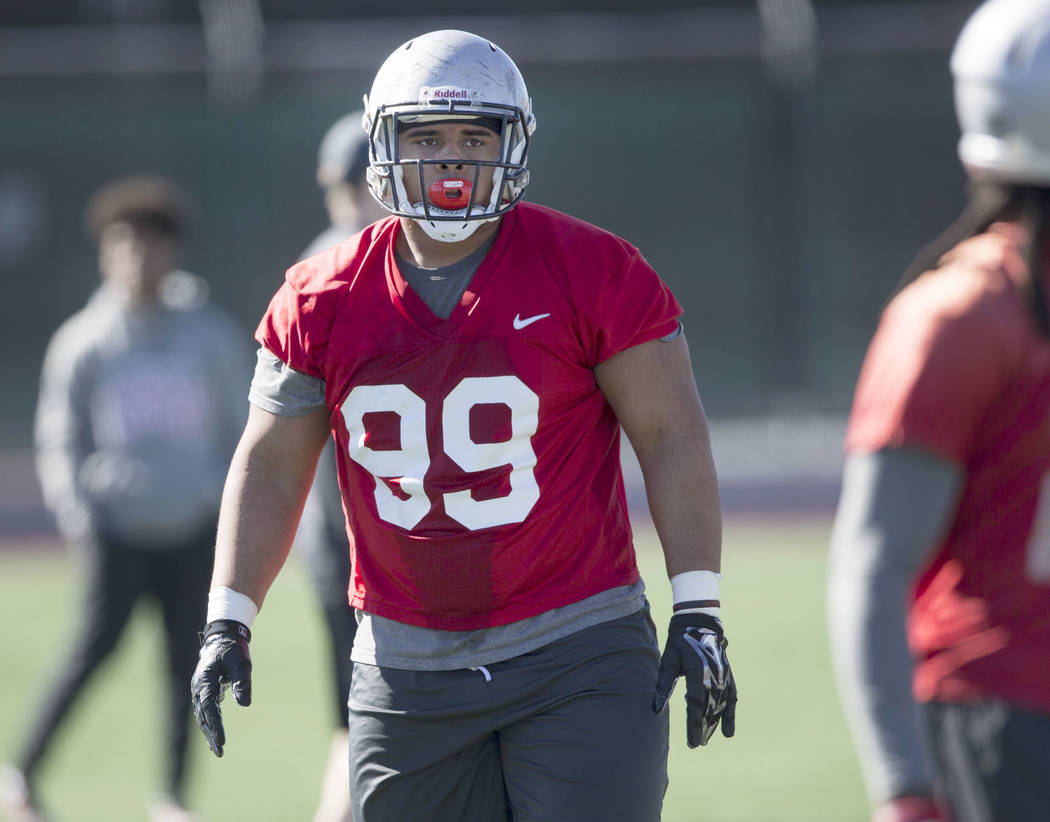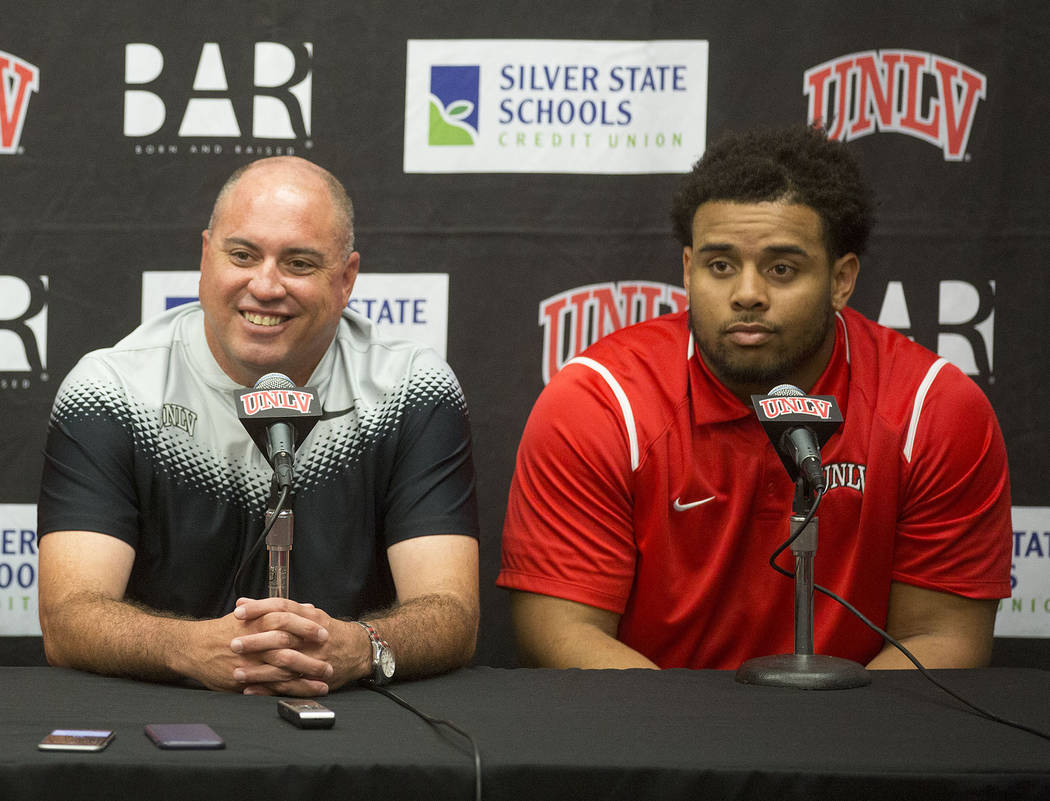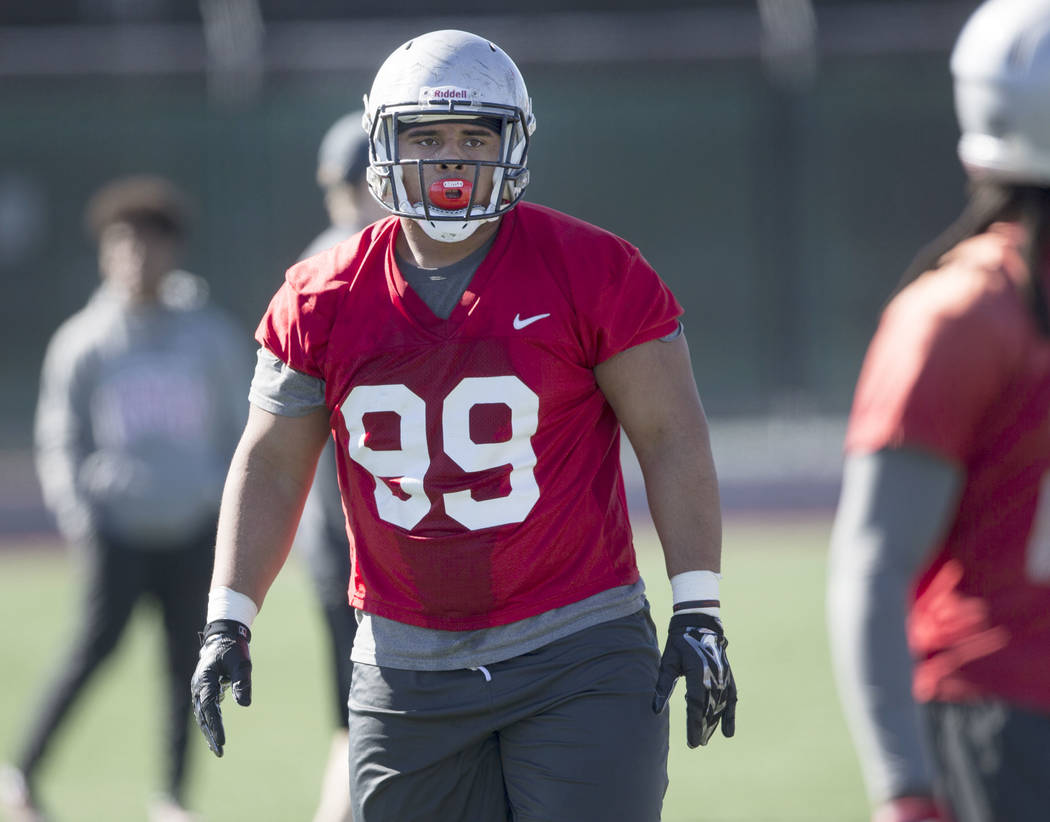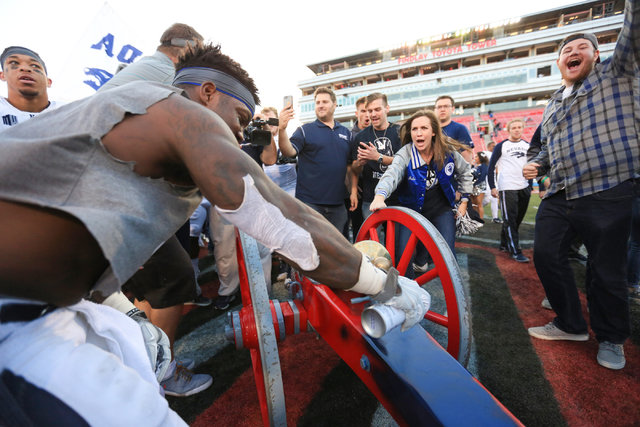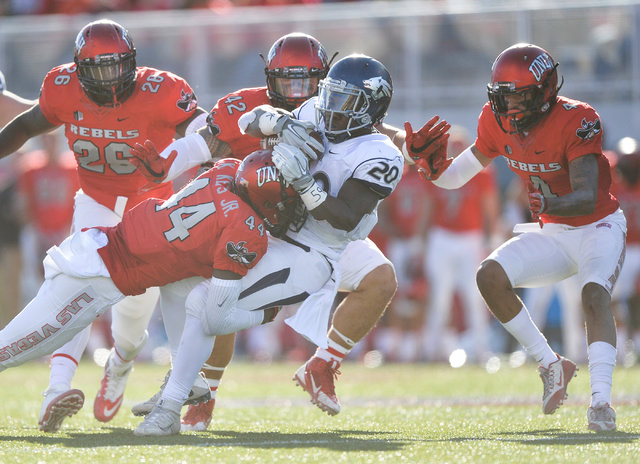 Unless you are involved in the UNLV-UNR football rivalry — as a coach, player or even a spectator — it's difficult to fully grasp its white-hot intensity.
Rebels senior defensive tackle Mike Hughes Jr. attended Palo Verde High School but still didn't truly comprehend the series' magnitude until his first season with UNLV in 2014.
"It was a different type of vibe, a different type of game," Hughes said. "You kind of felt the tension between both teams."
The teams meet again at noon Saturday in Reno, with the Rebels (5-6, 4-3 Mountain West) chasing a bowl berth and the Wolf Pack (2-9, 2-5) treating this game at its postseason opportunity.
In preparation for the 43rd meeting, which UNR leads 25-17, here is a primer on the history of the series.
Top five games
1. 1994, UNLV 32-27. It's known as the "Red Defection Game," with as much drama off the field as on. Just the year before, Jeff Horton coached the Wolf Pack before heading south to take over the Rebels. There also was plenty on the line when the teams met, with the winner advancing to the Las Vegas Bowl. UNLV's DeJohn Branch rushed for a 4-yard touchdown run with 58 seconds left.
2. 2012, UNR 42-37. The Rebels bolted to leads of 21-0 and 28-7 before the Wolf Pack rallied and finally went ahead 35-31 with 9:43 left on Devin Combs' 7-yard touchdown pass to tight end Zach Sudfeld. Combs was forced into action because starting quarterback Cody Fajardo was sidelined with a back injury.
3. 1969, UNR 30-28. The first meeting also featured the most controversial ending. Reno's Mackay Stadium didn't have lights, so Wolf Pack kicker John Barnes' 33-yard field goal with 1:01 left sailed into the darkness and was ruled good.
4. 2007, UNR 27-20. UNLV converted two fourth-and-10 situations to set up a 30-yard touchdown pass from Travis Dixon to Ryan Wolfe with 1:02 left, knotting the score at 20. The Wolf Pack came right back, with Nick Graziano connecting with Kyle Sammons with a 43-yard TD pass with 27 seconds remaining.
5. 2002, UNLV 21-17. UNR led 17-14 in the fourth quarter before Jason Thomas hit running back Larry Croom with a 45-yard touchdown pass with 6:03 left.
Top five moments
1. Quincy Sanders' chuck. The bad feelings from the 1994 game carried over into the following year in Reno when the teams fought before and afterward, and UNR coach Chris Ault ran up the score with a late touchdown in a 55-32 victory. At some point, UNLV safety Sanders threw his helmet near Ault, becoming the symbol for the animosity.
2. "Red defection game." When Horton left Reno for Las Vegas after the 1993 season, it injected even more bad blood into the rivalry. Ault had handpicked Horton as his successor, but now was back in charge of a Wolf Pack program that won seven in a row heading into the 1994 meeting. The Rebels, though, pulled out a dramatic victory to earn the bowl berth.
3. Kick in the dark. UNLV players from that game remain skeptical to this day whether Barnes' game-winning field goal in 1969 actually made it through the uprights.
4. Hitting a legend. Rebels coach John Robinson was hit in the head by a plastic bottle in 2003. Ault, then the Wolf Pack athletic director, rushed to UNLV's locker room after the game to apologize on behalf of UNR.
5. Breaking the trophy. In Robinson's second season, UNLV ended a five-game losing streak to the Wolf Pack with a 38-7 victory. The jubilant Rebels fans at Sam Boyd Stadium dropped the Fremont Cannon, causing $1,500 in damages.
Top five performances
1. Quarterback Chris Vargas, UNR, 1993. Completed 30 of 39 passes for 538 yards and seven touchdowns in a 49-14 victory.
2. Quarterback Colin Kaepernick, UNR, 2008. Rushed for 240 yards and passed for 176, accounting for five touchdowns in a 49-27 victory.
3. Quarterback Glenn Carano, UNLV, 1976. Threw four touchdown passes and rushed for two others to lead the Rebels to a 49-33 victory.
4. Quarterback Jason Thomas, UNLV, 2000. Passed for two touchdowns and rushed for two in a 38-7 victory. Thomas completed 8 of 12 passes for 152 yards and rushed for 88 yards on 15 carries.
5. Running back James Butler, UNR, 2016. Rushed for 196 yards and three touchdowns and caught five passes for 48 yards and a TD in a 45-10 rout.
Contact Mark Anderson at manderson@reviewjournal.com. Follow @markanderson65 on Twitter.
Game day
Who: UNLV vs. UNR
When: Noon Saturday
Where: Mackay Stadium, Reno
TV/Radio: AT&T SportsNet; KWWN (1100 AM, 100.9 FM)
Line: UNR -2½; total 68