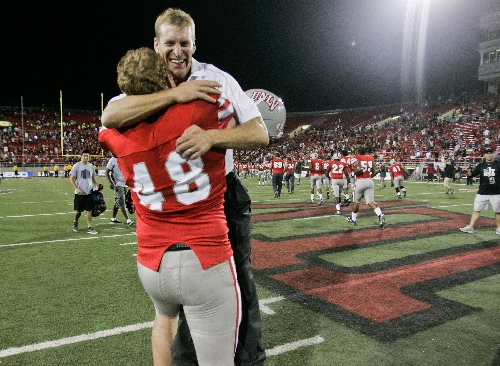 UNLV has spent the early part of this football season giving away breaks and opportunities, and watching its opponents make the most of them.
Then, seemingly out of nowhere, one break finally went the Rebels' way Saturday night - and it turned around the game.
And breathed life into their season.
The Rebels used a third-quarter fumble to seize the momentum and run off 21 unanswered points to beat Air Force 38-35 for their first victory after three wrenching defeats. It was the Mountain West Conference opener for both teams.
UNLV (1-3) ended its opening four-game home stand with a much-needed victory before embarking on the toughest part of its schedule. The Rebels next play at Utah State on Saturday.
"We're a young team, but we're a pretty solid football team," coach Bobby Hauck said after his fifth win in two-plus seasons as UNLV coach. "It's not our goal to win just one game. Our goal is to go on the road and try to get a win."
The Rebels, 10½-point underdogs, rushed the field after Air Force quarterback Connor Dietz's last pass fell harmlessly to the ground. They finally had a victory after losing three games by a combined 14 points. UNLV also ended a five-game losing streak to Air Force (1-2) and an eight-game overall skid going back to last season.
"We all went crazy on the sideline," quarterback Nick Sherry said. "We've all been fighting three weeks, and to come up short every time really takes a toll."
Hauck said: "Our guys deserved to win. It was a hard win, and I'm excited for our kids."
Tim Cornett rushed for 114 yards and a touchdown on 17 carries, and Bradley Randle had three TD runs for UNLV. Sherry completed 23 of 32 passes for 250 yards and a touchdown with one interception.
And the Rebels' defense stepped up at key moments, holding the Falcons to one touchdown in the second half, despite a 352-yard rushing effort for the game by Air Force.
The defense made its biggest play with 10:29 left in the third quarter when cornerback Kenny Brown forced a fumble by Air Force tight end Marcus Hendricks, popping the ball into the air, right into the hands of linebacker Tani Maka.
That turnover thwarted what appeared to be an Air Force scoring drive, which would've allowed the Falcons to build on their 28-17 lead. Instead, it was UNLV's ball at its 22-yard line.
Two plays later, Cornett started up the middle then bounced outside to the left for a 76-yard run. He was tripped up at the 2-yard line by Falcons defensive back Brian Lindsay. The long run set up Randle's 1-yard touchdown to bring UNLV within 28-24 with 8:37 left in the third.
UNLV took a 31-28 lead with 1:10 remaining in the quarter on Randle's 9-yard run, and the Rebels made it 38-28 with 6:56 left when Sherry connected with fullback William Vea for a 3-yard touchdown.
Two personal-foul penalties on the ensuing kickoff gave the Falcons the ball at UNLV's 35, and they took advantage on Dietz's 3-yard touchdown run with 4:41 left.
UNLV got the ball back, but faced fourth-and-1. The Rebels went for it, and Sherry's 3-yard sneak picked up the first down.
But they eventually punted, leaving Air Force only 51 seconds with no timeouts and the ball at its 25 to try to get into field-goal range. UNLV didn't let that happen.
Contact reporter Mark Anderson at manderson@reviewjournal.com or 702-387-2914. Follow him on Twitter: @markanderson65.
UNLV 38
AIR FORCE 35
■ KEY: Bradley Randle rushed for three touchdowns and Tim Cornett ran for 114 yards and one TD.
■ NEXT: UNLV at Utah State, 5 p.m. PDT Saturday, ESPN3, KWWN (1100 AM, 98.9 FM)