UNLV vs. UNR — which one is Nevada's school?
October 2, 2015 - 8:27 am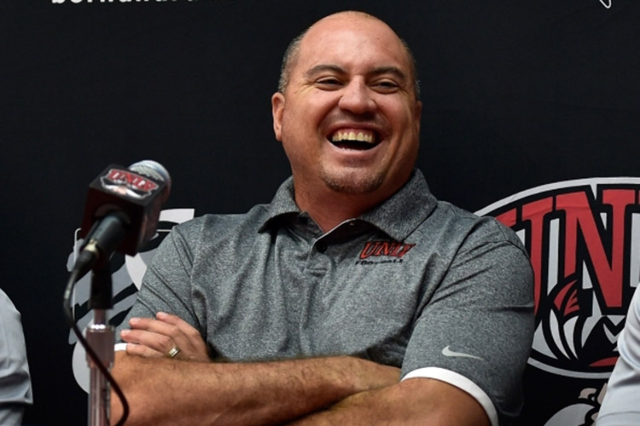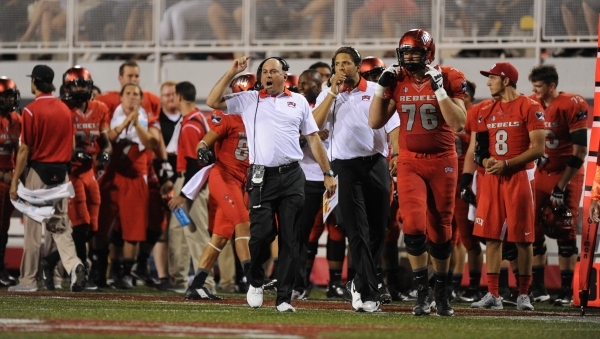 When UNLV head football coach Tony Sanchez referred to the Rebels' in-state rivals as the "University of Reno, Nevada" at Tuesday's press conference, it was perhaps a surprising remark from a coach just four games into his college coaching career.
The apparent jab from Sanchez, in advance of Saturday's UNLV vs. UNR football game, is the latest spark to the ever-raging debate over which school best represents the Silver State.
The debate may never be settled, but numbers comparing the two schools don't lie.
University of Nevada (Reno) was founded in 1874. University of Nevada, Las Vegas had its first classes in 1959 — as a southern satellite of UNR.
Academics: UNR ranks 187th in the U.S. News and World Report's 2016 list of national universities, while UNLV fails to crack the top 200. But UNLV's College of Hotel Administration ranked second in DegreeQuery's top colleges for hospitality and hotel management and it's law school ranks 67th in the U.S. News and World Report's annual rankings. UNR's medical school ranks 88th for research in the U.S. News and World Report list. UNLV won't have a medical school for another few years.
Sports: Both UNLV and UNR offer a combination of 16 total varsity sports between the schools' respective men's and women's teams. With a 24-16 overall record and nine wins in the last 10 matchups, the Wolf Pack have the edge on the gridiron. But with four Final Four appearances and a national championship in its basketball history, UNLV is the more successful school on the hardwood. UNR has yet to make it past the Sweet 16.
Alumni: UNLV boasts alumni names like chef Guy Fieri, comedian Jimmy Kimmel and U.S. Congresswoman Shelley Berkley, while UNR alumni include San Francisco 49ers quarterback Colin Kaepernick, businessman Sig Rogich and Nevada Governor Brian Sandoval.
UNLV had 28,525 students in the 2014-2015 school year, per U.S. News and World Report. UNR had 19,934 students.
Cost of attendance: Practically identical. At UNLV, a year of tuition for in-state students costs $6,940, according to the most recent data from the U.S. News and World Report. Out-of-state students pay $20,850 per year and an additional $10,730 annually for room and board.
At UNR, a year of tuition for in-state students will run about $6,900, per U.S. News and World Report. Out-of-state tuition is about $20,810. Students can add room and board for an additional $10,250.
Scholarships: UNLV grants an average of $5,660 need-based scholarships to students, and $3,450 in non-need-based merit scholarships, per U.S. News and World Report. UNR hands out an average of $5,020 in need-based scholarships per student and an average of $2,620 in non-need-based awards.
Future: UNLV is set to open the state's second medical school and a $56 million hospitality hall addition to its college of hotel administration, in fall 2017. Construction on UNR's campus includes a $65 million business school building in southern Reno and a $57 million, 130,000 square foot dorm hall on campus, also to be completed in 2017.
None of this really matters when the two teams run onto the football field Saturday afternoon, though it would be interesting to hear UNLV quarterback Blake Decker yelling over his offensive line to the Wolf Pack linebackers, "Our law school is so much better than your medical school! Hut, hut.. hike."
Contact Chris Kudialis at ckudialis@reviewjournal.com or 702-380-4593. Find him on Twitter: @kudialisrj.
Check our GameDay page for all the news leading up to the UNLV-UNR game.