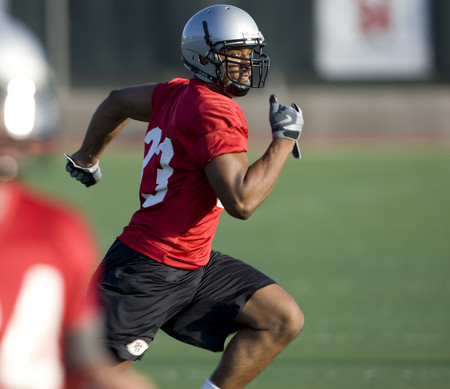 One number, an impressive number, sticks out when looking at the football season UNLV's Jason Beauchamp put together last year.
He led the Mountain West Conference in tackles with 127, eye-catching enough to earn preseason all-league honors last month.
Problem is, it's just one number. Beauchamp's other numbers — six tackles for loss, two sacks, zero fumbles forced — aren't all-league worthy.
And neither are they good enough for Beauchamp, who enters his senior season with plans to improve those statistics. Beauchamp (6 feet 3 inches, 240 pounds) will spend time at his natural linebacker spot and at defensive end.
So even if the tackles figure goes down — and it probably will with such a move — he hopes and expects the other numbers to increase, especially drive-killing sacks.
Beauchamp noted the growing emphasis in the Mountain West and NFL on finding defenders who can disrupt passing offenses by quickly getting into opposing backfields.
"A lot of people can go out there and make tackles, but how many guys that can make tackles can put their hand down and pass rush?" Beauchamp asked. "There are not going to be too many."
He is expected to play linebacker on first downs but move to end on probable passing downs against spread offenses. Considering the number of spread teams that dot UNLV's schedule, Beauchamp will be spending a lot of time in pass-rush mode.
He estimated he would play end more often than linebacker this season.
Thanks to a deep linebackers unit, the Rebels have the luxury of letting Beauchamp drop down. Proven linebackers Ronnie Paulo, Starr Fuimaono, Nate Carter and Beau Orth return.
"I think it's strictly utilizing the fact that he's really good at two different things," linebackers coach Jed Stugart said. "And it helps us with depth because we can utilize guys in other spots. It kind of has that trickle-down effect."
Even if the Rebels were short on quality linebackers, there would be a temptation to move Beauchamp back and forth to create a pass rush that was lacking last season.
UNLV's 11 sacks ranked second to last in the Mountain West — Colorado State had 10 — and tied for No. 115 out of 119 schools nationally.
Coaches addressed the issue by signing junior college defensive end B.J. Bell, who recorded 10 sacks at Santa Ana (Calif.) College last season. They also are testing tackle Malo Taumua at end.
Who lines up where could change frequently. So could the alignments, such as whether the Rebels are in a 4-3 or a nickel defense.
"We'll show multiple looks," Stugart said. "That's the beauty of the way (Beauchamp) plays."
Stugart said he could see Beauchamp fitting in well as a linebacker in a 3-4 defense in the NFL, a role similar to what he now is taking on.
Having Beauchamp play a combination of two positions is a modern concept, but in many ways he's an old-school player and even has the haircut to match.
Sporting a retro fade — think Theo Huxstable of "The Cosby Show" — he likes to hit and hit hard.
Now it's a matter of hitting more quarterbacks.
Beauchamp proved last season he could learn new responsibilities, playing all three linebacker spots.
"I think every two weeks I changed positions," Beauchamp said. "Once you know what everyone else is doing around you, you can figure out what you have to do. That's the best part about this defense."
Contact reporter Mark Anderson at manderson@reviewjournal.com or 702-387-2914. Read the latest practice reports at lvrj.com/blogs/unlv_sports.