UNLV's Charles Williams takes advantage of extra playing time
Updated November 7, 2018 - 8:11 pm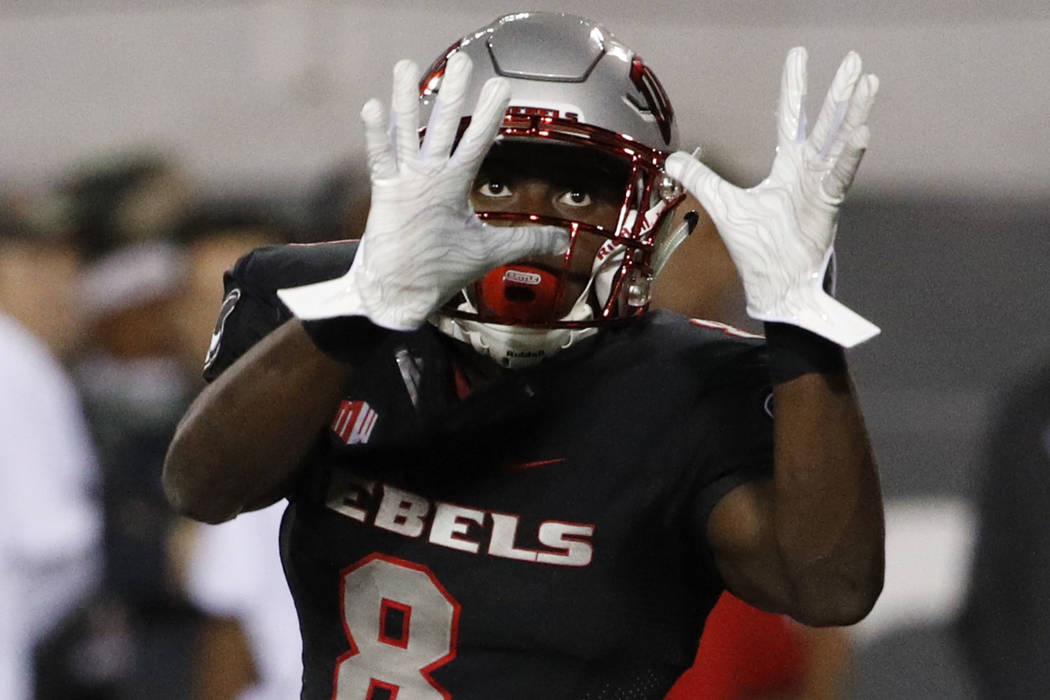 UNLV running back Charles Williams is coming off his best performance of the season. He rushed for 121 yards on 16 carries against his hometown Fresno State team in Saturday's 48-3 home loss.
Coaches stayed with the hot hand in giving Williams his most carries of the season, and he might have earned more playing time.
"We've challenged him for a while, and, man, he ran hard last game," UNLV coach Tony Sanchez said. "He did a really, really good job. I'm really proud of the effort that he put in the game, so I do see him carrying the ball more."
Williams rushed for 763 yards two years ago, setting what was then the record for a UNLV freshman. He went into last year as the starter before an ankle injury in the opener ended his season. The NCAA granted him a medical redshirt.
Lexington Thomas stepped up in Williams' absence and rushed for 1,336 yards.
Before last weekend, Williams went two games in a row without receiving a carry. His previous season high was an 80-yard effort in the second week against Texas-El Paso.
"I just had to play my role, and I accepted it," Williams said. "That's a part of becoming a man, of becoming mature. When things don't go your way, you don't sit and cry about it. You keep rolling with the punches, and you wait for your opportunity to come and then you take advantage of it."
Stadium measure in San Diego
San Diego State's hope of playing in a new stadium took a major step forward Tuesday.
Measure G passed with 55 percent of the vote in the citywide election, which sets a path for campus expansion to the Mission Valley site where the Aztecs now play, SDCCU Stadium.
UNLV (2-7, 0-5 Mountain West) plays at San Diego State (7-2, 4-1) at 7:30 p.m. Saturday.
There was a competing ballot item, Measure E, a SoccerCity initiative that received 30 percent of the vote. Backers of that measure hoped to build a stadium that would help attract a professional soccer team.
Now that Measure G was approved, the city of San Diego can begin negotiations to sell the land to the university.
If the sale goes through, San Diego State would tear down the current stadium and build a 35,000-seat facility that could be used for football and soccer. The university also would erect housing and other campus buildings, and the site is linked to the main campus through a trolley stop.
"We are excited to move forward in this process and will keep our SDSU and San Diego community informed along the way," San Diego State president Adela de la Torre said in an open letter. "SDSU will meet with the City of San Diego to discuss the next steps. We are prepared to begin negotiations immediately with the goal of finalizing the sale in 2019 and beginning construction in 2020."
No changes with Rogers
Rebels quarterback Armani Rogers practiced Wednesday as he continues to come back from a toe injury that has cost him the past five games.
"He's still not 100 percent, but he's much better," Sanchez said. "I'll know more in a couple of days. Part of the evaluation is communicating with him."
Max Gilliam will again start even if Rogers plays Saturday, Sanchez said.
"We're getting closer to getting him back, so the worst thing you can do is rush it," he said.
More Rebels: Follow online at reviewjournal.com/Rebels and @RJ_Sports on Twitter.
Contact Mark Anderson at manderson@reviewjournal.com. Follow @markanderson65 on Twitter.
Charles Williams' stats
Date Opp Car Yds TD
Sept. 1 USC 1 15 0
Sept. 8 UTEP 12 80 0
Sept. 15 Prairie View 7 22 0
Sept. 22 Arkansas State 0 0 0
Oct. 6 New Mexico 9 31 0
Oct. 13 Utah State 11 21 0
Oct. 19 Air Force 0 0 0
Oct. 27 San Jose State 0 0 0
Nov. 3 Fresno State 16 121 0