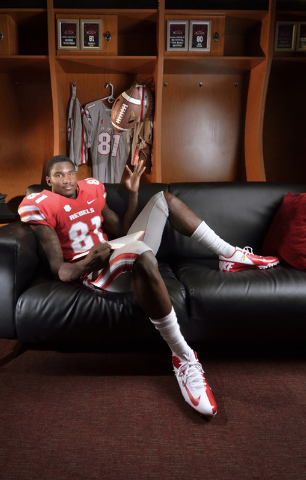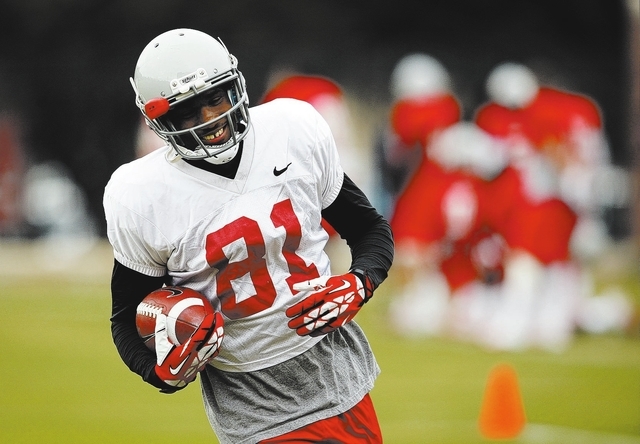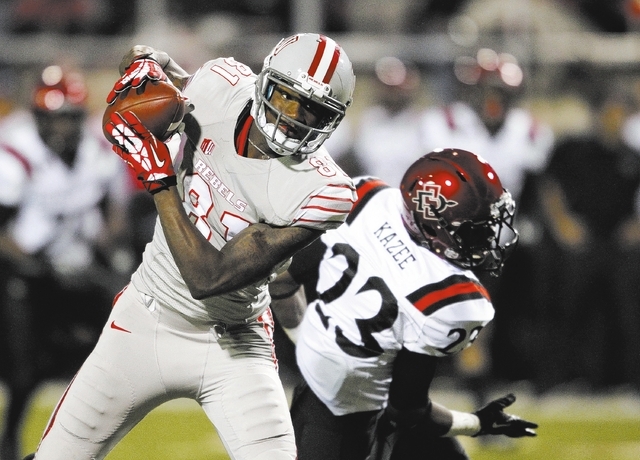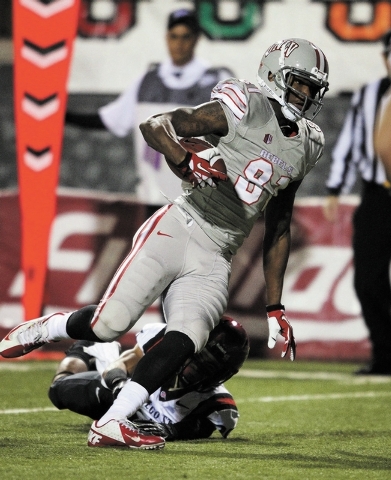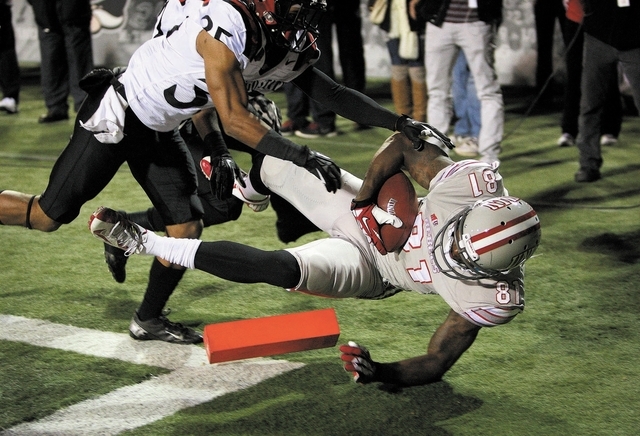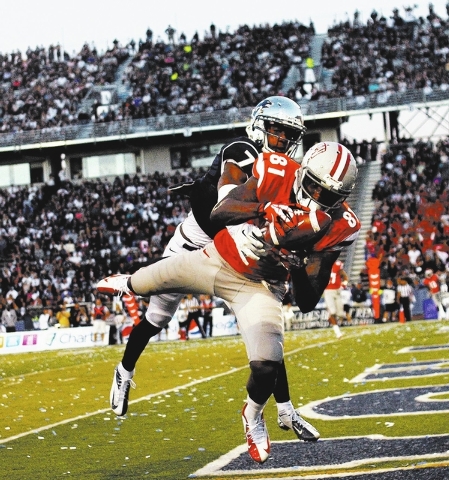 Most of the players and coaches had cleared out of Rebel Park after one spring practice, but wide receiver Devante Davis was still out there, pushing himself to get that little extra.
Davis, the face of this season's UNLV team, finally walked off the field about 15 minutes after his teammates had headed for the showers.
The practice field is a special place to Davis, and so is the UNLV program.
The senior feels loyalty to the Rebels because they took a chance on him as a football player when few schools showed a willingness to do so, and so he not only turned down one opportunity but two to leave school a year early.
First, he decided not to enter the NFL Draft following his junior season. Later, when the Rebels initially were declared ineligible for a bowl — an out that would have given him the opportunity to play right away elsewhere — Davis stayed.
"UNLV took a chance on me," he said. "I felt like I owed them everything to come over here and work hard and become better every day."
Davis' decision to return is a major boost for a program that hopes to make consecutive bowls for the first time in school history. He was instrumental in getting the Rebels to the Heart of Dallas Bowl last season, their first postseason appearance in 13 years.
He has gone from a track star and football afterthought coming out of Houston's North Shore High School to become arguably the Mountain West's top wide receiver.
The Rebels saw him as a football player, unlike some major schools that wanted to offer Davis a track scholarship. All-state in the triple jump, he committed to Texas A&M's track team at one point.
"My heart was always in football," Davis said. "I've been playing it since I was younger, and track was only something I did in my junior and senior year in high school. Once football came around, UNLV to me was my biggest offer.
"I could do track, but my heart wasn't in track. I was good at it, but that wasn't my passion. My passion was in football. I liked to put on pads and go out and compete."
Davis, who is expected to graduate in December after just 3½ years with a degree in public administration, is Exhibit A for a school such as UNLV, with a still-building football program that must take chances on players overlooked by other schools.
Some gambles don't work out, and those players find themselves relegated to the bench or off the team entirely. Davis was an obvious talent from the moment he arrived on campus, becoming the only freshman from the 2011 recruiting class to play right away.
Even though he didn't get on the field much that first season, catching four passes for 42 yards, he has been tough to keep off it since, starting all 26 games the past two years and catching at least one pass in all of them.
Davis used his 6-foot-3-inch, 210-pound frame to make many catches while tightly covered last season. At times, he was unstoppable. He caught four touchdown passes in the regular-season finale against San Diego State to tie the school record, and he totaled more than 100 yards receiving in five games.
His 14 touchdown catches broke UNLV's single-season record, and he finished the year with 87 receptions for 1,290 yards. His career totals are 152 receptions for 2,186 yards and 18 touchdowns.
Now, Davis has the chance to move up some career charts when the season opens at 7:30 p.m. Friday at Arizona.
If Davis repeats his production from last season, he would advance to second in career receptions and receiving yards behind UNLV leader Ryan Wolfe, with a good chance to become the Rebels' all-time yardage leader. He also enters the season eight touchdown catches shy of Phillip Payne's school record.
Davis doesn't think about those numbers, unaware of his place in the record book unless someone brings his accomplishments to his attention.
It's not a false modesty. He similarly was surprised last year when talk about leaving early for the NFL Draft surfaced. Until a reporter asked him late in the season, Davis never gave it a thought.
"I don't think, when he sat down and weighed it out, that was a real consideration for him," coach Bobby Hauck said. "He saw the right move was to go back for a multitude of reasons. One of those things is he improves all the time. He's a worker. He's going to be much more draftable next year. If things progress … he's going to make himself money by staying in college."
One NFL agent said Davis could work his way into becoming a second-round pick.
Part of Davis' motivation for returning is he wants so badly to win. Last season he helped lead UNLV to a New Year's Day bowl. But after a 36-14 loss to North Texas, tears streamed down Davis' cheeks during the postgame news conference.
"Losing really hurts," he said. "I didn't want my last game to be remembered like that."
So leaving never was truly an option, even when the announcement was made that UNLV failed to achieve the required minimum Academic Progress Rate score, which would deny the Rebels a shot at the postseason.
The Rebels' postseason ban was lifted after recalculations raised their score. Now Davis and his teammates have something tangible to play for this season.
He could help lead the program to another winning season and bowl, leave as one of the top receivers in UNLV history and put himself in position to become a high draft pick.
Opponents, however, will target Davis, especially early in the season, daring the Rebels to beat them in other ways.
"Numbers-wise, it will be interesting to see where he goes, but he's physically better, he's mentally better, he's tougher," Hauck said. "He's got a chance to have a big year."
Contact reporter Mark Anderson at manderson@reviewjournal.com or 702-387-2914. Follow him on Twitter: @markanderson65.
Check our GameDay page for all the news leading up to the Arizona game.