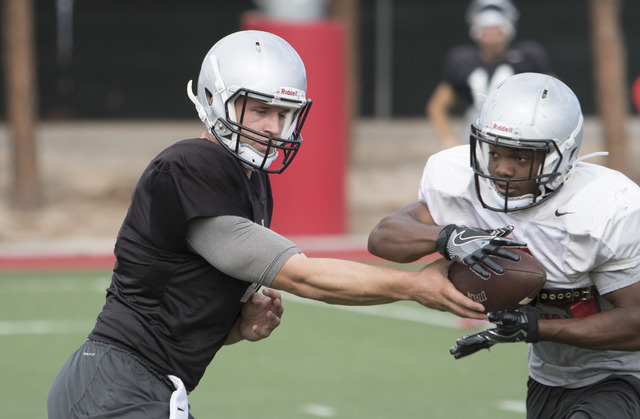 After transferring from Nebraska to Saddleback College last year, UNLV quarterback Johnny Stanton got off to a rough start, throwing three interceptions in his debut and losing his first two games before leading the Gauchos to 10 consecutive wins while earning junior college first-team All-American honors.
"He was about to be pulled and he settled down and they went undefeated the rest of the year," Rebels coach Tony Sanchez said. "I don't know if that will happen here. I'm hoping so."
So is Stanton, who will try to help the Rebels (1-2) start a season 2-2 for only the second time in seven years when they host Idaho (1-2) at 6 p.m. Saturday at Sam Boyd Stadium.
Stanton is coming off his worst performance in his first three career Division I starts this season for UNLV. The junior completed 15 of 41 passes for a season-low 131 yards and two interceptions in a 44-21 loss at Central Michigan (3-0).
"There's a point in every season where a switch kind of flips. Hopefully this is the game that does it," Stanton said. "Obviously you want it to happen before the season but this game, hopefully we'll take as a wakeup call."
Stanton was the last player to leave the practice field Tuesday at Rebel Park, where he worked on his timing with true freshman wide receiver Mekhi Stevenson.
"I'm still learning a lot. I'm going to learn every game I play," Stanton said. "Obviously I've played better than I did (at Central Michigan) so it's not that I feel like I've regressed. It's just the fact it was a bad day and I've got to forget about it now and think about this upcoming week, knowing I can play my ass off."
After watching film of the loss to the Chippewas — in which Sanchez charted seven dropped passes by the Rebels — the coaching staff spotted some flaws in Stanton's footwork, but the quarterback blamed most of his inaccuracy on frustration.
"I think, any quarterback, the more frustrated he gets, if he has a lack of success, the holes in his mechanics will start showing," he said. "I think it was more the fact that I was making mistakes that started bringing up the mechanical errors.
"I've just got to start from square one and get back to where I know I can play and I know the rest of the team can play."
Sanchez said Stanton is still settling in at this level.
"He was really indecisive in some of his reads," Sanchez said. "A lot of those things were pass-run options where he should've just handed the ball off. Instead, he kept pulling them and throwing the ball into small windows.
"He was inaccurate. Sometimes it's like a pitcher on the mound and you're just off and you're not throwing strikes that day and he wasn't. There were a lot of errant balls and as the game went on, he never came back to balance. It almost started getting worse and worse and when he did throw a good ball, he had a ball dropped."
Rebels quarterback coach Ron O'Dell noticed problems with Stanton's drop and worked with him this week on getting his feet underneath him in the proper position before he throws.
"I just think he had an off day," said O'Dell, who coached Green Bay Packers quarterback Aaron Rodgers in high school. "But I have all the confidence in the world in him moving forward and we're going to have a great game against Idaho."
Stanton — who is 36-for-81 (44.4 percent) this season for 501 yards, five touchdowns and four interceptions, with 100 yards rushing and a score — said he's "100 percent confident" he'll fix his mechanics.
"It's really just more about getting in rhythm and getting a little bit more on my throw," he said. "I'm being a little flat-footed when I throw but that's so easily fixable."
Facing Idaho's porous pass defense (277.3 ypg, 10 TDs) might help fix what's ailing Stanton and the Rebels' passing attack.
Contact reporter Todd Dewey at tdewey@reviewjournal.com or 702-383-0354. Follow on Twitter: @tdewey33
UNLV vs. Idaho
When: 6 p.m. Saturday
Where: Sam Boyd Stadium
TV/Radio: unlvrebels.com, KWWN (1100 AM, 100.9 FM), @UNLVAthletics
Line: UNLV -14½; total 63½
Visit our GameDay page for full coverage of the UNLV-Idaho game.