UNLV's Kohorst kicks old habit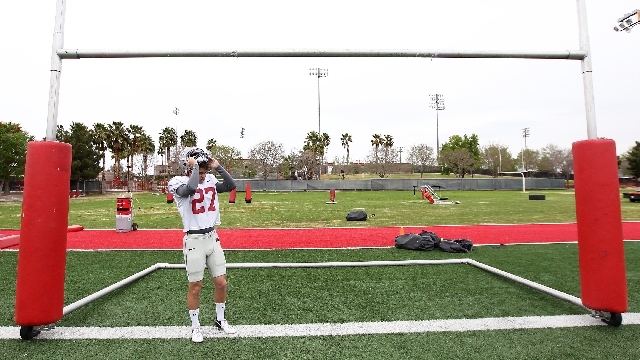 In the 10-yard backyard of his home near Silverado High School, Nolan Kohorst spray-painted lines for every step of his approach to an extra point or field goal.
He has pounded one kick after another into the net, each footstep settling on one of those painted lines.
"Now all my steps are the same," Kohorst said. "So when I go to kick, it's the same every single time."
Kohorst, UNLV's only returning first-team All-Mountain West football selection, obviously is not resting on past accomplishments, instead preferring to build on what he's done.
"I feel like I have more confidence," Kohorst said. "I feel the coaches have more confidence in me, too. It doesn't mean I'm not going to work any harder. It doesn't mean I'm not going to be coaching up our long snappers every day or our holders every day or our backups every day. I've just got to keep working."
Kohorst, a Green Valley High graduate who will be a senior next season, could become UNLV's all-time leading scorer. The soon-to-be four-year starter has scored 172 career points, which puts him within range of former running back Mike Thomas' 244 points.
It would require a career year to get there, but Kohorst needs to score only four more points than he had last season to tie the mark.
If he improves his range, as Kohorst hopes, that would help. He has changed his kicking style to place his plant foot slightly more to the left of the ball.
"My plant foot was a little close to the ball," said Kohorst, who is 6 feet, 180 pounds. "It was taking some distance off and some accuracy off, so I'm trying to move it back out."
He also does pool workouts to improve his strength, which already was considerable. Kohorst was successful from as far as 67 yards in practice before a game at San Diego State last season.
"I was usually around 55, depending how I felt that day," Kohorst said.
He feels comfortable up to 50 yards in a game, but hasn't been given much of an opportunity to try long field goals. Kohorst's longest attempt last season was from 43 yards, which he made at Hawaii. He twice has tried from 50 yards and beyond in his college career, both times in 2011, with Kohorst converting from 50 and missing from 52.
"He's gotten better," coach Bobby Hauck said. "Early on, he just couldn't get it there. He wasn't strong enough. As he's become better in the weight room, he's gotten a little more leg strength. The chances are he'll get to kick off, too, but he needs a great offseason in the weight room to help him with power."
Accuracy hasn't been as much as an issue for Kohorst. He made 12 of 14 field goals last season and all but one of 33 extra-point attempts.
Hauck also is considering using Kohorst as his team's punter to replace two-year starter Chase Lansford.
Kohorst is punting this spring and will compete for the job in August. The Rebels also could go with sophomore Logan Yunker, an Arbor View High graduate and UNR transfer who is recovering from hip surgery in December.
Kohorst, in the meantime, will keep kicking away at Rebel Park and at home. He hasn't sailed a ball over the net and into the next-door neighbor's home.
At least not yet.
"Hopefully," Kohorst said, "it would be a couple of houses down."
■ NOTE — UNLV scrimmages at about 10 a.m. today at Rebel Park. It's the Rebels' final practice before taking a week off for spring break.
Contact reporter Mark Anderson at manderson@reviewjournal.com or 702-387-2914. Follow him on Twitter: @markanderson65.