UNLV's Nebraska tree continues to grow with hiring of Tony Samuel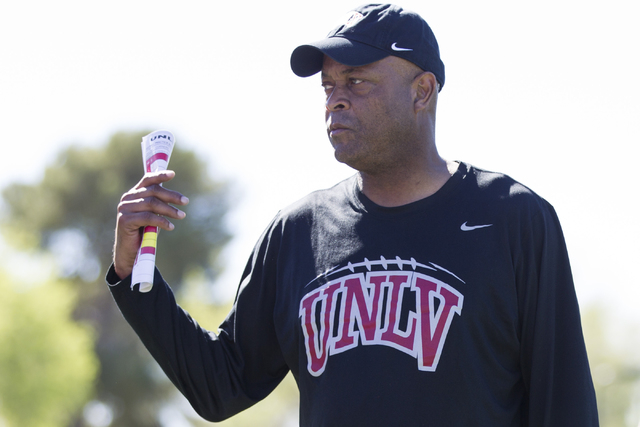 When Tony Samuel left Nebraska to take the head coaching job at New Mexico State in 1997, a 22-year-old student assistant named Tony Sanchez helped him make a smooth transition.
Almost 20 years later, Sanchez is again helping Samuel transition to a new coaching job, this time as his defensive line coach at UNLV.
"I was a spotter for him," Sanchez, the Rebels' second-year coach, said of his first encounter with Samuel. "I remember his first day on the field, I was telling him who everybody was. I've known him for a long time. He gave me some of the best advice: 'Take every job like it's your last and you won't screw it up.'
"It's great to have him here. He's just a really sharp guy, a good communicator, a good teacher and just a good man."
While Samuel, 60, goes back a long way with the 42-year-old Sanchez, whom he recalled as being "very sharp" at New Mexico State, he goes even further back with Rebels offensive coordinator Barney Cotton, who played alongside him on Nebraska's defensive line in the 1970s and was his offensive coordinator at New Mexico State.
"We've probably known each other since we were teenagers," Samuel said. "It's always good to be back with some of the guys you're familiar with.
"I see what's about to happen, and I see the potential. We've got a nice little system set up, and I'm just glad to be a part of it."
Samuel was a member of Tom Osborne's first recruiting class at Nebraska and played and coached under the legendary Cornhuskers coach for 19 years, helping the school to national titles in 1994 and 1995 while mentoring four first-round NFL Draft picks.
"Everything I know about football is through him and his staff," Samuel said of Osborne.
There isn't much corn to husk in Las Vegas, but there are plenty of former Cornhuskers on the Rebels. In addition to Samuel and Cotton, others with Nebraska ties are offensive line coach John Garrison, who held the same position for the Cornhuskers after a stellar playing career in Lincoln, Nebraska; graduate assistants Ben Cotton, Barney's son and a former Nebraska tight end, and Cody Green, a former Cornhuskers quarterback; and quarterback Johnny Stanton, who started his college career at Nebraska.
Samuel, who after eight seasons at New Mexico State (1997 to 2004) also served as head coach at Southeast Missouri State from 2006 to 2013, was hired in February to replace Joe Seumalo, who left UNLV to accept the same position at Arizona State.
Seumalo, the only assistant to leave Sanchez's staff from last season, helped the Rebels make the second-biggest improvement in run defense in the FBS last year. Samuel helped oversee the most-improved run defense last season as Georgia State's defensive line coach.
"It just meant both teams had big room for improvement, and I think both teams have a lot more room to improve," Samuel said. "But we're definitely heading in the right direction with those things."
UNLV also needs to improve its pass rush after finishing last in the nation in sacks with nine last season, and Sanchez thinks Samuel will help it do that.
"Some of it's individual play and technique, some of it's scheme, some of it's having talented guys and more depth and keeping guys on the field," Sanchez said. "There are a lot of reasons for it, but he'll do a good job getting those guys to go get the quarterback."
The Rebels are counting on improved play this season from returning defensive linemen Jeremiah Valoaga, who had 2½ sacks last season, Jason Fao, Mike Hughes Jr. and Antonio Zepeda, a converted tight end, along with redshirt freshman linebacker/defensive lineman Gabe McCoy.
"We expect a lot from those guys," Sanchez said. "I think those guys give us a chance to be a better pass rush team."
• NOTE — UNLV will be in full pads for the first time this spring at Monday's 8:10 a.m practice at Rebel Park.
Contact reporter Todd Dewey at tdewey@reviewjournal.com or 702-383-0354. Follow him on Twitter: @tdewey33.