UNLV's Peni Vea stars in Pro Day with two pro scouts
March 17, 2016 - 10:46 pm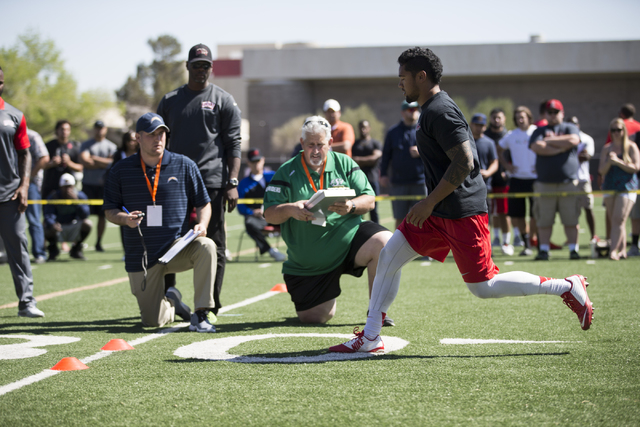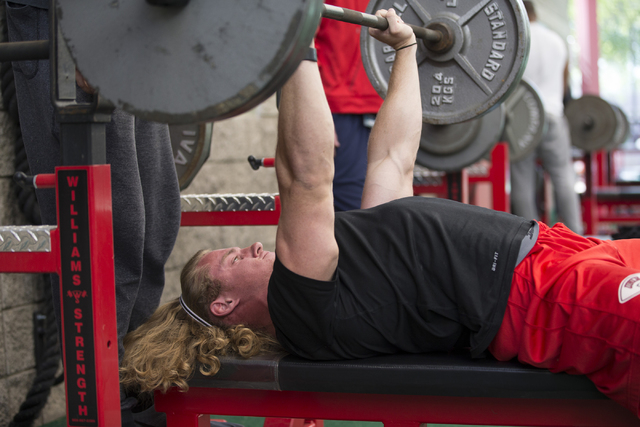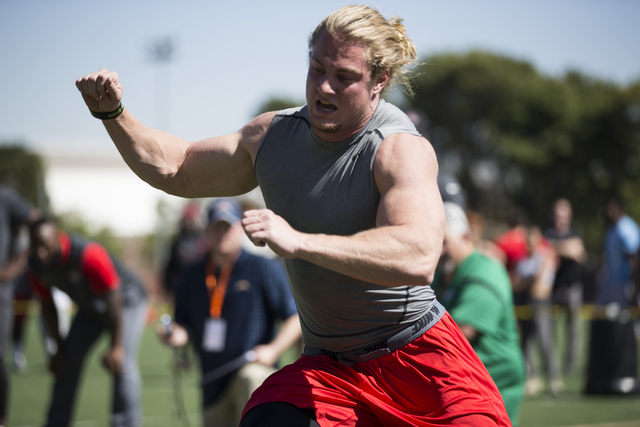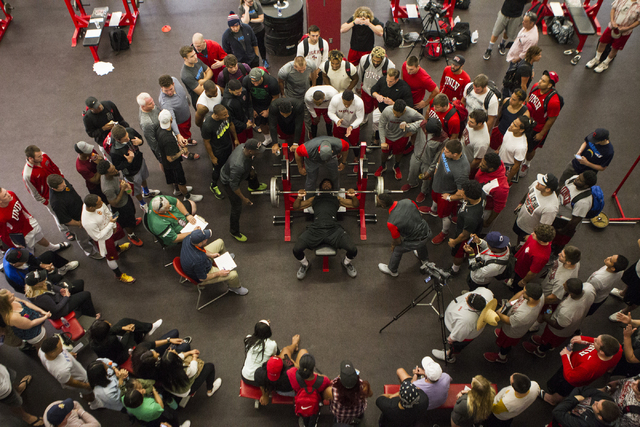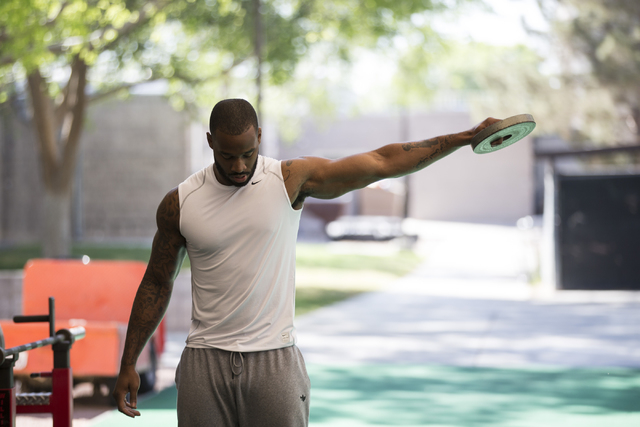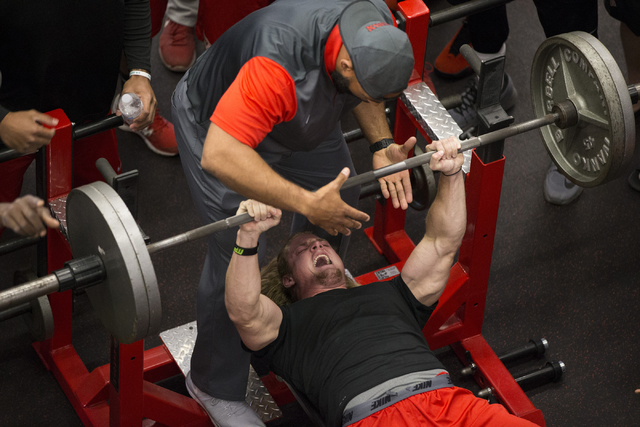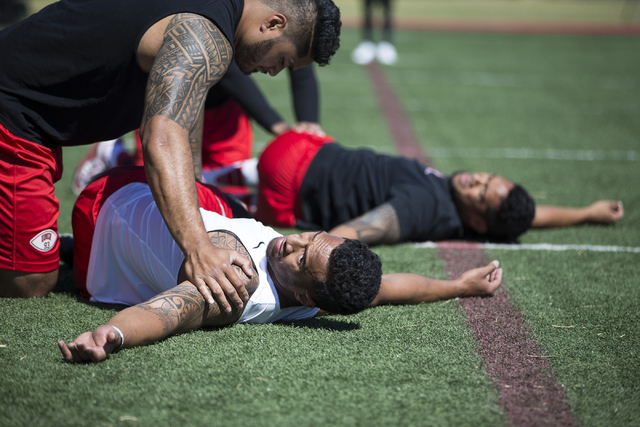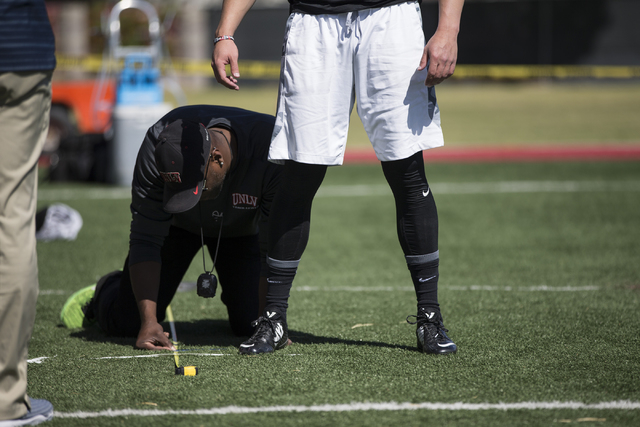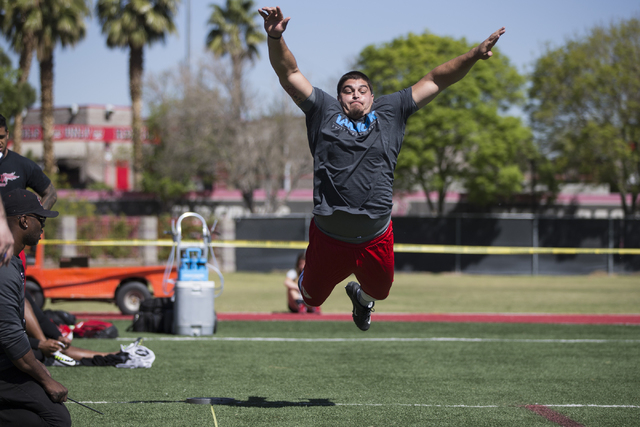 If a Pro Day takes place at UNLV and no pro football scout is around to watch it, do the 40-yard dash times still count?
Thirteen former college players were almost confronted with that question Thursday, when only two scouts — one from the San Diego Chargers and one from the Saskatchewan Rough Riders of the Canadian Football League — showed up to watch them work out at UNLV's Pro Day.
By comparison, about 40 scouts attended the school's Pro Day in 2008 — when former Rebel Beau Bell was the top-rated inside linebacker entering the NFL Draft — and 20 scouts turned out in 2010 to check out wide receiver Ryan Wolfe.
One reason for what is believed to be a school record-low turnout for scouts is that Stanford and San Diego State also had their Pro Days on Thursday.
"Timing is everything on Pro Days," said event organizer Keith Belton, the UNLV football strength and conditioning coach. "At the end of the day, if you want a big Pro Day and you want a big turnout, you have to win games. That's just the reality of it."
Peni Vea is pleased at least one NFL scout witnessed his impressive workout. The former UNLV safety stole the show, recording the two fastest times in the 40 — at 4.40 seconds and 4.48 seconds — and the highest vertical jump, at 41½ inches.
Vea's jump matches the best one at last month's NFL Combine, where California running back Daniel Lasco and Florida State cornerback Jalen Ramsey each jumped 41½ inches. Vea, whose 40 time would have ranked second at the combine among safeties, wasn't invited to the combine or any postseason all-star games.
"I was a little surprised by that, but that's not my decision to make," the humble Hawaiian said. "I'll prove it in stuff like this. I just hope to land somewhere."
The 6-foot-1-inch, 205-pound Vea also bench-pressed 225 pounds 19 times — which would have tied for second at the combine among safeties — and had a broad jump of 9 feet, 11 inches.
"I've been training hard for it. I'm thankful and blessed for the numbers I got today," Vea said. "I was kind of hoping to get a little more on the bench, but 19's good."
A four-year starter for the Rebels, Vea is the third-leading tackler in school history with 328 and also had 4½ sacks and four interceptions.
Vea is soft-spoken, but UNLV assistant strength and conditioning coach Jeff Eaton is anything but. When the Chargers scout called out "four-four" after Vea's first 40, the high-energy Eaton yelled, "That's first-round money! Let's get paid!"
After Vea was clocked at 4.48 seconds, Eaton shouted, "Peni gonna get paid! Call up Roger Goodell right now!"
The NFL Draft will be April 28 to 30 in Chicago. Belton, a former NFL running back, said Vea's numbers should attract the attention of some NFL teams.
"But at the end of the day, it's about that (game) film," he said. "He ran a 4.4, but does he play 4.4? That's the main thing. How fast does he play."
Former UNLV offensive lineman Nick Gstrein led the way on the bench press with 31 reps of 225 pounds.
Former Rebels running back Bradley Randle was clocked at 4.6 seconds and 4.54 seconds in the 40, which he ran in 4.38 seconds at UNLV's 2013 Pro Day.
"I definitely wanted more than that, but I'm going to send out my film and see what happens," Randle said. "Overall, I'm satisfied with it."
Randle's father, former big league baseball player Lenny Randle, was among a crowd of about 70 that attended the event at the Lied Athletic Complex and Rebel Park.
"We win three games and we still get a huge turnout," Belton said. "Just imagine when we win the Mountain West championship. We're going to have to have police officers and escorts in this place. It's going to be crazy."
Contact reporter Todd Dewey at tdewey@reviewjournal.com or 702-383-0354. Follow him on Twitter: @tdewey33