UNLV's Tau Lotulelei shows talent for 12 NFL scouts at Pro Day
Updated March 28, 2017 - 9:10 pm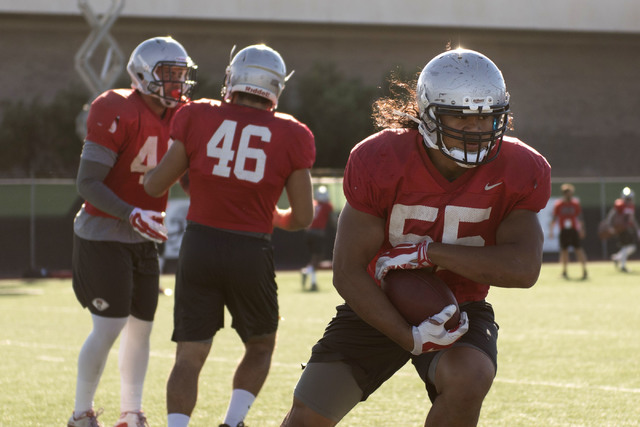 The stopwatches, clipboards and hats with NFL logos were easy to spot at Rebel Park on Tuesday for UNLV's Pro Day.
A dozen NFL scouts showed up to watch 12 former UNLV players work out, a major jump from the one scout who attended last year's Pro Day.
"To have this many scouts here after only having one, it speaks volumes to what we've done and where we're headed as a program compared to last year," said event organizer Jeff Eaton, UNLV's assistant director of strength and conditioning. "The energy was great, and all the players did great."
Scouts from the Jacksonville Jaguars, Denver Broncos, Atlanta Falcons, Kansas City Chiefs and Green Bay Packers were in attendance, and most were there to watch linebacker Tau Lotulelei, who has a strong chance of being selected in next month's NFL Draft in Philadelphia.
Lotulelei, who racked up 117 tackles in 2016 and was named to the All-Mountain West first team, has been projected as a fifth- to seventh-round pick by multiple draft sites.
The 6-foot-1-inch, 235-pound Lotulelei bench pressed 225 pounds 22 times and was timed in 4.75 seconds for the 40-yard dash. The former Rebel also recorded a broad jump of 122 inches and a vertical jump of 34.5 inches.
Tau Lotulelei running drills at his #UNLVFB pro day pic.twitter.com/E51rPxefkg

— Gilbert Manzano (@gmanzano24) March 28, 2017
Lotulelei was disappointed he wasn't invited to last month's NFL Scouting Combine, but his numbers on Tuesday weren't far off from the top linebackers in the draft.
"Running the 40, I was really nervous about my hamstring because it's been a reoccurring injury these past two months," Lotulelei said. "I was just happy I was able to complete the 40. I'm satisfied with my performance, but I could have done better. It was a great experience."
Lotulelei's older brother, John, was in attendance. John Lotulelei was a star linebacker for UNLV and now plays for the Dallas Cowboys.
"I'm excited for Tau," said John Lotulelei, who graduated from UNLV in 2013. "He wasn't invited for the combine, but hopefully he opens some eyes here with the scouts. He's been scouted throughout the year, and they wanted to see him run the 40. I think he did a good job even with a bad hamstring."
Defensive back Torry McTyer made the scouts remember his name by running the fastest 40 of the day with a personal-best time of 4.34 seconds. That mark would have put him second among defensive backs at the combine, behind Minnesota's Jalen Myrick's 4.28 seconds.
"Torry McTyer, he's a guy who plays the defensive back position very well," Eaton said. "You want to talk about pure speed, he has it. He did well on the bench press also. You can tell he's been working hard for this."
Tau Lotulelei started at UNLV as a walk-on trying to prove he deserved to wear his brother's No. 55 jersey. Now he's on the verge of making it to the NFL.
"It's crazy how far I've come," Lotulelei said. "Just to be here today at a Pro Day is one step closer to my dream. I'm so excited, and I can't wait to see what happens in the next month, and hopefully I get called, but whatever happens, I'll work with it."
Contact Gilbert Manzano at gmanzano@reviewjournal.com or 702-383-0492. Follow @gmanzano24 on Twitter.