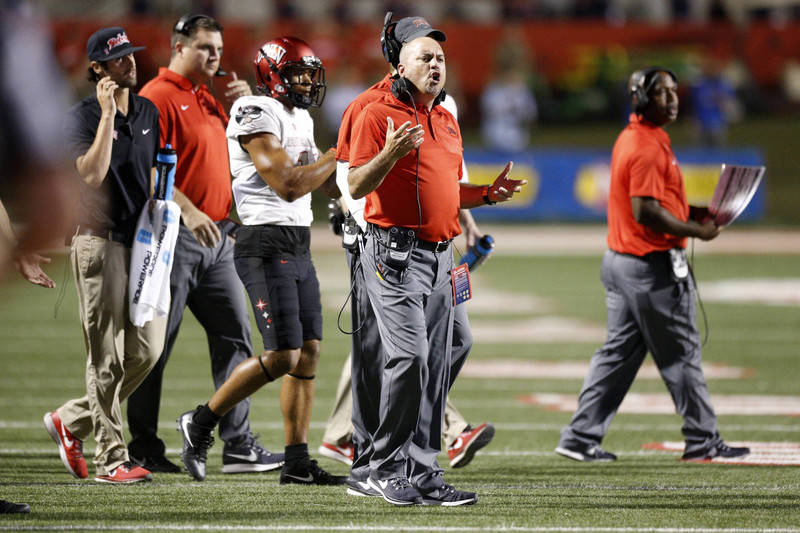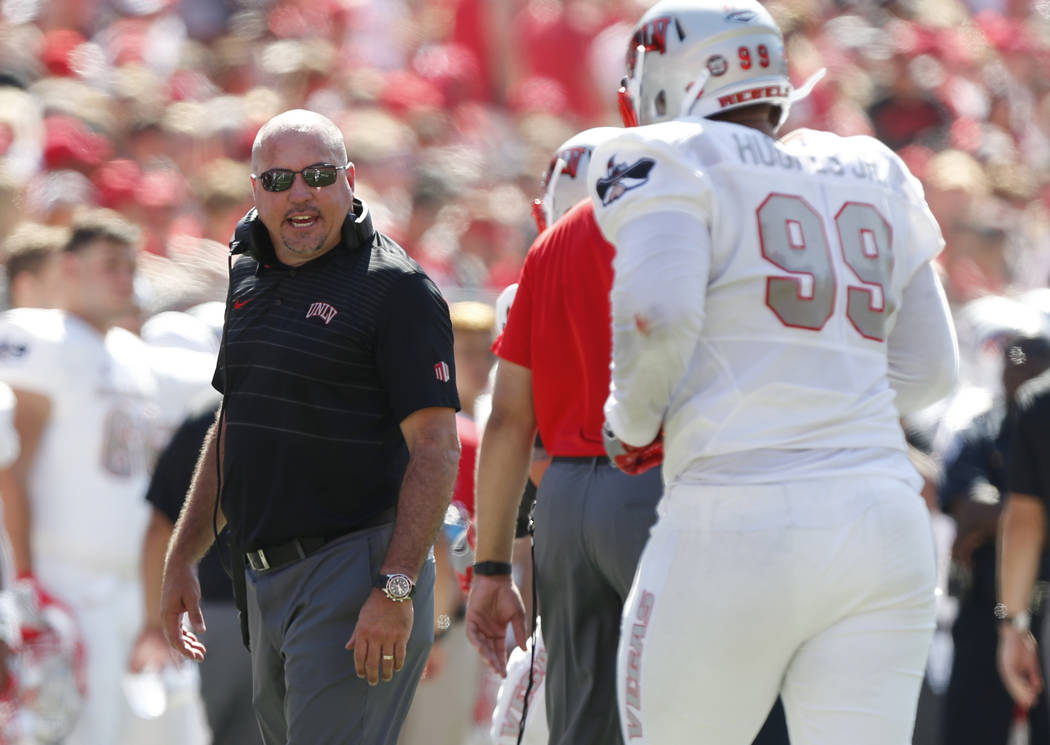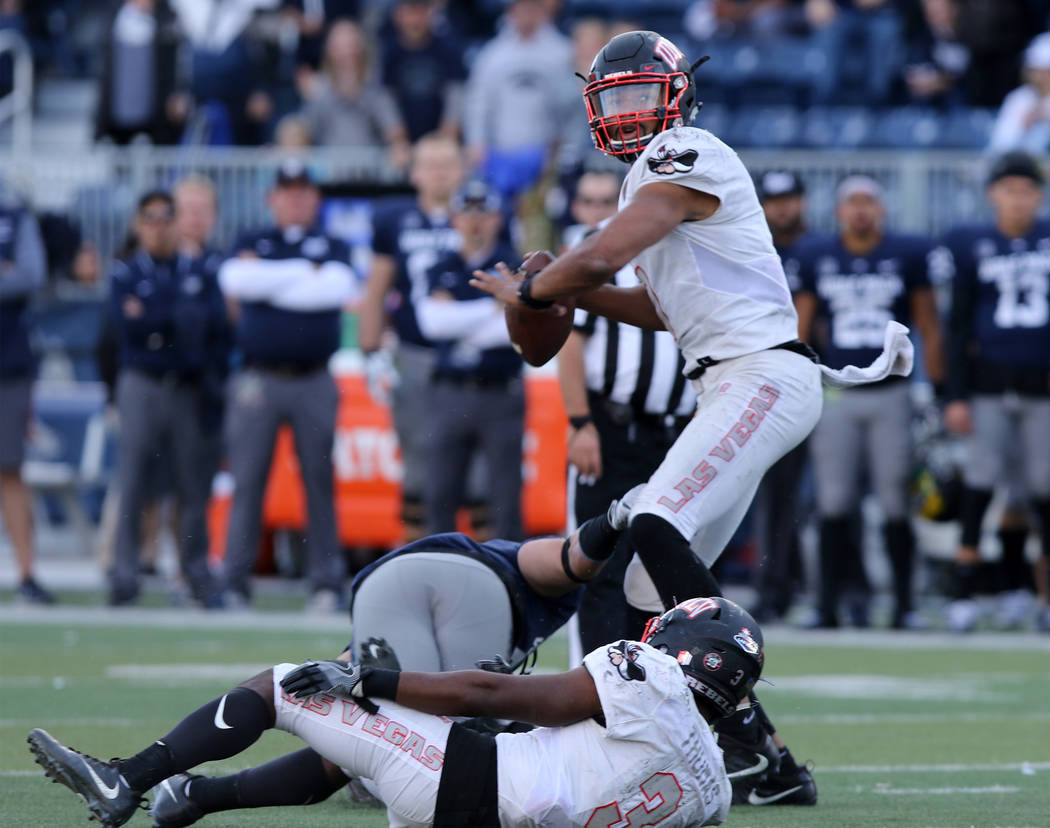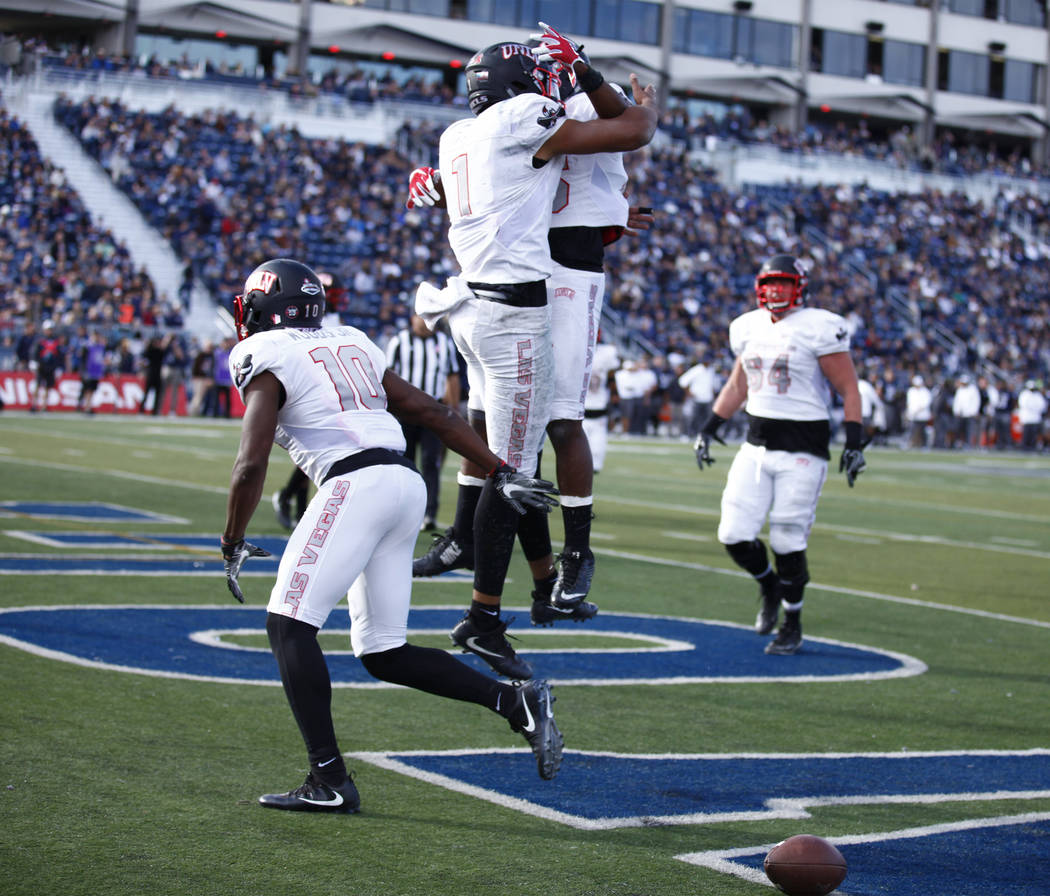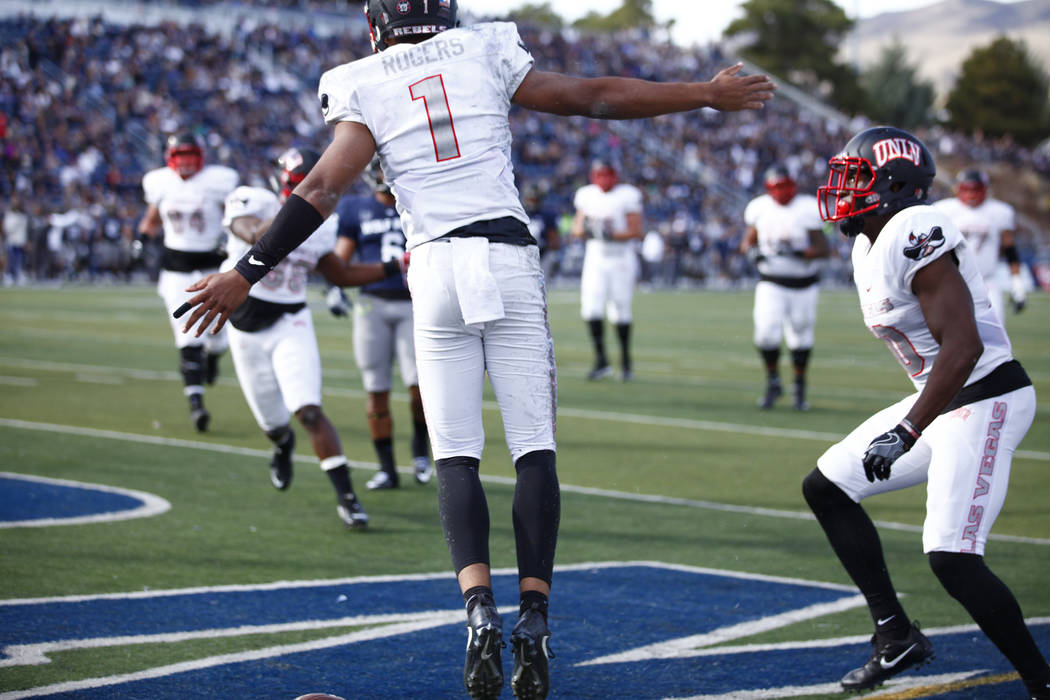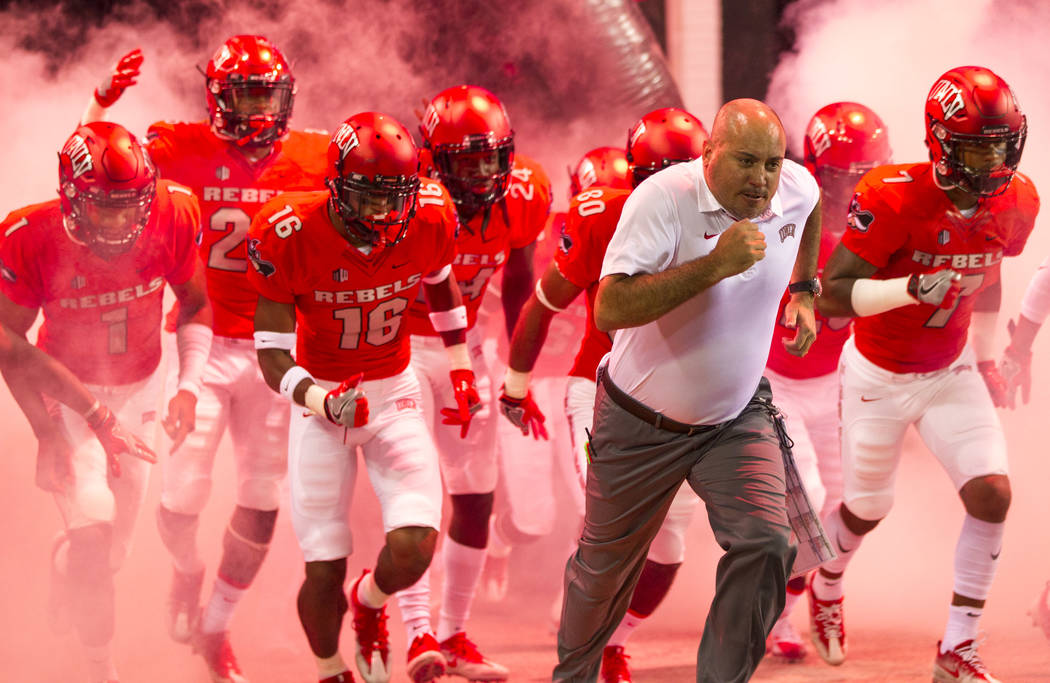 UNLV football coach Tony Sanchez was upbeat when he met with the TV and print media Thursday in his office, but this wasn't the setting he wanted.
He so badly wanted to prepare for a bowl, but his Rebels came up short, with last Saturday's 23-16 loss at UNR ending their season at 5-7 and one game shy of bowl eligibility.
But five days removed from that disappointment, Sanchez took a big-picture look at his program. Though there are areas that need improvement, especially on defense, he likes the trajectory.
UNLV for the first time increased its victory total each of the past three seasons.
"When you play a Mountain West game, there is no game that's not a winnable game now," Sanchez said. "That was not the case two years ago. It was not the case last year by the end of last season with so many injuries."
Here's what was learned about UNLV this season:
1. The staff and players didn't panic.
Sanchez could have lost the team twice — after a season-opening 43-40 loss to Howard and a 27-point blown lead in a 34-30 defeat at Air Force.
But instead of falling part, the team rallied both times. UNLV rebounded from the Howard loss with a 44-16 victory at Idaho the following week, and two weeks after losing at Air Force, the Rebels went on to win three of four games.
"This is the first year since I've been here: No drug suspensions, no academic suspensions, not one off-the-field issue," Sanchez said. "Nothing. Not one thing. That's why we didn't lose our team, because our kids care about me. I care about them. They care about the coaches. The coaches care about them. We've got a family here now. Families stick together, and they fight together."
2. Defense is no short-term fix.
UNLV's defense gave up averages of 31.8 points and 458.7 yards this season, the 10th consecutive year the Rebels have allowed more than 30 points and 400 yards per game.
Sanchez has serious decisions to make about his staff, and he said he will be deliberate even if there is external heat to make changes.
"You have to make sure you're doing it for the right reasons," Sanchez said. "If you want to do the popular thing, you can make a change right after the game, but it doesn't make any sense. There's a right way to do things, and no matter what we do, we're always going to try to make sure we make the right decision by UNLV."
3. Depth continued to be a problem.
The injury-ravaged Rebels didn't have much left by the end of the 2016 season, losing four of their final five games. UNLV was in better shape this year, but still ended the season without two starting offensive linemen, two starting linebackers and a starting cornerback.
The injuries on the offensive line especially damaged the running game. Lexington Thomas rushed for more than 100 yards in four of the first seven games, but reached that mark only once in the final five weeks.
"We stretched the ball a little bit more, ran a little bit more outside zone stuff, but it was really hard to run in between the tackles toward the end of the year," Sanchez said.
4. Quarterback Armani Rogers has great upside, but …
The Mountain West Freshman of the Year passed for 1,471 yards and six touchdowns and rushed for 780 yards and eight TDs, but completed only 52.4 percent of his throws. That part of his game figures to improve.
"This offseason, he'll make the biggest strides he'll probably make in his whole career," Sanchez said.
The coach is still buying his quarterback's stock.
"We're not talking about a guy that has the potential to be possibly one of the better players in our league," Sanchez said. "We're talking about a guy that has potential — not there yet — to be one of the better quarterbacks in America."
More Rebels: Follow all of our UNLV coverage online at reviewjournal.com/Rebels and @RJRebels on Twitter.
Contact Mark Anderson at manderson@reviewjournal.com. Follow @markanderson65 on Twitter.
UNLV's returning starters
(Class year is for next season)
Offense
QB — Armani Rogers, So.
RB — Lexington Thomas, Sr.
WR — Brandon Presley, Jr.
WR — Kendal Keys, Sr.
LG — Jaron Caldwell, Jr.
RG — Justin Polu, Jr.
RT — Nathan Jacobson, Sr.
Defense
DE — Jameer Outsey, Sr.
DE — Roger Mann, Sr.
LB —Bailey Laolagi, Sr.
LB — Farrell Hester II, So.
LB — Gabe McCoy, Jr.
CB — Jericho Flowers, Jr.
S — Dalton Baker, Sr.
Special teams
PK — Evan Pantels, Sr.
P — Evan Pantels, Sr.