UNLV's upset bid fruitless
October 26, 2008 - 9:00 pm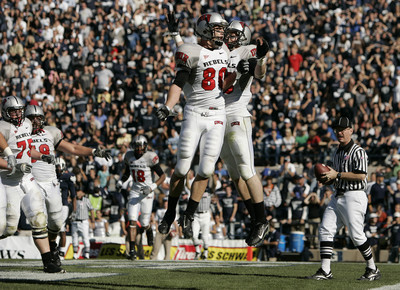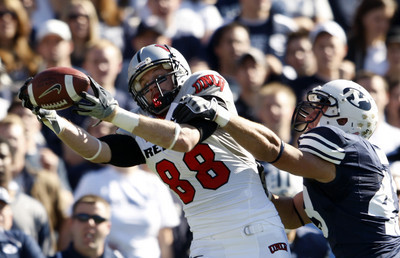 PROVO, Utah — Maybe UNLV should adopt an Arena Football League approach and just let the opposition score, giving the Rebels more time to answer with the game-winner.
That might be extreme, and coach Mike Sanford labeled it "a quitter's attitude," but by now it's clear UNLV needs to try something new.
It's now three straight games the Rebels held a late lead, and three straight in which they gave up the winning drive.
It got so bad Saturday that linebacker Jason Beauchamp thought, "Here we go again," when the defense retook the field to try to stop Brigham Young. It didn't, letting the No. 18 Cougars march 74 yards to score to beat the Rebels 42-35 and avert a major upset at LaVell Edwards Stadium.
BYU quarterback Max Hall, who threw for four touchdowns, went 7-for-7 for 54 yards on the Cougars' winning drive. His 6-yard touchdown pass to tight end Dennis Pitta with 1:46 left — and two-point conversion pass to Harvey Unga — made the score 42-35.
"In situations like that, we need to come up with a particular defense, like a defense that's not sitting back and playing zone, especially against a quarterback like Max Hall," said Beauchamp, who made 12 tackles.
"I feel like we need to be more aggressive, and I feel we need a defense that we're so comfortable in that we can always turn to in situations like that. The coaches are doing a great job, the coordinator (Dennis Therrell) is doing a great job, but these last three games the same thing has happened. So there's something we need to come up with."
At least the Rebels (3-5, 0-4 Mountain West) didn't suffer the expected blowout despite their 11th straight conference loss. They were 23-point underdogs and were beaten 52-7 here two years ago.
"It's the most improved team in the conference," BYU coach Bronco Mendenhall said. "It's not even close."
The Rebels eked out a 463-454 total yardage edge. Quarterback Omar Clayton survived two big hits to complete 26 of 40 passes for 321 yards and a touchdown. Ryan Wolfe caught 10 passes for 136 yards and a touchdown, and Casey Flair became UNLV's career receptions leader with 192, making eight grabs for 92 yards.
"I think everyone throughout practice this week, we just had a good feel for what their scheme was," Clayton said.
UNLV matched the Cougars (7-1, 3-1) score for score in the first half, making it 21-21. A 75-yard kickoff return by Austin Collie and a blocked punt by Bryan Kariya set up two BYU touchdowns.
"It would have been a different first half if we were better at special teams," said Sanford, whose team will play host to No. 15 Texas Christian on Saturday.
Despite their errors, the Rebels put themselves in position to win when Clayton drove them 60 yards for a 15-yard touchdown pass to Wolfe and a 35-34 lead with 6:49 to play.
But UNLV clearly left the Cougars too much time, following a dangerous pattern in its MWC games this season.
On Oct. 4 at Colorado State, the Rebels took the lead with 6:05 remaining, only to let the Rams drive 80 yards and score the go-ahead touchdown with nine seconds left. The Rams added a fluke touchdown on the ensuing kickoff and won, 41-28.
Last week against Air Force, the Rebels gave up a 91-yard drive that ended with a field goal with 2:36 left in a 29-28 loss.
And now this game.
This time, the Rebels still had one last chance, driving to BYU's 14-yard line before Clayton took an 11-yard sack. He was intercepted by Andrew Rich in the end zone on the next play, and that was it.
Contact report Mark Anderson at manderson@reviewjournal.com or 702-387-2914.
Slide show
HOW THEY SCORED
BYU 42
UNLV 35
KEY: BYU quarterback Max Hall completed all seven pass attempts on the Cougars' go-ahead touchdown drive.
NEXT: TCU at UNLV, 5 p.m. Saturday
UNLV 7 14 7 7 – 35
BYU 14 7 7 14 – 42
FIRST QUARTER
BYU 7, UNLV 0, 12:25 —•Andrew George 8 pass from Max Hall (Mitch Payne kick). Drive: 5 plays, 25 yards, 2:22. Key play: BYU's Austin Collie returns the opening kickoff 75 yards to the UNLV 25-yard line.
UNLV 7, BYU 7, 6:33 — Frank Summers 6 run (Kyle Watson kick). Drive: 13 plays, 62 yards, 5:46. Key play: On third-and-8, Rebels quarterback Omar Clayton completes a 12-yard pass to wide receiver Casey Flair to the UNLV 48.
BYU 14, UNLV 7, 1:34 —•O'Neill Chambers 20 pass from Hall (Payne kick). Drive: 10 plays, 73 yards,4:53. Key play: Hall converts a 12-yard pass to Collie on third-and-6 to the UNLV 25.
SECOND QUARTER
UNLV 14, BYU 14, 13:18—•Mike Clausen 1 run (Watson kick). Drive: 7 plays, 63 yards, 3:16. Key play: Clayton rolls right against a tough pass rush and throws a terrific pass to Flair, who makes a nice catch down the right sideline. Then a roughing-the-passer call on BYU gives the Rebels the ball at the 3. Clayton is injured, however, and leaves the game.
BYU 21, UNLV 14, 7:18 —•Harvey Unga 2 run (Payne kick). Drive: 2 plays, 5 yards, 0:41. Key play: BYU's Bryan Kariya blocks Dack Ishii's punt, and a face-mask penalty on the same play gives the Cougars possession at the UNLV 5.
UNLV 21, BYU 21, 4:51 —•Summers 1 run (Watson kick). Drive: 6 plays, 80 yards, 2:27. Key plays: Clayton completes back-to-back passes of 38 yards to Ryan Wolfe and 24 yards to Flair to the BYU 1.
THIRD QUARTER
BYU 28, UNLV 21, 7:52 —•Fui Vakapuna 1 pass from Hall (Payne kick). Drive: 8 plays, 79 yards,3:31. Key play: Vakapuna takes off on a 33-yard run to the UNLV 12.
UNLV 28, BYU 28, 2:46 —•Clausen 2 run (Watson kick). Drive: 12 plays, 68 yards, 4:59. Key play: On third-and-10, Clayton completes an 11-yard pass over the middle to Flair despite tight coverage by Cougars cornerback Brandon Bradley. That puts the ball at the BYU 44.
FOURTH QUARTER
BYU 31, UNLV 28, 14:11 —•FG Payne 25. Drive: 9 plays, 72 yards, 3:35. Key play: Hall completes a 30-yard pass to Collie, who beats cornerback Geoffery Howard down the right side on third-and-11.
BYU 34, UNLV 28, 8:36 — FG Payne 39. Drive: 6 plays, 13 yards, 2:54. Key play: UNLV tries to execute a fake punt, and BYU's Coleby Clawson breaks up a pass by punter Dack Ishii to give the Cougars the ball at the Rebels' 34.
UNLV 35, BYU 34, 6:49 —•Wolfe 15 pass from Clayton (Watson kick). Drive: 6 plays, 60 yards,1:47. Key play: UNLV opens the series with Clayton throwing down the right sideline to wide receiver Phillip Payne, who makes a sensational catch at the BYU 38 for a 22-yard gain.
BYU 42, UNLV 35, 1:46—•Dennis Pitta 6 pass from Hall (Unga pass from Hall). Drive: 11 plays, 74 yards, 4:45. Key plays: Hall completes all seven passes for 54 yards.
A —•64,081.
TEAM STATISTICS
UNLV BYU
First downs 25 22
Rushes-yards 31-112 34-209
Passing 351 245
Comp-Att-Int 28-44-1 24-32-0
Return Yards 38 68
Punts-Avg. 2-19.0 2-34.0
Fumbles-Lost 0-0 0-0
Penalties-Yards 5-31 7-39
Time of possession 28:19 31:41
INDIVIDUAL STATISTICS
RUSHING — UNLV, Johnson 5-41, Summers 12-31, Cox 6-20, Wolfe 3-19, Clausen 3-6, Clayton 2-(minus-5). BYU, Unga 19-84, Vakapuna 9-71, Hall 3-29, Collie 1-15, Mahuika 1-6, Bradley 1-4.
PASSING — UNLV, Clayton 26-40-1 321, Clausen 2-3-0 30, Ishii 0-1-1 0. BYU, Hall 24-31-0 245, Collie 0-1-0 0.
RECEIVING — UNLV, Wolfe 10-136, Flair 8-92, Payne 3-46, Anthony 2-33, Summers 2-26, Robinson 2-16, Johnson 1-2. BYU, Collie 7-113, Reed 5-34, Unga 3-24, Pitta 2-19, George 2-17, Vakapuna 2-13, Chambers 1-20, White 1-7, DiLuigi 1-(minus 2).