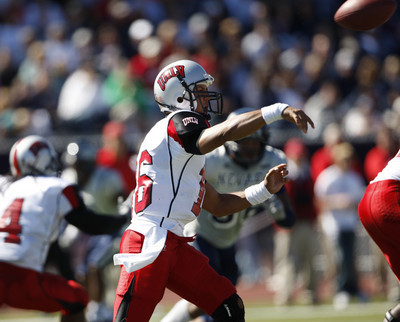 Only one team could win Saturday's battle for the Fremont Cannon. But two quarterbacks grew up in UNR's 27-20 last-minute win over UNLV at Mackay Stadium.
The Wolf Pack's Nick Graziano was struggling with his passing most of the day, particularly in the third quarter. But on his 38th and final throw, the sophomore connected with Kyle Sammons down the right side for a 43-yard touchdown with 27 seconds to play, giving the Wolf Pack (2-2) the win.
UNLV's Travis Dixon helped rally his team in the fourth quarter, hitting Ryan Wolfe on a 30-yard scoring strike with 1:02 left to tie the game. He nearly tied it at the end, but his pass for Rodelin Anthony in the end zone as time expired was incomplete.
"I thought Graz played really, really average, and that really hurts," UNR coach Chris Ault said. "But in that fourth quarter, he found a way to get it done. That's big for him."
Graziano, who finished 20-for-38 for 330 yards with three TDs and one interception, said he was simply too pumped up at times.
"I had too many badly thrown balls," he said. "It was probably too much adrenaline. I need to settle down, be calm and execute better."
Dixon, a redshirt freshman, was 17-for-37 for 249 yards with a TD and an interception. He said he knew his team needed him to be a leader, especially in such a critical game.
"I feel I'm becoming more mature and just settling in more and more each week," Dixon said. "I'm just trying to get better each week, both for myself and the team."
UNLV coach Mike Sanford saw progress in his young quarterback, even if it came in a losing effort for the Rebels (2-3).
"I thought he was tremendous," Sanford said. "I thought we were going to score there at the end. I really believed it, and I think he believed it."
Graziano was reined in by Ault for much of the fourth quarter as UNR relied on running backs Luke Lippincott and Brandon Fragger to move the chains. But Graziano completed 8 of 10 passes for 105 yards, including a 15-yard TD to Adam Bishop and the game winner to Sammons.
"I think it helped settle me down and it gave me time to throw and make a play," Graziano said of Ault's reliance on the running game for most of the fourth quarter.
Dixon was forced to put it in the air. UNLV twice faced fourth-and-10 late in the game, and Dixon converted both, hitting Casey Flair over the middle for 16 yards, then hitting Wolfe for the tying touchdown.
But it was Graziano who came through at the end.
"It was pretty tough seeing them score, but a minute is a lot of time," Graziano said. "We got good field position, which helped. And when coach called the pass play, everyone got excited. (Sammons) was wide open, and it was an easy throw for me.
"You win a game like this the way we did, it does a lot for your confidence. I definitely grew up in that fourth quarter."
UNLV Football