Utah State's Jordan Love on roll entering UNLV game
It was nearly a year ago that UNLV had to prepare for a new Utah State starting quarterback, and for the Aggies, turning to Jordan Love made all the difference.
He helped put the Aggies into the Arizona Bowl, and now has the offense playing at an intensely high level.
Utah State (4-1, 1-0 Mountain West) hosts the Rebels (2-3, 0-1) at 1 p.m. Saturday having won four in a row and scoring at least 42 points each of those victories. The Aggies average 50.2 points per game, which is second nationally only to top-ranked Alabama's 56.0.
The Aggies' only loss came in the season opener, a 38-31 defeat at then-No. 11 Michigan State.
Love (6 feet 4 inches, 225 pounds) is the driving force behind this success, having completed 66.3 percent of his passes for 1,235 yards, with nine touchdowns and three interceptions.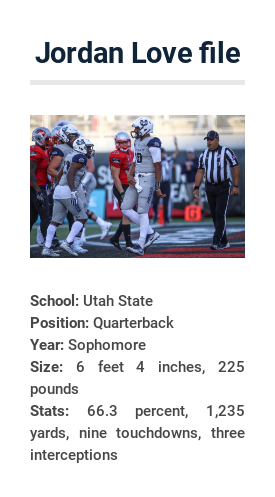 "It all starts with the quarterback," UNLV coach Tony Sanchez said. "Love is playing as good as any quarterback in our conference."
Love made his first career start last season at UNLV. He completed 19 of 27 passes for 316 yards and touchdowns of 70 and 75 yards to go with 42 yards rushing in the 52-28 Utah State victory. The Mountain West named Love its offensive player of the week, and his passing yardage was the third highest in school history for a freshman.
He won't be a surprise to the Rebels this season, who have last season's experience and plenty of video since that game to prepare for him.
"I noticed watching film that he's comfortable with his guys," Rebels linebacker Gabe McCoy said. "He stays in the pocket a lot. He can run. I noticed he likes to throw the deep ball, and he's a comfortable quarterback.
"Being able to see him last year and knowing what kind of quarterback he is and everything he likes to do … we've got a pretty good look."
Dropping the ball
UNLV quarterback Max Gilliam received a lot of criticism for his first start in Saturday's 50-14 loss to New Mexico. He completed 15 of 35 passes for 123 yards with two touchdowns and an interception.
But it wasn't all on Gilliam,
UNLV receivers, who have had a rough start to the season, dropped eight passes.
"As we went on, he settled down," Sanchez said. "He played better and better and better. You like to see that. You hate the score of the game, but it was nice to see him make some nice completions toward the end of the game and throw a couple of touchdown passes. He kept competing, that's the biggest thing. Max is a good football player. We believe in Max."
Aggies rolling early
Utah State's start is its best since 2012, and a victory over UNLV will give the Aggies their first 5-1 record since 1978 when they won the first five games.
But the Aggies have been one of the stronger teams since joining the Mountain West in 2013. They are 24-17 as a conference member, and going back to their Western Athletic Conference days, the Aggies have won 35 of their past 52 league games.
Utah State is especially tough to beat at home, having gone 3-0 this season and 32-9 over its past 41 games.
More Rebels: Follow all of our UNLV coverage online at reviewjournal.com/Rebels and @RJ_Sports on Twitter.
Contact Mark Anderson at manderson@reviewjournal.com. Follow @markanderson65 on Twitter.