When the chips were down, UNLV's defense stepped up
Updated September 19, 2023 - 9:43 pm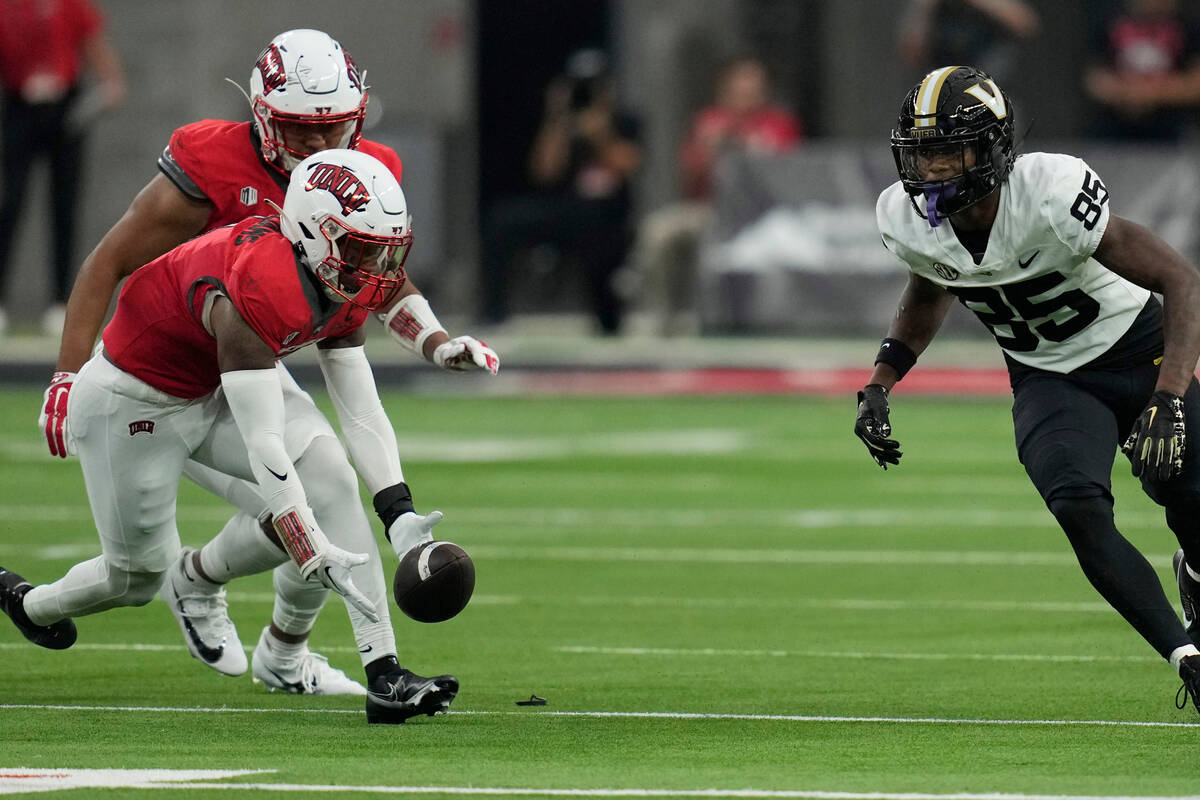 Fred Thompkins played 88 snaps for UNLV against Vanderbilt. The Rebels needed every single rep he had to offer.
The senior linebacker stepped up for coach Barry Odom's short-handed defense during UNLV's wild 40-37 win against Vanderbilt on Saturday. Thompkins gave credit to UNLV strength and conditioning coach Jeff Fish for having him in shape for the season.
"I just kept going out there, doing my job until the game was over," he said.
Thompkins and UNLV have a chance to continue their success at 6 p.m. Saturday, when the Rebels take on Texas-El Paso at Sun Bowl Stadium in El Paso, Texas. It's the Rebels' final non-conference game of the season.
UNLV beat Vanderbilt despite losing junior quarterback Doug Brumfield to injury early in the first quarter. Odom said Brumfield is dealing with soreness on his side after taking big hits from Commodore defenders on consecutive plays.
Odom also said Brumfield was "very limited" during Monday's practice, but added he remains the team's first choice at quarterback and will start against UTEP if he's healthy. As Brumfield's understudy, redshirt freshman Jayden Maiava went 19-for-33 for 261 yards and set up kicker Jose Pizano's 36-yard game-winning field goal.
While Maiava and Pizano won the game for UNLV, its defense was the main reason the Rebels even had a chance.
UNLV's offense struggled early, and Odom's team quickly found itself trailing 17-0. The situation got worse when starting linebacker Jackson Woodard was ejected for a targeting penalty with 10 minutes remaining in the first half.
The Rebels were already down one starting linebacker as sophomore Marsel McDuffie wasn't with the team because he was attending a funeral. Without those starters, Odom and defensive coordinator Mike Scherer turned to Thompkins.
"He played 88 snaps of winning football," Odom said.
Thompkins had a team-high 10 tackles, a sack, two tackles for a loss and forced a fumble — one of five the Rebels created. Thompkins also plays on all four of the special teams units, and Odom praised his stamina and leadership.
But Thompkins wasn't the only defensive standout for the Rebels. Odom praised senior Elijah Shelton, normally an edge rusher, for filling in at multiple positions against Vanderbilt. Shelton had 1.5 tackles for a loss and forced a fumble that defensive back Jerrae Williams returned 41 yards for a touchdown.
Williams, who plays slot cornerback, stepped up on the second level of the Rebels' defense, too. He had eight tackles, a sack and two tackles for a loss along with his defensive score.
"He's got the ability to make impactful plays," Odom said, "and this defense certainly needs that."
As a unit, UNLV's defense forced three punts and created three turnovers; the Rebels' special teams had one of the three fumble recoveries. Odom said the defense is getting more comfortable with Scherer's scheme and praised their tackling, speed and most importantly, resiliency.
"Guys kept making plays," Odom said. "And we obviously needed that to have a chance to win."
Contact reporter Andy Yamashita at ayamashita@reviewjournal.com. Follow @ANYamashita on X.