Who's starting: Breaking down Barry Odom's first UNLV depth chart
Updated September 1, 2023 - 11:01 am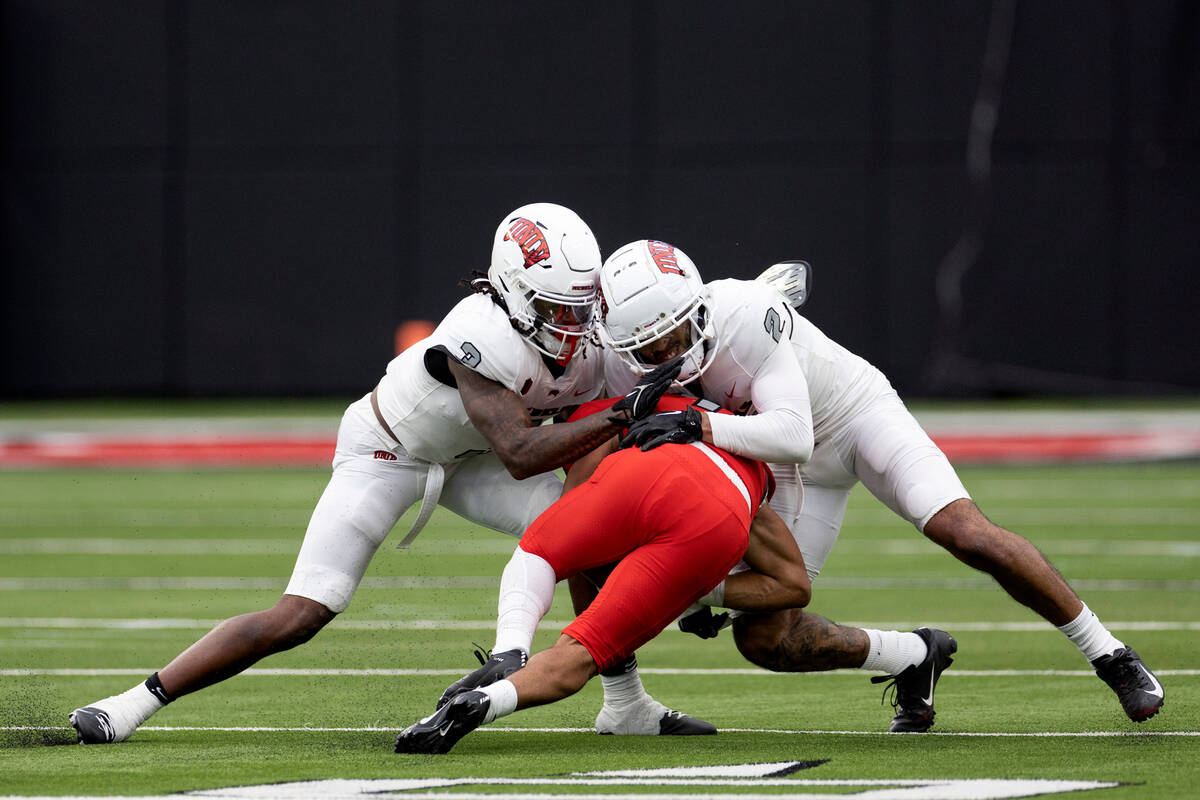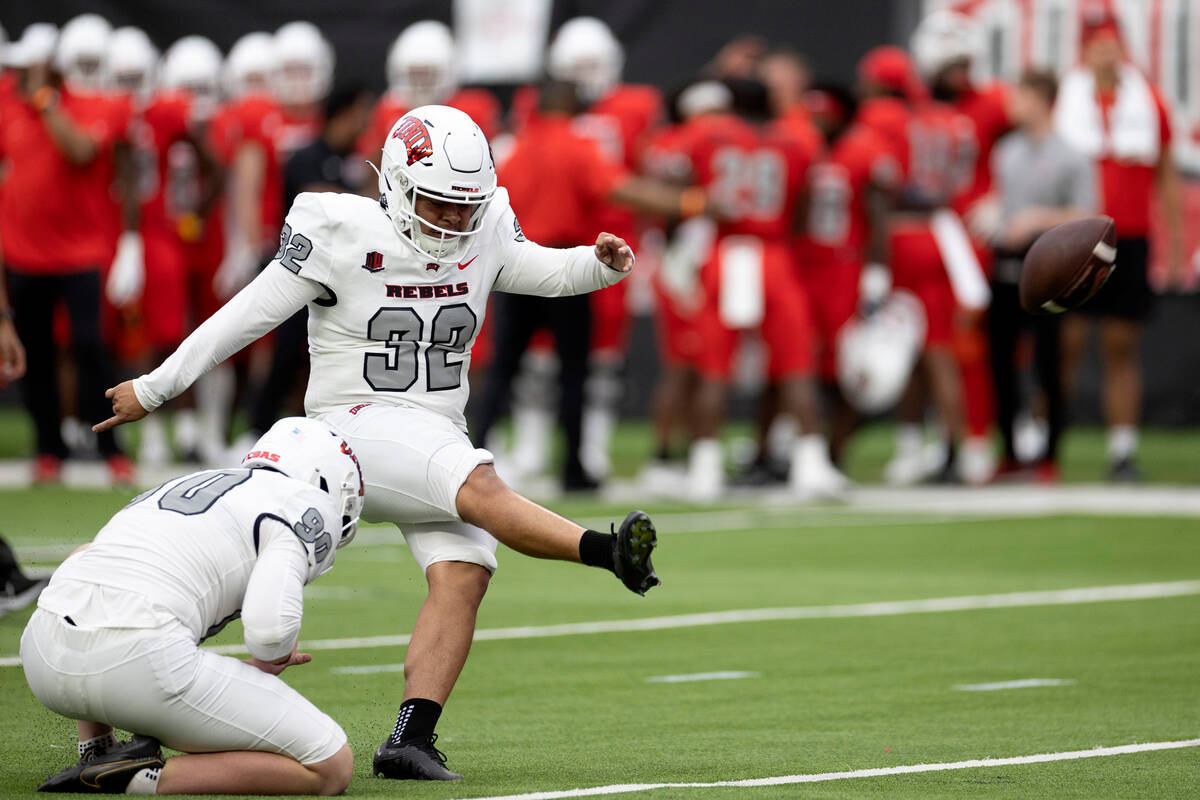 Coach Barry Odom's new-look UNLV football team will take the field for the first time Saturday when the Rebels welcome Bryant to Allegiant Stadium.
UNLV's Week 1 depth chart was released Monday and features an intriguing mix of new faces, experienced veterans and some freshman surprises.
"I'm excited to take this team into the arena for the first time," Odom said. "I'm excited to see how we compete."
Here's a breakdown of the Rebels' roster:
Offense
Junior quarterback Doug Brumfield returns after throwing for 1,898 yards and 10 touchdowns and rushing for 261 yards and six touchdowns as a sophomore. He enters the 2023 campaign as the uncontested starter for the first time in his career.
Two of Brumfield's starting receivers were also contributors last season. Junior Ricky White, a former Michigan State transfer, started all 12 games, catching 51 passes for 619 yards and four touchdowns, while senior Senika McKie, who began his career at Division II Erskine College, caught 17 passes for 209 yards and a score. Senior tight end Shelton Zeon III also returns as a starter.
In front of Brumfield, the right side of UNLV's offensive line remains unchanged with sixth-year guard Amani Trigg-Wright and junior tackle Tiger Shanks.
They'll be joined by three newcomers: Senior center Jack Hasz, a Buffalo transfer; junior left guard Alani Makihele, who appeared in six games for UNLV in 2022; and junior left tackle Jalen St. John, who transferred from Arkansas.
Brumfield said the offensive line has taken major steps during the offseason.
"Earlier in camp and in spring ball, they were kind of working and blocking as individuals," Brumfield said. "Now you see them working together, communicating. It looks like they're dancing."
Two more newcomers occupy the final offensive starting positions. Junior wideout Jacob De Jesus, who shined during the spring showcase scrimmage, is listed as a starter, while junior running back Donavyn Lester will be the starting running back after four seasons at William & Mary.
Defense
UNLV has five defensive backs listed among its starters. Junior cornerback Cameron Oliver, junior safety Johnathan Baldwin and senior defensive back Jerrae Williams — likely the slot cornerback — all played for UNLV last season.
They are joined by senior safety Jaxen Turner, who transferred from Arizona, and junior cornerback Thomas Anderson, a junior college transfer from Independence Community College in Kansas.
Jackson Woodard, a junior linebacker who transferred from Arkansas, will be the starting weakside linebacker. He will partner with sophomore Marsel McDuffie, who appeared in 10 games for UNLV as a redshirt freshman in 2022.
"The physicality has definitely increased," Woodard said. "We want to play tough. We want to fly around and swarm the ball."
Up front, UNLV will lean on a pair of Washington state natives who were important parts of its defensive line rotation last season. Senior defensive tackle Darius Johnson and junior edge rusher Jalen Dixon combined for 77 tackles and five sacks in 2022.
They'll be joined by senior walk-on defensive tackle Tatuo Martinson. The other edge rusher position has both senior Elijah Shelton and junior Zavier Carter, who arrived at UNLV from Louisiana State, listed as starters.
Junior defensive back Jordyn Morgan, whose six pass breakups as a safety were second on the team last season, is listed behind Anderson as a cornerback.
Additionally, two true freshmen cracked the two-deep depth chart for UNLV's defense. Safety Cameren Jenkins is behind Baldwin, while linebacker Blesyng Alualu-Tuiolemotu will back up McDuffie.
Brumfield praised Alualu-Tuiolemotu for his play since enrolling early in the winter.
"He's done a great job … transitioning from high school to college," Brumfield said, "just getting a good grip of the game."
Special teams
Sophomore Marshall Nichols will return as the team's punter and holder after a solid season. Senior kicker Jose Pizano is going to get the first chance to replace Daniel Gutierrez, UNLV's all-time leading scorer.
Senior Walker Hardan will be the long snapper after appearing in 11 games last season. Odom said he is still evaluating kickoff and punt returners.
Contact reporter Andy Yamashita at ayamashita@reviewjournal.com. Follow @ANYamashita on X.
Up next
Who: UNLV vs. Bryant
When: 1 p.m. Saturday
Where: Allegiant Stadium
TV: SSSEN
Radio: KWWN (1100 AM, 100.9 FM)