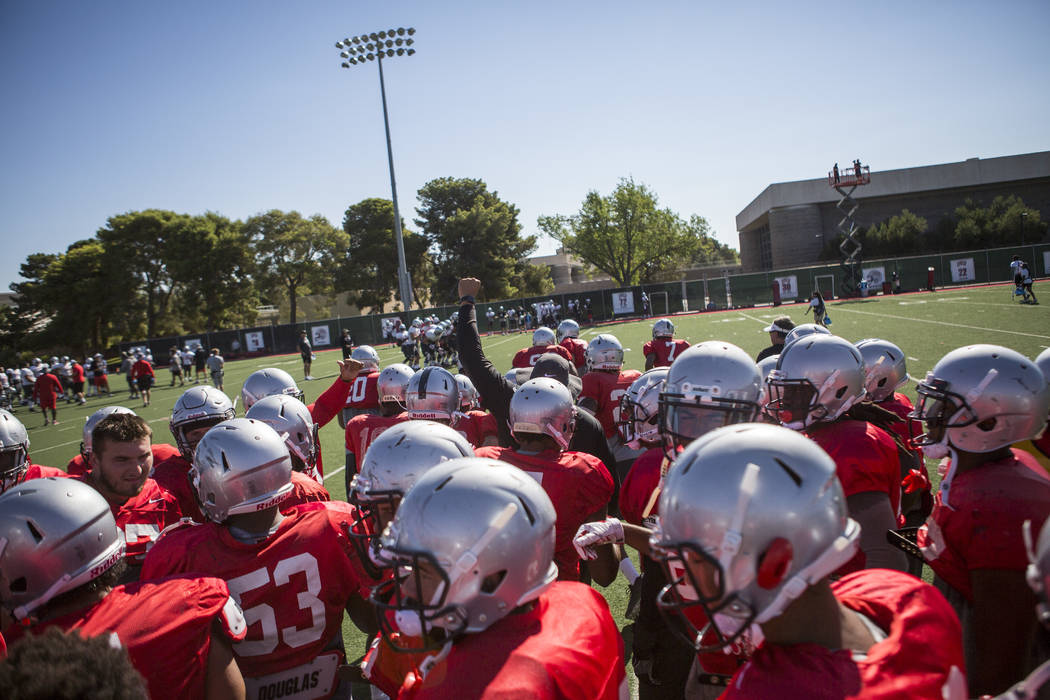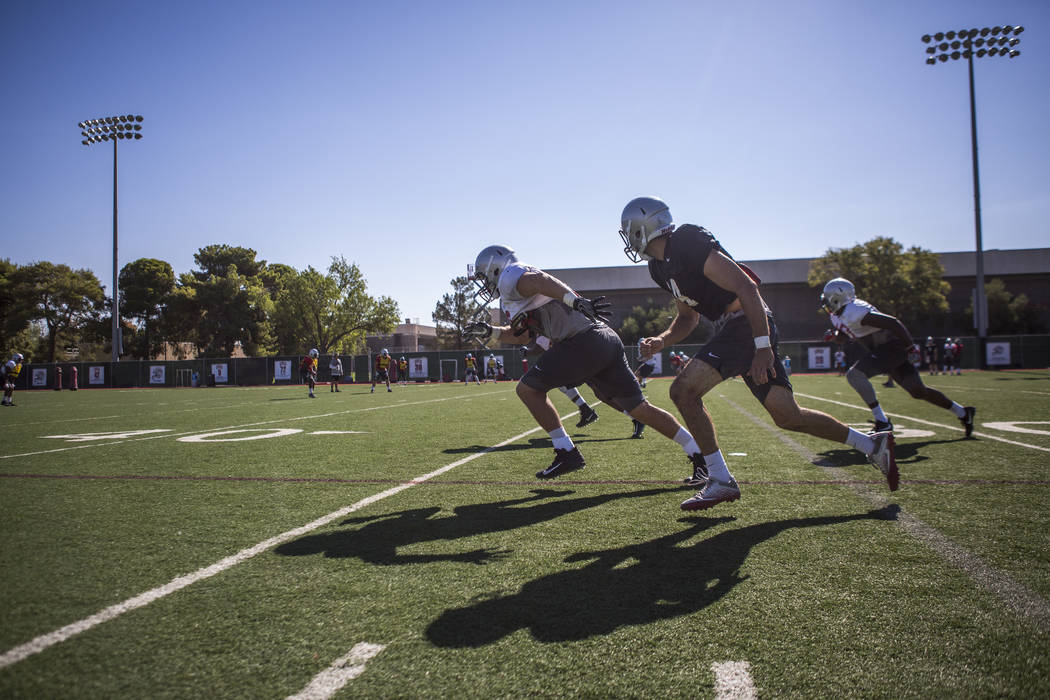 Tuesday's UNLV football practice report from Rebel Park:
Tony's take
Coach Tony Sanchez, on the 12th day of training camp:
"I thought it was a good, solid practice. We went live again today because we were in full pads. The whole practice wasn't live, but we did a live goal-line session, and then we worked on being backed up (near the goal line) and coming on out. I liked the energy the guys came with right away. It was intense right off the bat, which you like to see.
"The offense got after the defense a little bit in the goal-line situation, and then on third downs, the defense kind of got the offense. Good little give and take.
"(Redshirt freshman quarterback) Armani (Rogers) continues to impress. Doing a really good job. I'll tell you what, (running back) Tariq Hollandsworth really showed some good things today. He is a big, physical, strong kid (5 feet 11 inches, 210 pounds). Now you're really starting to see him shake off some of that freshman stuff and really to start to look like an older guy, a more mature guy.
"The receivers did a good job of holding on to the ball. Defensively, I thought our guys showed a lot of energy. You want to see them do a little better job of wrapping and tackling down there on the goal line. Coach (Kent Baer) got after them, and they were better after that."
Notes
— Quarterback Griffin O'Connor (6-3, 200) reneged on his commitment to UNLV. O'Connor, who attends Edison High School in Huntington Beach, California, didn't offer a reason in a tweet, but said it was "the most difficult decision I have ever had to make" and that he thought the Rebels were headed in the right direction.
— Griffin O'Connor (@qboconnor) August 15, 2017
Had O'Connor remained part of the class, he would have joined another quarterback, Stacy Conner (6-5, 175) of Wylie (Texas) High. And O'Connor would have signed with UNLV knowing Rogers has three years of eligibility beyond this one.
— Senior Michael Chevalier, who is backing up senior Kyle Saxelid at offensive left tackle, didn't practice because of an injured left ankle. Sanchez said he expected Chevalier to be in a walking boot for up to a week but that the injury wasn't serious.
More Rebels: Follow all of our UNLV coverage online at reviewjournal.com/Rebels and @RJRebels on Twitter.
Contact Mark Anderson at manderson@reviewjournal.com. Follow @markanderson65 on Twitter.