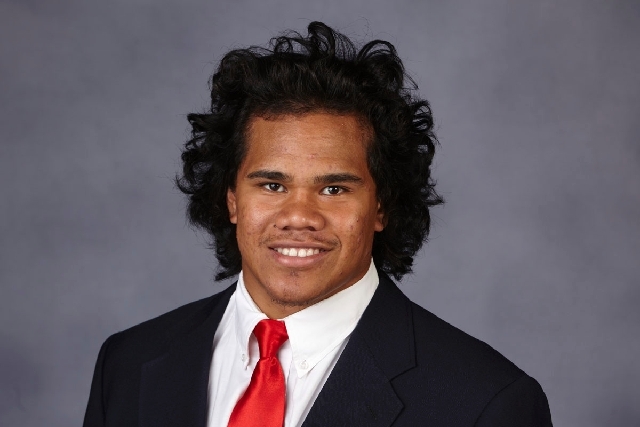 ELY — He has the last name and jersey number, but whether Tau Lotulelei can come close to emulating what big brother John did at UNLV is in question.
The question probably won't be answered for a while, but early indications are encouraging for the Rebels.
Lotulelei rose to the top of the depth chart at weakside linebacker in the spring, and the redshirt freshman has maintained that standing in training camp.
"We had high hopes for him in spring ball," coach Bobby Hauck said. "He's still got football to learn, but he made a big leap forward this spring. I think this camp, the more (repetitions) he gets, the better he's going to be. He's got a bright future if he keeps working at it."
Lotulelei (6 feet 1 inch tall, 220 pounds) has quite the namesake to live up to.
John Lotulelei led the Rebels in tackles last season with 120, earning first-team All-Mountain West honors. He is having an impressive camp with the Seattle Seahawks.
He was instrumental in Tau going to UNLV instead of a junior college. Player personnel director Jimmy Morimoto, a former high school coach in Hawaii, also was instrumental in bringing aboard Lotulelei, who is from Maui.
Lotulelei, who wears his brother's No. 55, used his rapid rise up the depth chart in the spring to earn a scholarship. He capped spring practices by intercepting a pass in the spring game.
"I wanted to get (the starting spot), but I also was surprised at the same time," Lotulelei said. "I wasn't quite ready, but then I adjusted to everything, and I started getting with the speed."
Hauck said even though Lotulelei is a redshirt freshman, he gets no special treatment.
"We feel we've got a pretty good team, and we feel we've got pretty good depth at linebacker," Hauck said. "So we can't really say we have a starter that's feeling his way. We need to have someone in there that can make the plays, and so if he's in there, it's because we think he's going to make plays."
Contact reporter Mark Anderson at manderson@reviewjournal.com or 702-387-2914. Follow him on Twitter: @markanderson65.