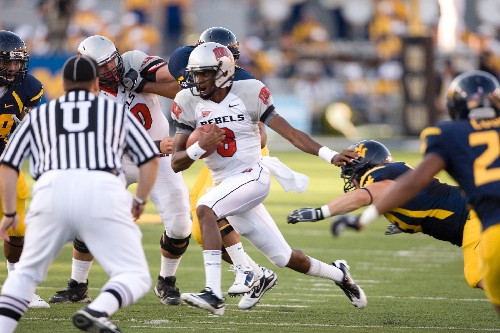 MORGANTOWN, W.Va. — UNLV coach Bobby Hauck isn't afraid to play freshmen.
He played 12 of them in Saturday's 49-10 loss to West Virginia.
But that doesn't mean he is so focused on the future that he's forgotten the present, even if the Rebels' 1-5 start might be a temptation to do just that.
"We're trying to grow for the future, but we're not giving up on our season," Hauck said. "We're trying to win games. So we want to do both.
"Our young guys are doing a good job, and we're going to evaluate the effort level in the second half with a microscope. The guys that played hardest and best in the second half are the guys who are going to start next week."
UNLV plays at Colorado State on Saturday.
Hauck's decision to try a little bit of a youth movement was out of necessity as much as desire. UNLV held out 25 players from contact in practice Tuesday, and it wasn't close to a healthy team that took the field against the Mountaineers.
Linebacker Starr Fuimaono (foot), for example, didn't play at all.
"We went out and warmed up, and there were some guys that couldn't go," Hauck said.
Five Rebels players made their first start: sophomore fullback Beau Brence, freshman running back Tim Cornett, freshman wide receiver Kurt Davis, freshman linebacker Tani Maka and sophomore wide receiver Aaron Reed.
"I think (the coaches) want to give me that experience for next year," said Cornett, who rushed for 56 yards on 12 carries and caught a 6-yard touchdown pass.
Although Hauck said the quarterback job belongs to senior Omar Clayton, redshirt freshman Caleb Herring played the entire second half and led UNLV to its only points.
Herring completed 8 of 14 passes for 101 yards and a touchdown with an interception.
"Everyone's going to get a chance to play," Herring said.
Going with so many young players could create resentment among the veterans, who spent most of their time at UNLV playing under a different regime.
Senior linebacker Calvin Randleman said he isn't one to hold grudges and that he works closely with freshman linebacker Tim Hasson.
"I take pride if I was to go down in a game that I know Tim would be able to step up and do this," Randleman said. "Obviously, you only get so many years with the NCAA to play this great game.
"So when your time is up, which mine is coming to an end, you've got to make sure that your program continues to go in the right direction."
Contact reporter Mark Anderson at manderson@reviewjournal.com or 702-387-2914.