UNLV hires Eric Nepomuceno as head of athletics compliance
Updated May 4, 2018 - 7:08 pm
UNLV's compliance department has a new face for the first time in 18 years, and that's not the only change.
The new person in charge, Eric Nepomuceno, will not handle Title IX issues and will report to athletic director Desiree Reed-Francois in addition to the president's office. Other members of the compliance office coordinate with the university regarding Title IX complaints.
Former compliance director Eric Toliver oversaw Title IX issues and reported exclusively to the president. He resigned Feb. 9 after an investigation into allegations of sexual harassment.
"After Eric Toliver left, I took that opportunity to restructure," Reed-Francois said in a recent interview. "It's a pretty common structure where your compliance officers dual report to the athletic director as well as the president's office."
Nepomuceno spent the previous six years in a similar position at Northeastern. His title at UNLV is senior associate athletic director for compliance, and he also will be on the department's executive and senior staffs.
"We are very pleased that Eric will be joining our leadership team," Reed-Francois said in a statement. "We have a strong commitment to compliance at UNLV, and Eric's experience, his education, which includes a law degree (from Loyola New Orleans in 2007), his emphasis on the student-athlete and his demonstrated commitment to our core values make him a great fit."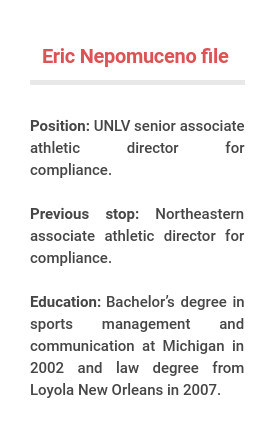 Nepomuceno created the Student-Athlete Welfare Advancement Team at Northeastern, served on the NCAA Division I Initial Eligibility Waivers Committee and was the co-chairman for the university's Gender Equity Committee.
"I am extremely thankful and thrilled to have this tremendous opportunity," Nepomuceno said in a statement. "It is undoubtedly an exciting time to be a part of UNLV athletics. Desiree is a revered and dynamic leader, and I am committed to carrying out her vision of excellence for the department. I am looking forward to joining the UNLV team and helping to navigate the institution through the ever-changing NCAA landscape."
Contact Mark Anderson at manderson@reviewjournal.com. Follow @markanderson65 on Twitter.