UNLV roundup: Brigham Young rallies, hands women's basketball team first loss
December 2, 2016 - 7:55 pm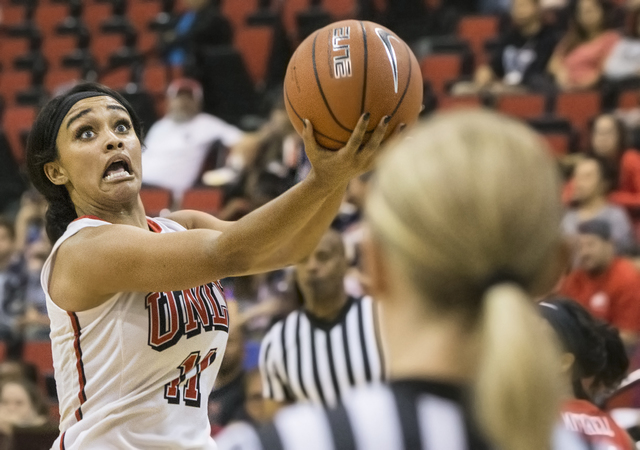 Kalani Purcell had 16 points to pace four double-figure scorers for Brigham Young in its 63-54 win over UNLV in a nonconference women's basketball game Friday at the Maui Wahine Classic in Maui, Hawaii.
Kristine Nielson scored 14 points for the Cougars (4-2), who overcame a 41-39 disadvantage in rebounds by shooting 46.9 percent and holding the Lady Rebels (5-1) to 29.4 percent.
Dakota Gonzalez scored 12 points, Katie Powell 11 and Paris Strawther 10 for UNLV, which led 21-5 after one quarter and 26-25 at halftime but was limited to 14 points in the middle quarters.
WOMEN'S SOCCER
Senior forward Lily Sender was named to the National Soccer Coaches Association of America All-America second team, becoming the first such honoree in Rebels history.
Sender, a native of Honolulu, is the first Mountain West player to be named an All-American since San Diego State's Megan Jurado was a second-team selection in 2012.
Overall, it's the 15th time the league has placed a player on NSCAA's All-America teams, but Sender is just the second player from a current Mountain West team to earn the honor in the league's history.
After leading the team and the conference with 15 goals and 38 points, Sender garnered the program's third Mountain West Offensive Player of the Year award to go along with an all-conference first-team selection – one of a record nine Rebels to earn all league honors.
Sender was instrumental in leading UNLV to its first NCAA Tournament appearance since 2006 as the Rebels won the Mountain West regular-season and conference tournament titles in the same season for the first time.
Sender's goal and point totals ranked top-20 in the nation in 2016, helping the Rebels set new school records for most win (16), goals (51) and assists (50) in a season.