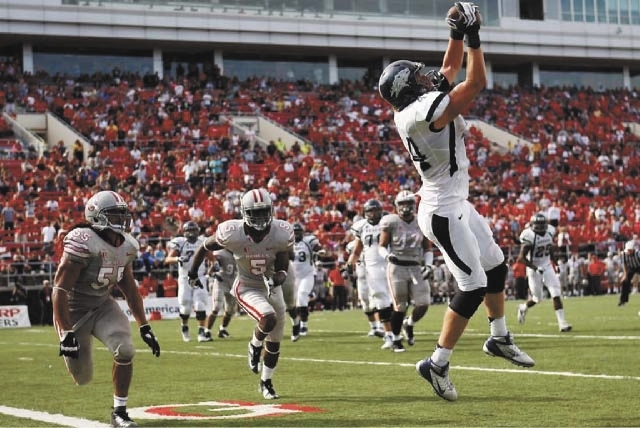 CARSON CITY — The south has risen again, at least when it comes to sports.
The University of Nevada, Las Vegas, trounced the University of Nevada, Reno, 34.5 to 10.5 to win the first "Governor's Cup."
Gov. Brian Sandoval presented the cup to UNLV during a ceremony Friday at the Board of Regents meeting in Reno.
Sandoval announced in October a "Governors Series" to highlight the hopefully friendly rivalry between the two state universities.
The team that won rivalry games in each of 15 sports would receive three points per victory. Three points also would be awarded to the university where athletes did better in the classroom.
Grades for athletes in the two schools have not been compiled yet, but UNLV's overwhelming lead would not change the outcome even if it lost the grades battle.
UNLV's victory is especially sweet for the south because initially last fall it fell behind UNR. Losing the annual football game for the eighth straight time didn't help. But the Rebels consistently beat the Wolf Pack in most sports through the winter and spring.
Now that Reno's famed football Coach Chris Ault has retired, the tide may be turning on the gridiron for UNLV.
Ault, who early in his career was an assistant UNLV football coach, delighted in beating the Rebels. He also insisted that his school be called the University of Nevada, not the University of Nevada, Reno, although that is the name used in state laws and appropriations bills.
Rebels fans who want to reminisce about all their victories over the Wolf Pack in the 2012-13 sports season may visit the following website: http://www.unlvrebels.com/governors-series/.
Sandoval, a UNR graduate, might not have been entirely pleased in handing the cup to UNLV. In announcing the Governor's Series, he said he respected UNLV but was aware of the old adage about being true to one's school.
Contact Capital Bureau Chief Ed Vogel at evogel@reviewjournal.com or 775-687-3900.