UNLV's Finkelstein fires sub-70 rounds, sets high goals for season
October 21, 2013 - 9:38 pm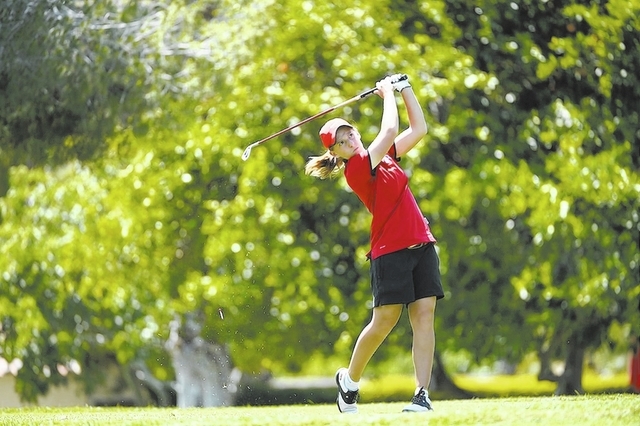 Already the fifth UNLV women's golfer to earn Mountain West Player of the Year honors, Dana Finkelstein has her sights set on bigger game this season.
"I'd like to be MW Player of the Year again, and I'd also love to try to be an all-American," the junior from Chandler, Ariz., said.
The 5-foot-2-inch Finkelstein needs to finish the 2013-14 season with one of the top 30 scoring averages in the nation to earn all-American honors. After a fast start, she's ranked 25th in the country by Golfweek with a 70.35 stroke average.
She opened the season in September with her first career tournament victory, winning the Colonel Bill Wollenberg's Ptarmigan Ram Classic. She carding a career-low 4-under-par 212 (71-70-71) on the 6,352-yard Ptarmigan Country Club course in Fort Collins, Colo.
While her second-round 70 matched a career best, it didn't take long for Finkelstein to break that mark. At the Betsy Rawls Invitational in Austin, Texas, she recorded consecutive career lows of 69 and 68 on Oct. 14 and 15 and tied for second place with UCLA's Bronte Law, four strokes behind UCLA's Alison Lee, who won with a 12-under 204 (69-68-67).
Finkelstein — who set a career low with an 8-under 208 at the 6,143-yard University of Texas Golf Club — hadn't broken 70 in 68 previous rounds of collegiate competition.
"Since it finally happened, I wasn't afraid to let it happen, and it just kind of clicked. I knew I could do it again," she said. "I really like that course out there, too.
"I always knew I could shoot in the 60s. It's just taken a while to do it in competition. I do it in practice all the time."
Rebels coach Amy Bush-Herzer — the reigning MW Coach of the Year who last season led UNLV to its first conference title since 2006 — marveled at how Finkelstein casually asked her how many birdies she needed on the back nine (three) to win in Colorado and how many she needed down the stretch (one) to take second in Texas before she calmly went out and got them.
"It's fun to coach a player like that. She has the competitive drive to get the job done, and that's really what you want in your players," Bush-Herzer said. "She's also one of the hardest workers on the team. She'll go out and practice four hours a day, then go home, do her homework and go to sleep at a decent hour. She makes sure she's taking care of herself.
"She knows what she wants and she's making it happen."
What Finkelstein wants is to play professional golf after graduating from UNLV with a degree in kinesiology. If that doesn't work out, she'd like to become a college women's golf coach in the mold of her Rebels mentors.
"I love our coaches," she said of Bush-Herzer and assistant Erin Andrews. "They're really positive, and the practices we have are always really good.
"They're super nice and understanding. They're both amazing people, and they bring out the best in me."
Finkelstein was introduced to golf by her father at age 10 and started taking it seriously at Corona del Sol High School, where she averaged 34.7 strokes per nine holes as a senior.
She chose UNLV over Oregon, Washington, San Diego State and others because of her coaches, who have mutual admiration for her.
"She has one of the best short games I've seen in some time. She'll make up and down from anywhere," Bush-Herzer said. "When we first recruited her, she didn't hit long off the tee, but it didn't matter because her short game made up for it.
"I knew once we got her here with a strength coach, we were gonna get her longer and she did. Now she has the length in her game with the still wonderful short game."
Along with clearing a mental hurdle by breaking 70, Finkelstein said a key to her success is her accuracy.
"I hit a lot of fairways and greens. I don't hit it off line too often, so that really helps," she said. "I also made a lot of putts (in Texas), which gave me a lot of birdies."
The Rebels return to action Sunday, when they'll host the Las Vegas Collegiate Showdown at Stallion Mountain. The public is welcome to attend and admission is free.
Contact reporter Todd Dewey at tdewey@reviewjournal.com or 702-383-0354. Follow him on Twitter: @tdewey33.