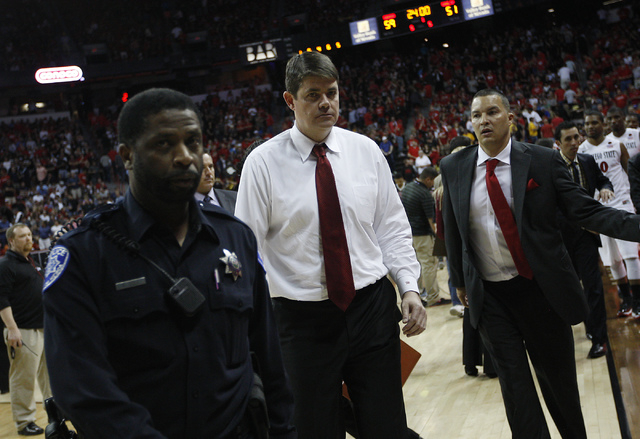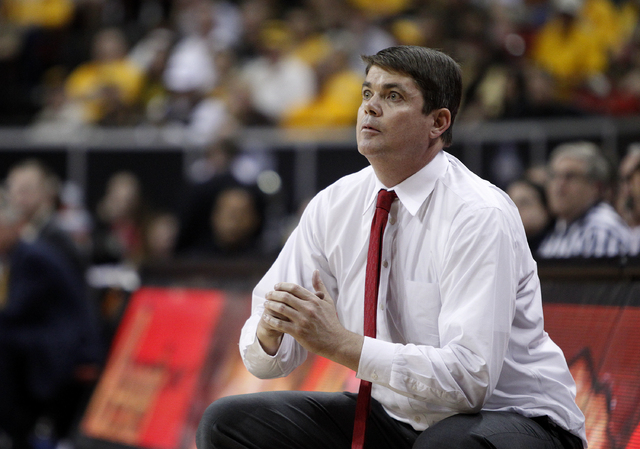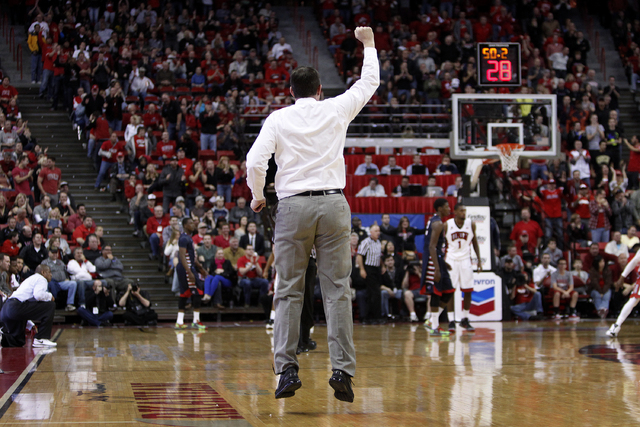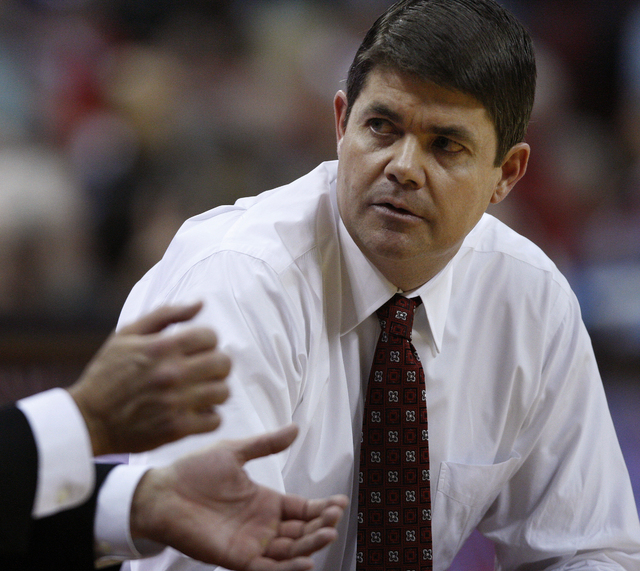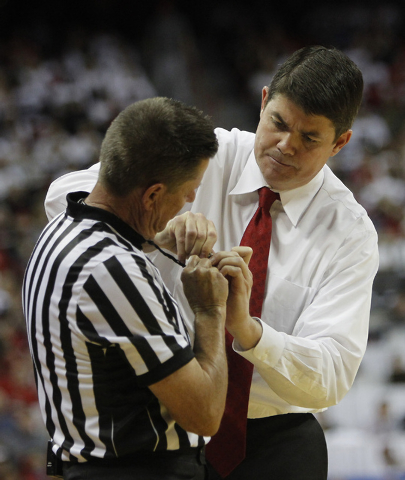 It appears Dave Rice has what every basketball coach desires. He's in a no-lose situation.
Soon enough, Rice either will have a new and improved deal to remain at UNLV or he will accept a contract offer from South Florida worth close to $8 million. A decision is expected today.
Rice is contemplating South Florida's proposal of a six-year contract for $1.3 million per year, according to sources. It's a surprising twist to the Rebels' already intriguing offseason.
The offer to Rice was extended Friday morning after he interviewed for the position on the East Coast. He returned to Las Vegas in the afternoon and met with UNLV athletic director Tina Kunzer-Murphy at the Thomas &Mack Center.
Kunzer-Murphy emerged from the meeting and said, "I still don't have anything to report. Dave does have a solid offer from South Florida, and it's a good offer. We want to keep him. There is a real push to try to keep him here.
"There is a lot of pressure on him right now. Hopefully, we will have something resolved in the next 48 hours. I really think that (today) we'll have it resolved."
Kunzer-Murphy said she planned to meet with Don Snyder, UNLV's acting president, this morning to discuss a possible contract extension and raise for Rice, who has three years remaining at $700,000 per year. It is believed Rice, who could not be reached for comment, requested specific improvements for the program, such as chartered flights for road trips.
"We talked about what he wanted to see here, and we'll address it," Kunzer-Murphy said. "The president and I feel strongly about wanting to keep him."
The Rebels finished this season 20-13 and missed the NCAA Tournament for the first time in Rice's three years. He has a record of 71-32 since replacing Lon Kruger, who left for a seven-year, $16.6 million deal at Oklahoma, in April 2011.
In November of his first season, Rice guided UNLV to a victory over No. 1 North Carolina. Last summer, his most heralded recruit, freshman Anthony Bennett, was the No. 1 pick in the NBA Draft.
But no Mountain West titles and a lack of postseason success has put Rice on the proverbial hot seat going into the summer.
Still, Rice recently put together UNLV's most impressive recruiting class since the late 1980s. Findlay Prep shooting guard Rashad Vaughn headlines a group of three high school stars.
Dwayne Morgan, a 6-foot-7-inch forward from Baltimore, and Goodluck Okonoboh, a 6-9 forward from Wilbraham, Mass., each signed a letter of intent in the fall.
Vaughn, a McDonald's All-American selection, made a verbal commitment on Feb. 11 and cannot sign until April. Rivals.com ranks Vaughn the nation's No. 7 prospect in the class of 2014. Morgan is ranked No. 15 and Okonoboh is No. 32.
When asked Friday about his next move, Vaughn said, "I don't really even know yet. I'm just waiting to hear back from (Rice)."
The Rebels' class is ranked among the nation's best. If Rice departs, the program could lose the incoming recruits.
Rice's top assistant, Heath Schroyer, left last week for the head coaching job at Tennessee-Martin.
Uncertainty also surrounds UNLV juniors Khem Birch, Roscoe Smith and Jelan Kendrick. Birch is considering entering the NBA Draft. Smith and Kendrick might opt to transfer or play professionally.
Junior guard Bryce Dejean-Jones, the team's leading scorer this season, has announced plans to leave the program and pursue other opportunities.
If UNLV cannot offer a competitive contract to South Florida's offer, Kunzer-Murphy could be left to search for Rice's replacement.
A list of about 20 potential candidates has surfaced, including Cal State Northridge coach Reggie Theus, a former Rebels star, and San Diego State assistant Justin Hutson, an assistant under Rice for two years.
Either the drama will end for Rice today or it will just be beginning for Kunzer-Murphy.
Contact reporter Matt Youmans at myoumans@reviewjournal.com or 702-387-2907. Follow him on Twitter: @mattyoumans247.