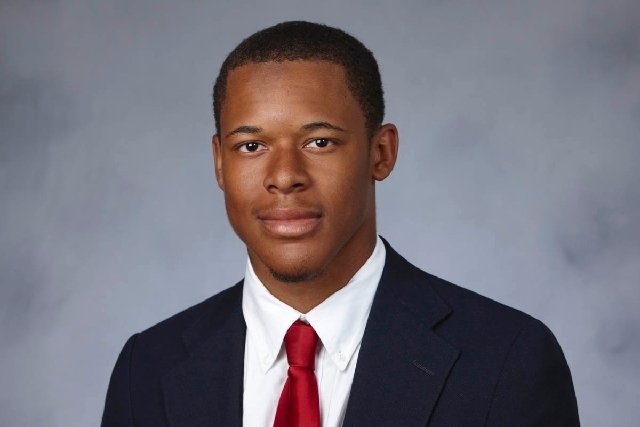 HASSON MAKING STRIDES
ELY — Tajh Hasson has shown the ability to make plays, starting eight games last season, breaking up five passes and intercepting one.
But he hadn't shown consistency at safety or cornerback, at times struggling like the rest of UNLV's secondary.
This training camp has been quite different for Hasson, a starting cornerback. The junior hasn't been beaten often, and he has made his share of head-turning plays.
"I feel a lot better about myself," Hasson said. "I feel like I'm smarter. I'm a better player. My technique is better. I just feel all around better. I feel more confident than last season."
He provided probably the defensive highlight of camp, chasing down wide receiver Devante Davis on Wednesday on what appeared to be a sure touchdown. Hasson caught Davis and stripped him of the ball, then recovered the fumble.
"I know I can make those plays every play," Hasson said. "I have to go out there and do it and do everything right, so I can be in the right position to make those plays."
Coach Bobby Hauck said Hasson (6 feet 1 inch, 195 pounds) has a better understanding of what's expected in the program.
"If you want to be excellent on Saturdays, you have to be excellent all year," Hauck said. "He's improved at that stuff — plays harder, plays more physical, more focused. He's a pretty reserved guy. We want him to be a little more emotional out there. That's probably the next step for him."
NOTABLE
Hauck's view of Saturday's scrimmage didn't change much after watching the video, saying he still was impressed with how the team tackled. But his thoughts on the kicking game were different. "The kicking game was better than I thought it was," Hauck said Sunday. "My impression watching it from the sideline was it was not very good yesterday, and the film didn't show that. They did a good job." … Today is the final two-practice session, and though the team began scout-team work Sunday, the Rebels are expected to go back to also using full team drills. … UNLV has worked with some three- and four-receiver sets this training camp, but hasn't forgotten about playing two tight ends at the same time. "We're going to play multiple tight end stuff and fullback stuff," Hauck said. "It's what we do." … Sunday's practice was delayed about 45 minutes by a thunderstorm.
SITTING OUT
PlayerPos.Status
Taylor BarnhillTEOut
Taylor SpencerWROut
MARK ANDERSON/LAS VEGAS REVIEW-JOURNAL