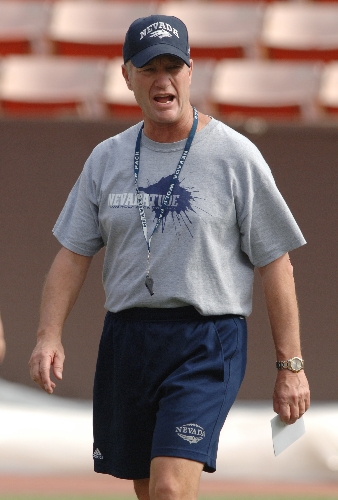 RENO – Chris Ault raised UNR football. After 28 years as coach, he believed he had taken the Wolf Pack as far as he could.
Ault announced Friday he was stepping down, leaving as the winningest coach in UNR history, already a Hall of Famer and having changed the way teams play offense nationwide.
Under Ault, the Wolf Pack went from Division II to I-AA to I-A, winning at every level with some of the nation's most prolific and innovative offenses.
The 66-year-old guided the Wolf Pack to 10 conference titles and 16 postseason berths, including 10 bowl games in 12 Football Bowl Subdivision seasons. He finished with a record of 233-109-1.
"It's with great humility and mixed emotions I've decided it's time for me to step down and move on," a tearful Ault said at a news conference. "Wolf Pack football firmly established a blueprint for success that can be sustained."
Perhaps his most famous contribution came late in his career, when he invented the pistol offense in 2005, a scheme that hundreds of teams at every level now employ.
The pistol formation has the quarterback in a short shotgun formation with a running back lined up directly behind him.
"I'm proud that our offense has broadened the landscape of football. That's exciting," Ault said. "It's here to stay, unlike the wishbone."
He said he reached the decision to step down after consulting with his wife, Kathy, and UNR president Marc Johnson. He informed his staff and players of the decision Friday morning.
Ault first broached the subject after Arizona rallied to defeat the Wolf Pack 49-48 in the New Mexico Bowl on Dec. 15. The loss dropped Ault's bowl record to 2-8 and UNR's season record to 7-6, including losses in five of its final six games.
With most of the Wolf Pack's offensive starters and entire defensive front returning next season, Ault said, the timing was right to turn over the program to a new coach.
"I have focused on leaving the program in the best shape," he said. "I'm sure it'll be a sought-after position."
While he has no plans to return as coach or athletic director at UNR, he didn't rule out coaching elsewhere. UNR athletic director Cary Groth also is retiring after this school year.
Ault agreed to a two-year contract extension in February that would have brought his salary to $535,000 by 2015. That's about half the average salary in the Mountain West Conference where he coached this season.
The overall budget of UNR's football program also is far less than other major football programs and ranks near the bottom of the Mountain West, Groth said.
Asked whether the limited revenue and loss of coaches were factors in his decision, Ault replied: "All of that plays into the decision … I want to be a Top 25 program, and we have that opportunity, but there are so many intangibles that I had to deal with."
Ault was the only active Division I coach in the College Football Hall of Fame. This season, he passed Alabama's Paul "Bear" Bryant for most wins by a coach at his alma mater.
His 40-year career with UNR began when he played quarterback for the Wolf Pack from 1965 to 1967. He coached high school in Reno and served as an assistant coach at UNLV from 1973 to 1975 before being hired as head coach at his alma mater in 1976. At 29 years old, he was the country's youngest college coach.
He served three stints as the Wolf Pack's head coach – from 1976 to 1992, 1994 to 1995 and 2004 through this season. He was the school's athletic director from 1986 to 2004, when he fired football coach Chris Tormey and named himself to replace him.
His best season was in 2010 when he led his team to a 13-1 record and a win against Boston College in the Fight Hunger Bowl. The Wolf Pack, with Colin Kaepernick at quarterback, were ranked No. 13 after upsetting Boise State to win a Western Athletic Conference title.
Senate Majority Leader Harry Reid, D-Nev., issued a statement hailing Ault as "one of the greatest coaches in college football history."
"Year after year there may have been more highly recruited players in the NCAA, but Coach Ault created a team and taught his players to work together," Reid said. "This philosophy brought the program great success."
Groth said she never "worked with a finer man" than Ault and would welcome his advice on his successor.
Johnson called Ault's decision "bittersweet." He said he was "really surprised" when Ault told him that he was retiring, and he gave him more time to consider the decision.
Ault not only achieved success on the field but off the field with a high graduation rate for his players and no NCAA problems, Johnson said.
Johnson said he and Groth would work together to find a new coach. A national search firm will be hired to come up with candidates, he said, and the Board of Regents will take final action.
CHRIS AULT FILE
• AGE: 66
• YEARS COACHING AT UNR:
1976 to 1992, 1994 to 1995,
2004 to 2012
• OVERALL RECORD: 233-109-1
• RECORD VS. UNLV: 15-7
• BOWL RECORD: 2-8