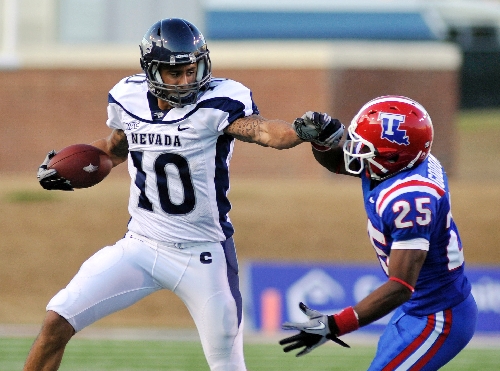 RENO — The national title game is Jan. 10, but the co-founder of the Kraft Fight Hunger Bowl says one of the best postseason matchups comes the night before when No. 13 UNR's high-powered offense meets Boston College's NCAA-leading rushing defense.
"You could not have planned a better matchup than the one we have," said Gary Cavalli, co-founder and executive director of the bowl that is in its ninth year but the first with "Fight Hunger" added to its name.
The Western Athletic Conference co-champion Wolf Pack (12-1) will face Boston College (7-5) of the Atlantic Coast Conference at AT&T Park in San Francisco on Jan. 9.
"On the one side, you've got this amazing offense. I just love to watch it. I think it is one of the most exciting offensive teams I've ever seen," Cavalli said.
"On the other side, you've got Boston College, which is No. 1 in the NCAA in rushing defense."
The Golden Eagles are allowing only 80.1 yards on the ground per game. They rank 14th nationally in total defense (310 yards per game).
Boston College is led by sophomore linebacker Luke Kuechly, who leads the NCAA in tackles with 14.2 per game. He was the defensive Most Valuable Player of last season's Kraft Bowl, though Boston College lost to Southern Cal, 24-13.
UNR, which overcame a 24-7 halftime deficit to beat then-No. 3 Boise State in overtime 34-31 the day after Thanksgiving, ranks third in the NCAA in rushing offense (305 yards per game) and total offense (535).
Colin Kaepernick, who on Monday was named the WAC co-offensive player of the year with Heisman Trophy finalist Kellen Moore of Boise State, is ninth individually in total offense with 308 yards per game. Wolf Pack running back Vai Taua is sixth in rushing (127.8).
"It's truly a great offense and a very entertaining and exciting team to watch," Cavalli said.
The bowl was supposed to feature a WAC team against a team from the Pac-10, but that league failed to field enough bowl-eligible teams, so a backup contract with the ACC was put into play.
UNR's Chris Ault, the WAC coach of the year, said the bowl was his first choice partly because it's less than a four-hour drive from Reno. UNR officials said on Monday they had already sold more than 2,000 of the 11,000 tickets the school has been allotted for the game.
"It's great for our people to travel. And we have a lot of Giants fans here," Ault said about baseball's 2010 world champions.