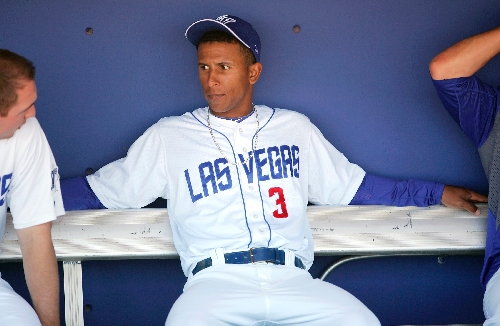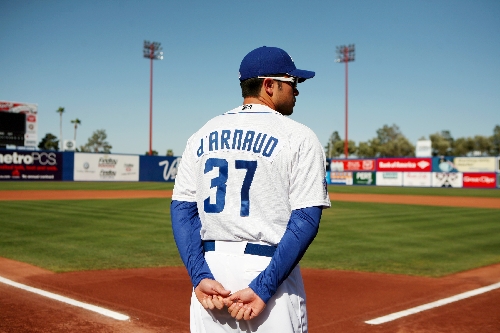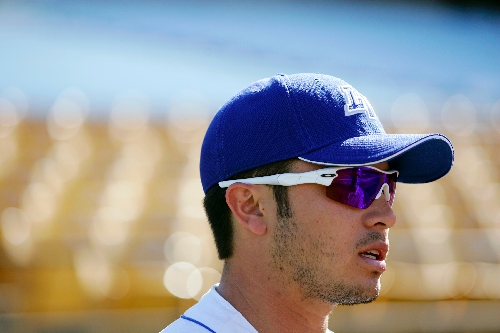 One of baseball's top prospects, catcher Travis d'Arnaud will make his Triple-A debut today for the 51s at Cashman Field.
But as thrilled as d'Arnaud is to be one step closer to the big leagues, he's equally excited to have a front-row seat to a promising new show in Las Vegas.
It's not exactly Cirque du Soleil, but 51s center fielder Anthony Gose and shortstop Adeiny Hechavarria are a pair of defensive wizards capable of making acrobatic plays on any given night at the ballpark.
"I think I have the best view in the house for it. I'm right on top of the plate," d'Arnaud said. "I get to see everything off the bat right away, and you see Hech making phenomenal plays and Gose making phenomenal plays, too.
"It's amazing, and it makes me want to come to the field every day just to watch them do that."
Along with the speedy Gose and Hechavarria, d'Arnaud — expected to be Las Vegas' leading man this season as the game's No. 25 prospect, as ranked by mlb.com — gives the 51s a dynamic defense up the middle.
"You can put them in the big leagues up the middle right now," 51s hitting coach Chad Mottola said.
Gose, the Toronto Blue Jays' No. 2 prospect behind d'Arnaud and baseball's No. 57 prospect overall, stole 70 bases last season for Double-A New Hampshire. The 21-year-old left-hander will bat leadoff today for Las Vegas, which opens its 30th Pacific Coast League season at 7:05 p.m. against the Sacramento River Cats (Oakland Athletics).
Hechavarria, a Cuban shortstop who Toronto signed to a $10 million, four-year contract with a club-record $4 million signing bonus in 2010, will bat second. The 22-year-old hit .389 (42-for-108) in 25 games for the 51s last year.
D'Arnaud, who batted .311 with 21 home runs and 78 RBIs for Eastern League champion New Hampshire last season en route to EL Most Valuable Player honors, will bat cleanup for Las Vegas — which hopes to snap a string of 11 straight losing seasons by the Blue Jays' top affiliate.
"I think we're too athletic not to win," second-year manager Marty Brown said. "Athletically, we're way, way above what we were last year.
"It's hard to look at (Gose), (d'Arnaud) and Hechavarria and look at anybody being able to replace them athletically."
Rated by Baseball America as Toronto's best organizational hitter for average and power, the 23-year-old d'Arnaud — who was acquired from the Phillies in a 2009 trade for pitcher Roy Halladay and whose older brother Chase is an infielder for the Pirates — also was rated the EL's best defensive catcher last year in a poll of managers.
"Travis, on any given night, can bring it all to the table. You'll see one of the best catchers in the league," Brown said. "It's about consistency and him bringing that every night."
Gose, who threw 97 mph as a pitcher in high school, has a strong arm and is rated the organization's best defensive outfielder and baserunner. Acquired from the Houston Astros in a trade for former 51s first baseman Brett Wallace, Gose stole 76 bases in his first full pro season in 2009 and last year hit .253 with 16 homers, 59 RBIs, seven triples and 87 runs in 137 games.
"I've had other guys who can play a very good center field and have the ability to hit and steal bases, but I don't think I've had anyone as talented as Anthony," Brown said.
Likewise, Brown said Hechavarria is one of the best shortstops he has coached. "He can throw from all different angles, and he's got great range," he said. "He seems to know where the ball's going to go before it's hit."
The 51s also will feature Moises Sierra, an outfielder making the jump from New Hampshire who Gose said might have the best arm in baseball.
First baseman David Cooper, last season's PCL batting champion with a .364 average, returns to Las Vegas, along with veteran outfielder Travis Snider and veteran infielder Mike McCoy.
The 51s should contend for their fourth PCL batting title in five years, but their long-suffering pitching staff, anchored by former big league left-hander Aaron Laffey, is a concern.
"It's going to be a challenge for our starting rotation to get us deep into games," Brown said.
Contact reporter Todd Dewey at tdewey@reviewjournal.com or 702-383-0354.
SACRAMENTO VS. LAS VEGAS
WHEN: 7:05 p.m. today
WHERE: Cashman Field
STARTING PITCHERS: River Cats RHP Travis Banwart vs. 51s LHP Aaron Laffey
RADIO: KBAD-AM (920)