USA's ultimate goal denied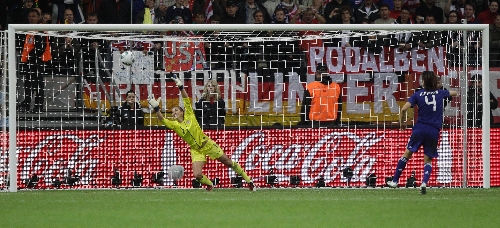 FRANKFURT, Germany — Amid the sorrow that lingers throughout earthquake-shaken Japan, there is finally joy — courtesy of the determined women on its World Cup team.
They beat the Americans for the title on penalty kicks, 3-1, in a riveting final Sunday after coming from behind twice in a 2-2 tie. The star of the shootout was feisty goalkeeper Ayumi Kaihori with two brilliant saves.
All tournament the Japanese teammates poignantly reminded the world they were playing for their battered country, still reeling from the devastation of the March 11 earthquake and tsunami.
Did they ever. They held the gleaming trophy high above their smiling faces as confetti swirled around the podium, flecking their hair with gold.
"Before we went to the match tonight we had some commentary on television and we heard comments on the situation in Japan," coach Norio Sasaki said. "We wanted to use this opportunity to thank the people back home for the support that has been given."
This was Japan's first appearance in the final of a major tournament, and they hadn't beaten the Americans in their first 25 meetings, including two 2-0 losses a month before the World Cup. But the Nadeshiko pushed ahead, playing inspired soccer and hoping their success could provide even a small lift to their nation, where nearly 23,000 people died or were reported missing.
After each game, the team unfurled a banner saying, "To our Friends Around the World — Thank You for Your Support." On Sunday, they did it before the match and afterward they had a new sign to display: Champion — the first Asian country to win this title.
The Americans found it all too hard to grasp. They believed they were meant to be World Cup champions after their rocky year — needing a playoff to qualify, a loss in group play to Sweden, the epic comeback against Brazil. They simply couldn't pull off one last thriller.
While the Japanese celebrated at midfield, the Americans stood and watched.
"There are really no words," Abby Wambach said. "We were so close."
Minutes, actually. After Wambach scored in the 104th minute of overtime to give the Americans a 2-1 lead, Homare Sawa flicked in a corner kick in the 117th to tie it. It was the fifth goal of the tournament for Sawa, who was playing in her fifth World Cup.
"We ran and ran," Sawa said. "We were exhausted, but we kept running."
The Americans had beaten Brazil on penalty kicks in a quarterfinal, but they didn't have the same touch Sunday. Give Kaihori, the goalkeeper, credit for some of that. Shannon Boxx took the first U.S. penalty kick, and it banged off Kaihori's right leg as she dove. After Aya Miyama made her penalty, Carli Lloyd stepped up and sent her shot soaring over the crossbar. As the crowd gasped, Lloyd covered her mouth in dismay.
Solo saved Japan's next shot, but Kaihori made an impressive two-handed save on a shot by Tobin Heath.
Solo came up with a save, and Wambach buried her penalty kick. But Japan need to make just one more, and Saki Kumagai did.
"It's tough to do two rounds of penalties," Wambach said. "The keeper knows in a lot of ways where we're going to go. She made some great saves."
The Americans broke a scoreless tie in the second half, with Alex Morgan scoring her second goal of the tournament in the 69th. The Americans raced over to Morgan for a group bearhug while chants of "U-S-A! U-S-A!" echoed through the stadium.
But with nine minutes or so before they could claim the title, the Americans gifted Japan a goal. Rachel Buehler tried to clear the ball right in front of the goal and knocked it to Ali Krieger, who botched her clearance, too. The ball fell to Miyama, who poked it in from five yards to tie it.
"If any other country was to win this, then I'm really happy and proud for Japan," Lloyd said. "Deep down inside I really thought it was our destiny to win it. But maybe it was Japan's."
JAPAN — 2 UNITED STATES — 2
KEY: Japan twice scored equalizing goals to tie the game, and Ayumi Kaihori made two fantastic saves on penalty kicks to foil the U.S. Women's World Cup bid.