USC leader remains grounded
December 18, 2013 - 9:35 pm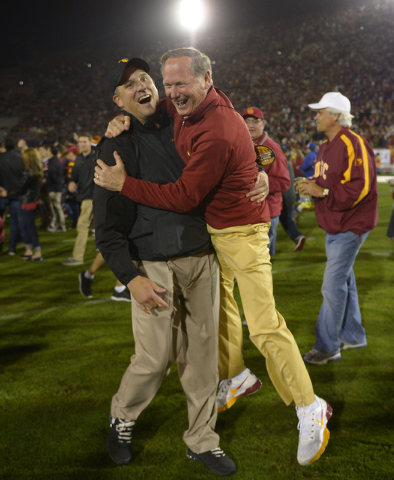 The Pac-12 Conference side in the Las Vegas Bowl is difficult to predict from year to year.
Sometimes the bowl is fortunate to invite a Pac-12 team that wants to be here, such as Washington last year, a team that saw a berth in this game as a sign of a program on the rise.
Other times, being the fifth or sixth selection out of that conference means a team underperformed, and maybe even a coaching change was made.
UCLA set the standard by twice bringing interim coaches to Las Vegas, though the Bruins beat New Mexico in 2002 and came a blocked field goal from defeating Brigham Young in 2007.
Now cross-city rival Southern California, a school accustomed to playing in the Rose Bowl and for national titles, is in town with offensive coordinator Clay Helton serving not only as the interim coach but also the Trojans' third coach this season.
It's not the most enviable situation as Helton prepares for Saturday's 12:30 p.m. game against No. 21 Fresno State at Sam Boyd Stadium, but he said the Trojans have plenty of reason to finish the season strong.
"We're going to do the best job that we can for the kids, make it as fun as we can for them, make it a memory that this is not a wasted season," Helton said Wednesday at The D Las Vegas. "This is going to be a season that they've learned how to deal with adversity and how to overcome it."
A strong performance by the Trojans could help Helton's career aspirations.
He might wind up staying at USC, and it doesn't hurt that Helton has experience running the hurry-up, no-huddle offense new coach Steve Sarkisian prefers. Helton oversaw a similar system when he was offensive coordinator at Memphis from 2007 to 2009.
Former USC coach Lane Kiffin has endorsed the Trojans keeping Helton, 41, the offensive coordinator and quarterbacks coach. Kiffin and Sarkisian are friends, so that backing could carry weight.
USC quarterback Cody Kessler said Helton is head-coaching material.
"He has that fire," Kessler said. "He's obviously a genius when it comes to offense."
USC has averaged 28.5 points and 392.3 yards this season.
If Helton isn't retained, his reputation should help him land somewhere. His name has surfaced for Florida's offensive coordinator position.
"We'll worry about that afterward," Helton said. "If you don't focus on anything but the game at hand when you're playing Fresno State, you're going to get beat."
Sarkisian has been careful not to influence the preparation for this week, keeping his distance while the staff that coached all season continues to do its job.
But Sarkisian has been available to provide advice, and he was the coach when Washington played in this game last year. The Huskies lost to Boise State 28-26.
"He took us through last year — be prepared for a great hotel, tremendous service by the bowl committee, you may want to go to the stadium on Friday to get a feel for it," Helton said. "He's given us great, helpful tips."
If the Trojans have one advantage, it's having dealt with adversity all season.
Kiffin was fired five games in, and interim coach Ed Orgeron led the Trojans on a five-game winning streak late in the season, seemingly building momentum for his candidacy.
But then after USC was beaten 35-14 by UCLA on Nov. 30, athletic director Pat Haden hired Sarkisian. Orgeron resigned rather than accept an offer to remain on the staff.
Helton said his focus is on this weekend and trying to defend a Fresno State offense that averages 45.3 points.
"This is a special game for us to try to get to a 10th victory," Helton said. "We just happened to draw one of the premier teams in the country in Fresno State."
Contact reporter Mark Anderson at manderson@reviewjournal.com or 702-387-2914. Follow him on Twitter: @markanderson65.