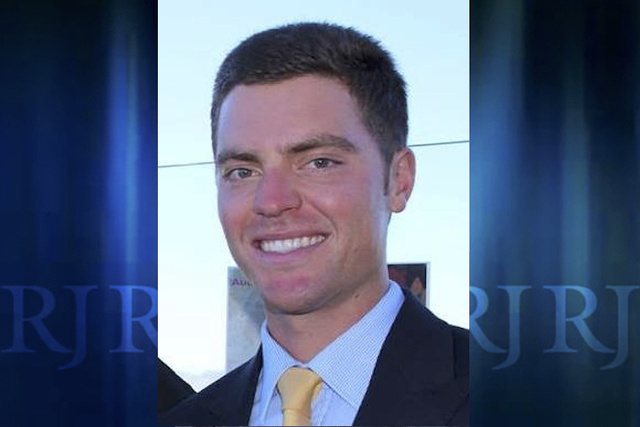 Trenton Alenik was headed toward a career on Wall Street.
Alenik, a Las Vegas native, played tennis at Villanova where he studied finance. He interned at two major companies and all signs seemed to point toward Wall Street.
Except during those two summers interning, he realized that life wasn't for him. Instead, he returned home to get back involved with the Marty Hennessy Inspiring Children Foundation, which he became involved with as a teenager.
The foundation aims to inspire children through "mentoring, education and tennis," and Alenik worked his way through the ranks, eventually becoming the foundation's Executive Director.
Friday, he'll be honored by the US Tennis Association with the Sandy Tueller Service Award for his work.
"I just knew that I had that spark when I was around this organization so when I was between a career on Wall Street or a career making a tenth of money helping Ryan (Wolfington) and Marty (Hennessy) with the foundation, I knew that I had to do it for love and passion and I knew that I definitely had that with the foundation's program," Alenik.
Alenik said the organization was started to help kids who didn't have the finances or resources to go play tournaments.
As a teenager, he started volunteering to earn his scholarship. Tasks included cleaning clay courts and taking out the trash but eventually morphed into helping with bigger events, helping run trips and mentoring kids.
Now, he runs the foundation, which he said helps roughly 500 kids throughout the city.
"I just dove in after graduation," Alenik said. "I was like "How can I help?" and then one thing led to another and five years later, I'm the executive director and I've kind of come full circle."
The list of organizations Alenik has volunteered for is long and varied, but through his work with the foundation, he said his biggest joy is getting to see kids come through the program being able to "go off to a great school and have better opportunities than I had when I was here."
Friday, he'll get recognition for his work in helping young kids achieve that.
"I never really set out to do things to get recognition or get awards," Alenik said. "I just know that I give my best effort so to get noticed and recognized and other people see it in the community, it really means a lot and it kind of motivates me to keep doing what I'm doing and do even more in the future."
Betsy Helfand can be reached at bhelfand@reviewjournal.com. Follow on Twitter: @BetsyHelfand
Calendar
June 26; July 3, 10: Free Community Tennis Clinic, VT Marty Hennessy Jr. Tennis Foundation, Las Vegas
July 4: 4th of July 5K Blast, Las Vegas
July 4: Summerlin Firecracker 5K
July 9: Dash for Donors 5K Race, North Las Vegas
July 9: Ulti-Man 5K, Las Vegas