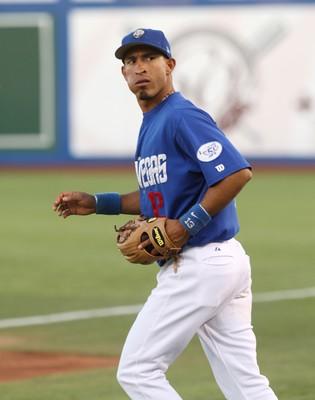 It's no surprise that 51s second baseman Wilson Valdez's season-high 13-game hitting streak has coincided with Las Vegas' season-best eight-game winning streak.
Valdez, named a Pacific Coast League All-Star and the 51s team Most Valuable Player last season, has ignited the squad from the leadoff spot, where he extended his streak with a run-scoring single in Wednesday's 5-4 comeback win over Portland at Cashman Field.
Valdez, 29, is batting .370 — 20-for-54 — during his streak and .340 overall.
"Willie's a high-energy player. He has to be because he's 5-foot-9 and about 175 pounds," Las Vegas manager Lorenzo Bundy said. "He's the one that gets us going. When he gets on base, our offense starts flowing."
A native of the Dominican Republic, Valdez has hit safely in 40 of 49 games for Las Vegas, but he's best known for his defense and versatility.
Referred to as "El Gato," which means "the cat" in Spanish, for his defensive prowess, Valdez has played second and third base, shortstop and in the outfield for the 51s this year.
"I can play anywhere," Valdez said. "It doesn't matter where I play, I want to help the team win and I want to play. That's the only way you can make some money.
"If you're sitting on the bench, you're not going to put up some numbers and you won't get signed for next year."
Valdez, a career .215 hitter in 98 big league games with the Chicago White Sox, Seattle Mariners, San Diego Padres and Dodgers, hit .297 for the 51s last season.
He batted .356 in 28 spring training games to earn a roster spot with Los Angeles to start this year.
Valdez had hits in 10 of his first 25 at-bats for the Dodgers but finished 3-for-30, hitting .236 in 28 games.
"I try to do my job every day (to) go back to the major leagues," Valdez said. "When I'm there I try to do my best, but sometimes it's hard to stay over there.
"I thought I played good, but they decided they wanted a pitcher to take my spot."
Bundy said Valdez has a good shot at a September call-up and has the potential to be a utility player in the majors.
"In a division or pennant race, to have a guy who can play just about any position on the field and run and bunt and get a hit, I would think he's definitely a candidate, if nothing happens before September, to go up," Bundy said.
• NOTES — 51s relief pitcher Roberto Hernandez was promoted to the Dodgers after making one appearance for Las Vegas. The 42-year-old allowed one hit in one otherwise perfect inning Monday.
The Dodgers optioned infielder Tony Abreu to the 51s. Abreu hit .288 — 34-for-118 — with a dozen doubles in 43 games for Los Angeles. He hit .347 in 39 games for the 51s earlier this year.
Also, 51s catcher Octavio Martinez was activated from the disabled list, and catcher Gabriel Gutierrez was optioned to Class-A Inland Empire.
Las Vegas 51s
LAS VEGAS — 5 PORTLAND — 4 KEY: John Lindsey and Larry Barnes homered in the eighth inning to give the 51s a 5-4 lead, and Eric Hull escaped a bases-loaded jam in the ninth for Las Vegas, which will try to finish its first 8-0 homestand in 11 years today. NEXT: Beavers (Clay Hensley) at 51s (Miguel Pinango), 7:11 p.m. today